By Tony Attwood
Let us never forget, let us never ever forget, let us never, ever, ever, ever forget that through this summer the manic hysteria of demented wildcats howling under the full moon told us constantly that Arsenal had to buy-buy-buy-buy etc etc.  We were the only THE ONLY team this side of Lesser Magellanic Cloud (a spiral dwarf galaxy 200,000 light years away) that did not sign an outfield player this summer.
Mr Wenger was shown up, Arsenal were going to sink to mid-table at best, and then we would get a real manager like that Mourinho bloke in the Kings Road.
Since then I've been publishing extracts from articles in the press and from Whoscored.com where the best players so far this season are evaluated, as well as looking back to the predictions journalists made for this season during the summer.   If you are at all interested and missed it you might care to take a peek (when not searching the sky for the Lesser Magellanic Cloud) at Who are the best players in the Premier League and how many are at Arsenal?
But of course, those ranged against the optimism that exists in my house tucked away in the Northamptonshire countryside, will still be saying "it won't last".
So I thought I would give a few more extracts from the utterly wonderful British media.
Here is the Guardian's team of the season in England, thus far.   You might, if you peer carefully, spot three red dots in there for Bellerin, Monreal and Ozil.  You might also spot that no other club has three players in that selected team.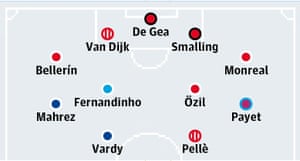 Here is what the august daily says of our men…
Héctor Bellerín (Arsenal)
"Another young Spaniard about whom there were once questions over Premier League suitability. It is less than a year since Bellerín was "abandoned" by Per Mertesacker to endure a gruelling ordeal in a bruising Arsenal defeat by Stoke at the Britannia Stadium. Bellerín has gone on not only to prove he can cut it in the Premier League but that he is a cut above most other defenders. And he contributes plenty in attack, too, thanks to blinding speed and smart choices. At 20 he offers ample scope to get even better, and it is an encouraging sign that in matches where it had initially looked as if his rapid opponent might get the better of him – Jefferson Montero at Swansea, for example (or Douglas Costa against Bayern Munich) – he has quickly risen to the challenge and come out emphatically on top."
Although I am not sure about the "abandoned by Per" bit, I most certainly have not been able to put it better myself.   But moving on…
Nacho Monreal (Arsenal)
"When it comes to left-backs, we should recall the promising start made to the season by Luke Shaw before that unfortunate injury, and also note the unsurprisingly excellent form by Ryan Bertrand since his return from injury, but most of all we should acknowledge the quiet efficiency with which Monreal has secured the position at Arsenal, where he was once considered second-choice behind Kieran Gibbs. He has played every minute of every league game so far this season and has seemed tougher, more confident and more reliable than ever."
I most certainly… oh sorry I said that about Bellerín.  Let's move on.
Mesut Özil (Arsenal)
"Özil was brilliant when he first arrived at Arsenal and then he seemed to shrivel up and disappear. He is back. And he may be better than ever. He says bulking up has helped withstand attempts to bash him off his stride. What is clear is that he is now a much more regular influence on matches, with his vision and precision integral to Arsenal. He has forged a particularly delightful understanding with Alexis Sánchez, as memorably showcased in the destruction of Manchester United, but even when the Chilean has been below par, Özil has kept probing and prising opponents apart."
The Guardian, apart from being fastidious when it comes to putting accents in on players' names, even has a beach for its team and here we have…
Laurent Koscielny (Arsenal) He was ropey in the north London derby but has mostly been superb this season.
OK so that was the Guardian, pinko lefty radical paper and as such rather a good read on social matters.  But what about the old colonels and retired vicars reading the Telegraph.  Now they don't do accents in players' names which they consider a dirty trick to undermine the British backbone.  So surely they can't agree with all this?
Well, they've just done a piece on "Who creates the most chances".  In the top 3 (yes the top three) Arsenal have taken positions 1 and 3!
Santi Cazorla – 35 chances created
"The incredible thing about Santi Cazorla ranking third in this list is that he isn't even the best at Arsenal in this regard. Nonetheless, the diminutive Spaniard has created 35 chances from his deep-lying midfield role, with technique on both feet that few can rival."
Mesut Özil – 54 chances created
"There are few superlatives left to fairly describe Ozil's incredible beginning to the 2015/16 season. He has 10 assists – that's four more than any other player – and has set up a goal in six consecutive appearances, which is a Premier League record.
"Of the 54 chances he has created (which, by the way, is also the most in Europe's 'big five' leagues), 12 are deemed 'clear cut' by the football statisticians at Opta. That tally is more than seven of the Premier League's 20 teams, including reigning champions, Chelsea. Incredible."
So, the summer ravers are saying, the press has gone loopy, but what about the people who really do the statistics?  People like Who Scored.com who do their "Who scored team of the month in the entire Western Spiral Arm of the Galaxy" (or at least Europe).
In that XI for October Arsenal have… three.  That is three in the whole of Europe.
Koscielny 3 clean sheets, 2 goals, 3 games
Monreal 33 tackles and interceptions
Özil 6 assists 18 chances in four games
Barcelona has two in the team and all the other clubs have one.
OK, that was a blip, an oddity, a strange malfunction, a "you can prove anything with stats", a trick of the light.   What happens when you look at the Whoscored top 20 rated players in Europe.
Well, that's got us five of our players listed.   Yes five of the current Arsenal team are listed in the top 20 rated players in Europe.
Özil, Koscielny, Alexis, Monreal, Santi Cazorla.
Hell, we even get an entry in the "Over 30s" team with Mertesacker.
OK, so it is all very well having top players but you still have to meld them into a team, scream the mob now getting ready to book the next shuttle to the second moon of Pluto (whose name currently escapes me) or Milton Keynes to watch Tottenham (whichever is the closer).
The Top teams in Europe
R
Team
Shots pg
Discipline
Possn%
PassSuccess%
AerialsWon
Rating
1
Real Madrid
20.4

20

0

56.5
87.5
10.1
2
Bayern Munich
19.6

17

1

67.9
89.1
15.1
3
Paris Saint Germain
15.3

17

1

63.3
89.9
13.8

4

Arsenal

18.4

12

2

55.9

84.9

15.3

5
Barcelona
17.5

20

1

61.5
86.0
12.2
6
Borussia Dortmund
15.8

11

0

59.6
83.6
21.1
7
Manchester City
18.4

24

0

56.4
85.1
15.8
8
Lyon
16.2

18

0

60.2
84.5
17.7
9
Atletico Madrid
13.2

34

0

50.7
80.7
16.8
10
Tottenham
15.8

27

0

52.7
80.5
14.5
"OK OK OK OK OK OK OK," I hear the voices in my head shout, but we still ain't got a forward…
This is what the Telegraph said about Giroud
With a goal every 88 minutes, he is scoring more frequently than any other player this season. Since the last international break – during which he scored twice in a 2-1 win over Denmark – Giroud has hit three goals in 200 minutes of Premier League action.
He is finding the target with 58 per cent of his shots and scoring with 23 per cent – both of those rates compare favourably with a certain Sergio Aguero. Giroud is also scoring every 42.5 touches of the ball, an incredible rate that highlights his current lethal streak given how much Arsenal tend to dominate possession. They have touched the ball more times than any other team this season – nearly 800 times per game.
But surely, as I pointed out before, there must be some dig, some negativity, something that says that he has eaten his grandmother and hunted whales.
The Frenchman works brilliantly in Arsenal's set-up. There are few strikers around who hold the ball up as well as Giroud, and his link play is crucial to bringing the likes of Ozil, Sanchez and Aaron Ramsey into the game with their runs from midfield.
So as I noted, it is fairly amazing stuff after all that has gone before.  But it goes even further as the writer claims, "Ozil has been Arsenal's star this season but they also have Giroud to thank."
They suggest that the movement of Theo to the centre forward spot has pushed Giroud harder.  Both players scored in the cup final, Giroud lost his place to Theo, and now is back fighting.
It is amazing stuff, and I hope it helps to convince even the people who still go to matches and shout SECOND BALL ARSENAL all 90 minutes long (or actually 85 minutes because they always leave early),
WE ARE WATCHING AN AMAZING TEAM AT THE MOMENT, ONE THAT WILL GO DOWN IN THE HISTORY BOOKS AS ONE OF THE GREAT ARSENAL TEAMS.
And yes I will re-publish this and answer for my sins at the end of the season if I am wrong.
Recent Tales
Welcome to the new world: Football 2030/31 season
Wenger confirm(s) super signing will be made; Mourinho sacked; Blogetta roundup
Arsenal in the 70s, part 3: The Golden Treble
Anniversary selection
12 November 2005:

Death of Joe Wade aged 84  After playing 91 games for Arsenal he left in

1956 he returned to Hereford (then in the Southern League) as player-manager, having played 91 league and cup games for Arsenal.  At Hereford he picked up some notable cup victories against league sides and won the Southern League and Cup double.  He left in 1962 to develop his sports shop business, but returned briefly in 1971 after John Charles left the club in 1971.

12 November 2007.   The win at Reading included Arsenal's 1,000th Premier League goal, scored by Adebayor.  Flamini and Hleb got the other two in a 3-1 victory.
Arsenal on this Day – the full list of anniversaries can be found here