Over 6 million page views in the past year.
If you are interested in the development of Untold, there's a bit more on the home page.
And other announcement before we get going: there will be no post match report for the Stoke game as Arsenal Belgium are holding their AGM after the match, and what with Walter being the President of the club he's giving a state-of-the-club speech.  Walter's asked me to pass on his apologies.
The match preview, by Bulldog Drummond.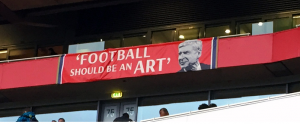 It's Stoke, so I thought it might be time to have a pic of our Emirates banner in a match preview.  Sort of marks out the difference.
Meanwhile Mesut Özil, has been named the German Player of the Year for the fifth time in seven years.   To which Football 365 (who don't do accents so I added it for them) replied.  'If Özil, is Player of the Year, I'm a Dutchman' (a statement made by Johnny Giles).   Elsewhere the Independent suggested that Arsenal fans had "rigged" the vote.
Özil has has created 87 chances this season, the most of any player in Europe's top five leagues.  But hey ho 'twas ever thus.   In 2015 he scored nine goals and added 20 assists for Arsenal in 49 matches.   But I suppose Dutchmen do more than that.
We have of late won against Man City, l
ost to Southampton, w
on against AFC Bournemouth,
 w
on against Newcastle,
 and drawn 
with Liverpool!
.
For today, for myself I'd be conservative and go with
.
Giroud
Campbell Özil, Walcott
Ramsey Flamini
Monreal Koscielny, Mertesacker, Bellerin
Cech
.
Assuming we are attacking up the screen that is.  If not, I'd turn it around.
.
If we look at the indiscipline we see Stoke have 29 yellows and 4 reds, while we have 20 yellow and 2 reds.  So we have only 69% of their yellows and only 50% of their reds.  Which says something.  But you won't read it in the press.  The other way around?  Front page news, of course.
.
There's no beach in Stoke, but if there were playing therein we would have a selection of Ospina, Chambers, Gibbs, Gabriel, Arteta, Elneny, Iwobi, Reine-Adelaide, Oxlade-Chamberlain, Sánchez.  I suspect with Eleny and Alexis available Jeff and Iowbi will step down.
.
As always the media is reducing the entire season to one game, just as that rather funny Irishman Giles did saying that Özil did not deserve any awards because he didn't do much in the Liverpool game.  Oh they are a bunch of laughs these ex Leeds thugs.   And you know things are crazy when Match of the Day's preview of Stoke says, "Top four? Not such a potty thought."
Mr W said thus: "We have had difficulties at Stoke. They have a good record against us in recent years, and I must say as well they have overall a good record against Man United, City, the big teams.
"They have done very well. They have moved forward as well because they have improved their creative potential with players like Arnautovic, Afellay, Shaqiri, Bojan – they can create and play.
"It is a good challenge for us as well because they have to maintain their record and we can show we have taken a big step forward and can beat them."
Sadly Mark Lawrenson of the BBC predicted we would win 0-2, which probably means a defeat.
Anyway, Arsenal are looking for a third consecutive league win over Stoke – but that's because the last two were at home.  We have failed to win any of the last five league visits to the Britannia Stadium, losing the last two.  The last time we won there was in February 2010 – when Ramsey was slaughtered, and the assassin was picked for England.
Meanwhile Stoke has won their last two in the league and have scored in each of their last five while we've only won one of the last five away league games.
On the other handed we have 43 points, (seven better than last year) a new midfielder, Alexis back either here or in the next game, and several of the others chuntering about on the training fields.
So that's it.   No post match report for the Stoke game because Walter's giving a talk to Arsenal Belgium, and I can't do it because I have no idea how he can watch the match and write at the same time.
Oh yes and over 6 million page views in the past year.  Or did I mention that?
Some more anniversaries – these from the early days.  The rest as always on the home page
17 January 1897:  The Weekly Dispatch published an interview with George Lawrance in what was the first ever review of Arsenal's historic origins.  Born in 1851 Lawrance was the first benefactor of the club, and although now largely forgotten was of huge significance in both keeping the club going and ensuring a record was made of its early activities.
17 January 1922: Bob John signed from Caerphilly.  He was Knighton's greatest signing, and came to fruition under Chapman playing more times for Arsenal than any other player up to 1939.