By Bulldog Drummond.
"Let's go back to the start of this season," said Mr Wenger. "Predictions were: number one Chelsea will win it again. Number two, Man City. In the end any pundit who would have predicted Leicester would have met the response: 'Stop your job and do something else'. And that is what can happen again.
"First of all every English team can buy players," he said. "And the difference in the market between those who are just a fraction better and the players who will go to lower clubs can be made up with a bit more spirit and a bit more fighting, a bit more support and a bit less expectation."
It is an interesting perspective and as the last article showed, sacking a manager and getting another one in is certainly not guaranteed as a way of making things better in a club – although it is a way of spending a lot of money.
But there's one thing I would pick Mr Wenger up on, if I may be so bold.   Yes, of course, "every English team can buy players" because of the new money coming in from broadcasters – but that doesn't mean that the clubs will end up with more money.   The money will continue to pour out into the hands of the players.  A player that would have cost £20 million in transfer fees and £5 million a year in salary will now cost £35 million in transfer fees and £7.5 million a year in salary.
The change just makes it more likely that players who quite like England, don't mind the difference in refereeing between the Premier League and the Spanish League (for example), and don't mind the fact that this season alone over half the clubs in the Premier League have had fans baying for the blood of the manager (seven were sacked and another five at least were demanding managerial change), will fancy their chances.
Indeed it is interesting to ponder the fact that although Tottenham supporters are getting ready for the biggest party of their lives (in the hope that they will finally get to be above Arsenal in the league for the first time since 1995) are also still moaning about dropping two points against our 10 man team at WHL, losing to us in the league cup at home, losing to the State Aiders in March, and throwing away leads against WBA and Chelsea.
As for today, I imagine Welbeck will start, and maybe we could use the reverse trick of Giroud on the bench and then having both of them on the pitch towards the end if we are playing catch up.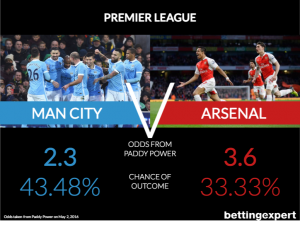 Elsewhere we are told in an exclusive in the Telegraph that "Jack Wilshere to be named in Roy Hodgson's 23-man England squad for Euro 2016" which could be a prelude to him being in the starting line up.
I am sure Man C must be aware that Arsenal can change tactics, despite all the propaganda to suggest otherwise – as we saw last year with the 0-2 away victory and another one of those stadia that us British tax payers helped to finance.
Man City are suffering a little with injuries with Silva, Zabaleta, Kolarov and Kompany all on the sick bed.  According to the Physioroom chart we've lost Mertesacker with a hamstring and of course the Ox who is going to be out through the summer.
This brings us to…
Welbeck
Iwobi Ozil Alexis
Wilshere Coquelin
Monreal Koscielny Gabriel Bellerin
Cech
On the beach we could well see seven of these eight: Ospina, Chambers, Gibbs, Ramsey, Elneny, Cazorla, Campbell, Giroud.   And you'll see I've dropped Walcott – not because I have the same negative views as some do, but rather because we can only have seven on the beach, and this is getting a big complicated.   On the other hand Theo has scored three goals in his last two Premier League appearances against Manchester City, so maybe he should be there.  I can't see him replacing Alexis or Iwobi at the moment.
Arsenal have drawn three and won three of the last six, while Man City have won four and drawn one of the last six, losing the other.
In the fair play league Man City are by no means the worse offenders (remembering in this league the most peace loving team is at the foot of the table)…
#
TEAM
GAMES
CAUTIONS

 

DISMISSALS

 

DISCIPLINARY PTS
1
Aston Villa
43
81
3
356
2
Watford
41
77
4
354
3
West Bromwich Albion
44
75
3
334
4
Liverpool!!!
45
70
3
310
5
Chelsea
42
62
5
298
6
Tiny Totts
41
74
0
296
7
Newcastle United
40
63
4
294
8
Norwich City
40
65
3
292
9
Crystal Palace
45
67
2
290
10
Manchester United
44
69
1
286
11
State Aid United
43
62
6
282
12
Stoke City
45
58
5
276
13
Manchester City
45
69
0
276
14
Southampton
40
55
6
272
15
Everton
47
51
6
268
16
Sunderland
39
61
2
264
17
Leicester City
42
57
3
258
18
Swansea City
40
64
1
256
19
AFC Bournemouth
43
58
1
242
20
Arsenal
43
50
4
230
Caution

4 pts

Denial of a goal scoring opportunity or dismissal for 2 cautions

10 pts

Violent conduct, serious foul play, spitting or offensive and abusive language

12 pts
So not a necessarily violent game then.
Whoscored.com has its usual analysis of the players of each side, and it is interesting if one considers their top five positions overall, and the relative amounts of money available to each club:
R
Player
Apps
Goals
Assists
MotM
Rating
1
Alexis Sánchez 

Arsenal, 

26(2)
12
4
6
7.69
2
Mesut Özil 

Arsenal, 

34
6
18
6
7.65
3
Santi Cazorla 

Arsenal, 

14
–
3
1
7.52
4
Nicolás Otamendi 

Manchester City, 

28
1
–
4
7.48
5
Laurent Koscielny 

Arsenal, 

31
4
–
3
7.46
Now on this basis, Santi Cazorla should be in the team, although quite how that works I am not sure – I don't think I would want to put Santi and Jack next to each other unless they had been practising together for weeks.   But it does give an indication as to what happened once he was injured.
Certainly when we look at the comparative passing levels of the team, we find that although Mesut Özil is still nicking a living at the top of the table, the next four passing players in the chart are all Man City.
Now WhoScored has gone for a 1-0 victory to Arsenal, perhaps on the basis that a lot was taken out of Man City in the Champions League games, and their manager is now leaving (another downside to changing managers too often).
They seem particularly taken by the fact that Arsenal have kept a clean sheet in five of their last seven matches in the Premier League, and the last four league games have all had two or fewer goals in them.
There's also the fact that Arsenal are undefeated in the last eight in the Premier League, and have scored at least 2 goals in 6 of their last 7 matches against Man City in all competitions, being undefeated in the last five matches against Man C in all competitions.   Goodness, it only seems last week that everyone was saying that Arsenal's failure was that it couldn't beat any of the top four teams.
But let us not forget that Man City are playing for a place in the Champs League next season, and their new manager would be rather miffed if he found himself taking on his next "Big Challenge" (its official, so we have to put it in inverted commas) by entering the Europa League.
We, of course, want to be in the Champs for the 863rd year in succession, although I may have miscounted somewhere along the line.  We'll know by kick off if coming second is still a possibility – here is the table before the Tiny Totts throw their toys around…
| POS | CLUB | P | W | D | L | F | A | GD | Pts |
| --- | --- | --- | --- | --- | --- | --- | --- | --- | --- |
| 1 | Leicester City | 37 | 23 | 11 | 3 | 67 | 35 | 32 | 80 |
| 2 | Tottenham Hotspur | 36 | 19 | 13 | 4 | 67 | 28 | 39 | 70 |
| 3 | Arsenal | 36 | 19 | 10 | 7 | 59 | 34 | 25 | 67 |
| 4 | Manchester City | 36 | 19 | 7 | 10 | 68 | 38 | 30 | 64 |
| 5 | Manchester United | 36 | 18 | 9 | 9 | 44 | 31 | 13 | 63 |
A win for the Tinies means they come second, given that we are unlikely to win our final two games with a 15-0 goal difference or more.  But even if that doesn't come off, it is worth noting that since 1995, when we came 12th and the Tinies 7th, we've had a rather good run, and anyone around in 1995 would most certainly have said, "fine I'll take that" if offered a run of 1996 to 2015 as the period before the Tinies popped up above us once again, not least because twice in that era Tottenham have visited the giddy depths of 14th.
We just have to keep thinking about ourselves and no goals against in each of the last three matches and what we did to Man C at the Ems.  And the fact that a win gives us third place, and no pre-season play offs.
Manuel Pellegrini was particularly interesting this week, saying, "For me, the second season was the worst – if we can finish in third in this third season it wouldn't be extraordinary but still a good season."  How different is his vision, with an infinite amount of money, compared with Arsenal's.
The BBC, unlike Whoscored however, go for a 2-1 Man C win despite noting that Manchester City have already lost five league games at home this season – as many as they had lost in their previous four league campaigns combined.
Also there is the fact that Man City have only won one of their 13 matches against the current top eight in the Premier League this season, losing nine and drawing three.
The Sports Analytics Machine super-computer created by Professor Ian McHale at the University of Salford in order to predict football matches goes for 1-1.