By Sir Hardly Anyone
We were hoping to publish part three of the series of articles on the way journalists and fans see football, and how they are fixed in "concrete thinking",   (See Can possible reasons for unsupported opinions be understood,  and following that Does Arsenal still need Klopp or Pochettino to make the final breakthrough? if you have not managed to keep up thus far).
But events on the transfer market have got themselves in the way.
So I have been rushed back from my luxury yacht parked off the sea front in Monaco (or was it Hawaii, it is so hard to tell these days) to cover the news.
And yes, the deal is done, he's at the airport, he's in the training ground, he's shaking hands with Wenger after a medical, and yes… he hasn't actually signed but everyone says he is going to.  It is…
Little Einstein.
Also known as
Geeeeeeeerrrrrrrrrrrrrrrrranit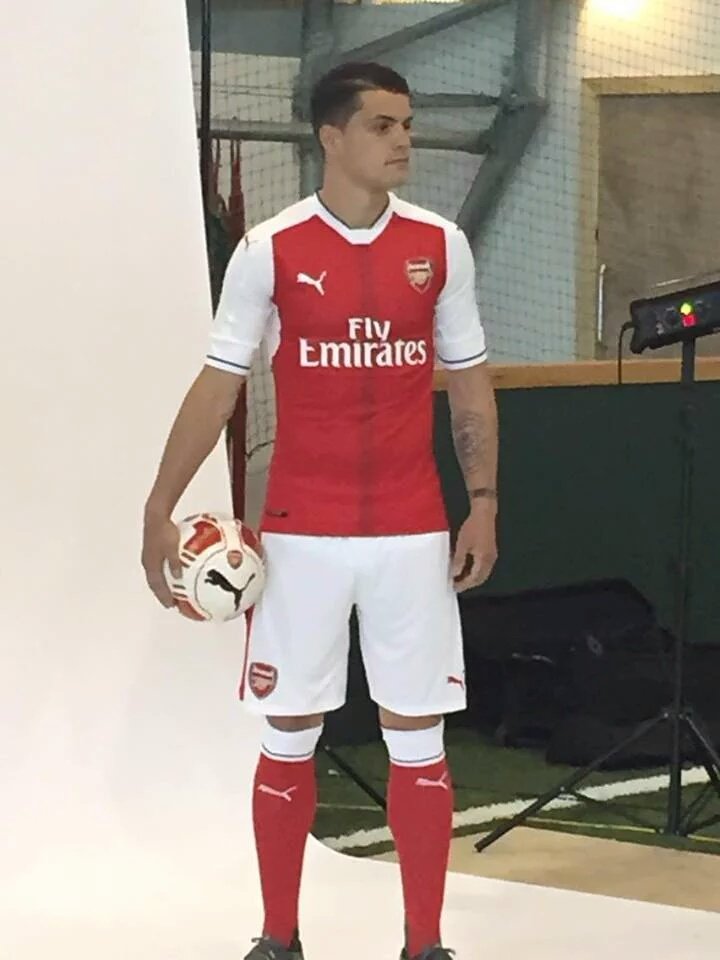 Yes, editors around London have been screaming down the phone to their journalists recovering from a night of concrete thinking (do try to keep up) and now everyone is awash with the story that he's coming to Arsenal.
The story has been doing the rounds for the past few weeks, and were confirmed when Granit said that he was so pissed off with having to write the longest name in football (Borussia Mönchengladbach) as his employer when filling in his tax returns that he wanted to go somewhere with a shorter name.  Arsenal (seven letters rather than 23) fitted the bill.  (Apparently he also got fed up with the guy who stood on the terraces at Stadion im Borussia-Park shouting "Give us a B").
Mönchengladbach wanted £35m but Mr Wenger said, "don't you read the papers?  I'm a miser, I never spend money, surely you know that?"
To which the top dog at Stadion im Borussia-Park said, "What about Mesut and Alexis?"
After that Mr W said, "damn, you have seen through my ploy, but you may also have read that I do my homework, and Granit has a £23m release clause."
"But that release clause doesn't click in until 2017," said the man from the SiB-P.
"Where does it say that?" asked Mr W.
There was a bit of huffing and puffing, until they said, "can we make it £25m and you pay us more when you win the league?" and Mr W said, "ok but can we tell the press that it is £33.8m?"
"Why such a strange amount?" said they.
"It brings verisimilitude to the affair," said our Arsene.
"You don't half know some long words," said the man from Borussia Mönchengladbach and the deal was duly did.
So, "who is he, what does he do, and where will he play?" are all good questions, which the newspapers are not answering.  But I'll try.
He is 23, he is Swiss, so he'll be a companion for Elneny, who also plied his trade at FC Basel.  Oh, and the aaa and their fellow travellers will love this: Borussia beat Darmstadt last week to get fourth place in the German league, so he'll feel very much at home at Arsenal.
[I trust that was what you aristos call "irony" – Tony]
Granit's parents are Albanian, but he plays for Switzerland, and Switzerland play Albania in the Euro "let's injure everyone worth watching" tourney that is going to happen sometime this summer.  His brother Taulant Xhaka plays for Albania.
Anyway, here is more ammo for the aaa to kick him with before he's even kicked a ball….  He's been sent off eight times and gets a booking every four games.  Mind you, Ottmar Hitzfeld said, "I am convinced that he still has a great career ahead of him. He is a leader, a player who is responsible and self-confident," so you read your newspaper and choose the bit you want to believe.
He doesn't score goals, he doesn't do assists, but he is very keen on quantum mechanics, knows that "he has Barcelona DNA in his blood" is mindless gibberish, and can tell a virus from a petri dish.
According to the Daily Sprout, Granit was wanted by Manchester City and lots of newspapers have said that "a chance to join Guardiola will prove impossible to resist" which will lead the aaa to claim that we are picking up Man City rejects.   There is even a quote doing the rounds purported to come from Grannit: "Logically, it is hard to say no when Manchester City wants you and you can play there. I will openly admit that, and that surely does not only apply to me."
He will be offered a five year deal, and be paid £120,000 a week or £11.90 a minute before tax.  (It's 40% in the UK Granit, so best get your accountant working on how to put your image rights overseas.  Or better still, don't.  If the UK leaves the EU we'll need every penny of incoming cash we can lay our hands on, and you'll need to buy a visa because the standard EU immigration deal with Switzerland will be cancelled).  
Now all the media are saying stuff like, "Central midfield was always his priority following the departures of Mikel Arteta, Mathieu Flamini and Tomas Rosicky," but still when you look at our midfield team you have to work out where he is going to fit in.  Certainly not where Tomas played.
The answer seems to be that he will either replace Francis Coquelin or provide the opportunity to play alongside Francis where two holding midfielders are required because of the nature of the opposition.
What this indicates is an increase in the flexibility that Arsenal have, and which we didn't have because the second defensive midfielders that we have had (Flamini and to a degree Arteta) were both injury prone and getting older.  It also means that if this deal does go through (and you know what the newspapers are for making things up) we are looking at also having more cover in each position for the rise and fall (or if you wish, the ebb and flow) of injuries that we get.
As shown by Untold this season, Arsenal are not by any means the top club for injuries, and following the BBC's publication of data to back this up, most of the media have dropped the story they have been running for five years.  But there are still injuries, so back ups are helpful.
So what else do we know of Mr Xhaka, apart from the fact that he is the second player in the squad with an x in his name?
He played for Basel in his youth from 2000 to 2010, before joining their senior team…
| | | | |
| --- | --- | --- | --- |
| Years | Team | Lge games | Lge goals |
| 2010/12 | Basel | 44 | 2 |
| 2012/15 | Borussia Mönchengladbach | 102 | 6 |
Here's the more detailed breakdown…
Club
Season
League
Cup
European
Total
Games
Goals
Games
Goals
Games
Goals
Apps
Goals
Basel
2010–11
20
1
3
0
6
1
29
2
2011–12
24
1
6
0
8
0
38
1
Borussia Mön etc
2012–13
22
1
2
0
9
0
33
1
2013–14
28
0
1
0
29
0
2014–15
30
2
3
0
9
3
42
5
2015–16
22
3
3
0
5
0
30
3
So there it is.  Either a load of totally made up gibberish that has swept every single web site in the last 24 hours and which will then be buried under the carpet, or else we will sign him sometime around Wednesday, and everyone will say "As the Daily Gibberish reported last week…"
Anyway, that's the news, I'm just off to the casino games, and if anyone else suddenly decides to sign for us, I'll nip back out and file another story.  
Now, where did I put my yacht? 
---
If you appreciate what we do and would like to help Untold Arsenal, please follow us on Twitter, and on Facebook (UntoldArsenalToday) – it all helps to spread the word.
———————
Untold Arsenal has published five books on Arsenal – all are available as paperback and three are now available on Kindle.  The books are
The Arsenal Yankee by Danny Karbassiyoon with a foreword by Arsene Wenger.
Arsenal: the long sleep 1953 – 1970; a view from the terrace.  By John Sowman with an introduction by Bob Wilson.
Woolwich Arsenal: The club that changed football.  By Tony Attwood, Andy Kelly and Mark Andrews.
Making the Arsenal: a novel by Tony Attwood.
The Crowd at Woolwich Arsenal by Mark Andrews.
You can find details of all five on our new Arsenal Books page