.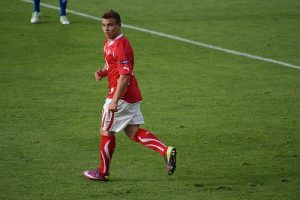 Surely it can't be hard for Xhaka to top Shaqiri?
Ok, so we all know about our huge summer signing and his potential to be the best thing to happen to the Gunners' midfield since Patrick Vieira. It was frankly about time for Arsene Wenger to splash the cash on a recognised world-class defensive midfielder, and Granit Xhaka has what it takes to fit the bill. Will he be the best Swiss player ever to grace the Premier League, though?
Well, that may not actually be too hard. Let's think for a moment about the current crop of Swiss players in the top flight:
Xherdan Shaqiri- Stoke City
Gokhan Inler- Leicester City
Valon Behrami- Watford
Shaqiri came to England full of promise, dubbed by some as the "Alpine Messi", and did show off a few tricks in a couple of matches. With a meagre three goals and six assists, though, it turned out that he was actually a real let down, and more like the "Alpine Charlie Adam". Playing for Stoke obviously didn't help his cause, and he may have achieved a higher output had he been playing for us, but we can only deal in facts here.
Inler was even more of a disappointment. Bought by Claudio Ranieri as a replacement for the former midfield general, Esteban Cambiasso, it turned out that the ex-Napoli man wasn't needed thanks to N'Golo Kante storming in and taking his place. The 32-year old played a total of 194 minutes for the champions and probably wished he'd stayed in Italy.
There's not much point going into great detail about Behrami; he plays for a club that have outstayed their welcome in the top flight and will probably sink like a lead balloon this season. But if you wanted to know, he made 21 appearances for the club and got one assist last season.
It is fair to say that Wenger's new Swiss army knife will cut this meek competition to shreds. We already know some of what to expect from the £35million signing after seeing his man-of-the-match performances at Euro 2016.
It is quite hard to think of other notable Swiss players in the Premier League, so for Xhaka to win the crown, he will simply have to outdo a couple of old Gunners. Johan Djourou and Philippe Senderos are the only other two Swiss players to feature for Arsenal.
Xhaka will certainly be hoping for a better start to his Arsenal career than Senderos. The former Arsenal man missed the entirety of his debut season at the club, which could have been for the best as we won the league undefeated without him. It's fair to say that both the Swiss defenders suffered painfully average spells at Arsenal.
Our new signing could be about to change the Swiss image in the Premier League, though. Xhaka certainly has the style, the ability, and the presence to take command of our midfield and give us the edge we were missing last season.
Although it isn't much of an achievement, the signing of the summer is set to be the best Swiss ever to play in England's top flight.