.
By Tony Attwood
Saqnti Cazorla has not played since mid-October after injuring an Achilles in Arsenal's 6-0 Champions League win over Ludogorets on 19 October.
Immediately the news of just how serious the injury was, the press got very excited.  "Santi Cazorla injury will derail Arsenal's season – unless Arsene Wenger does something drastic" screamed CHARLIE ECCLESHARE (who gets his name in capitals in the Daily Telegraph).
"You have probably heard by now how crucial Santi Cazorla is to Arsenal," he shouted (metaphorically at least) on 24 October, linking back to an article by himself headlined "Arsenal's draw with Middlesbrough underlines why Santi Cazorla is the player Arsene Wenger cannot do without."
He had his theme and no one but no one was going to stop him.   "The difference between Arsenal's results with him in the team and when he's missing is stark. Since the start of the 2014-15 season Arsenal have won 65.5% of the Premier League matches in which Santi has started (36 out of 55), compared with 40% when he has not (12 out of 35). That's a difference of 2.1 points per game compared to 1.6, or in other words title-chasing form versus Europa League form."
And again in another piece "Since August 2014 Arsenal's Premier League win percentage is 65.55% when Santi starts and a mere 41.1% when he does not. So it is easy to see why the news that he will need surgery on an Achilles problem and be out until March was met with such despair at the Emirates."
Oh yes.
Despair at the Emirates.
Have we ever heard that before?
Well probably yes, but this is the Telegraph, so you would expect them to knock Arsenal again and again and again and again and again and again and again and again and again and  [OK that's enough "again" – Tony]  [Hang on, I'm Tony and I'm writing this piece – Tony] [Oh bugger I must be talking to myself – Tony] [This is getting to be a habit – Tony] [Cut it out you two – Tony]
And Eccles (as he is known to those of us with very long memories) continued to rant "Arsenal managed just four shots on target from the three matches against Tottenham, Manchester United and Paris Saint-Germain."
So the claim was one of, "Tactical inflexibility and a lack of adaptability," but these were not just the charges from Eccleshare but apparently from everyone who knows and thinks.  They "are two of the many charges levelled at Wenger, who has been an almost slavish devotee to the 4-2-3-1 during the last decade."
Let us therefore look at the league results since the injury
| | | | | | | |
| --- | --- | --- | --- | --- | --- | --- |
| Game | Date | Opposition | Venue | Result | Pos | Pts |
| 9 | 22.10.2016 | Middlesbrough | home | D0-0 | 1 | 20 |
| 10 | 29.10.2016 | Sunderland | away | W4-1 | 2 | 23 |
| 11 | 06.11.2016 | Tottenham Hotspur | home | D1-1 | 4 | 24 |
| 12 | 19.11.2016 | Manchester United | away | D1-1 | 4 | 25 |
| 13 | 27.11.2016 | Bournemouth | home | W3-1 | 4 | 28 |
| 14 | 03.12.2016 | West Ham United | away | W5-1 | 2 | 31 |
| 15 | 10.12.2016 | Stoke City | home | W3-1 | 1 | 34 |
| 16 | 13.12.2016 | Everton | away | L1-2 | 2 | 34 |
| 17 | 18.12.2016 | Manchester City | away | L1-2 | 4 | 34 |
| 18 | 26.12.2016 | West Bromwich Albion | home | W1-0 | 4 | 37 |
| 19 | 01.01.2017 | Crystal Palace | home | W2-0 | 3 | 40 |
| 20 | 03.01.2017 | Bournemouth | away | D3-3 | 4 | 41 |
| 21 | 14.01.2017 | Swansea City | away | W4-0 | 3 | 44 |
| 22 | 22.01.2017 | Burnley | home | W2-1 | 2 | 47 |
The position column shows where Arsenal were in the league after all the games on that day.  We lost two games – annoying and frustrating at the time, but it happens.  Wish it didn't but apart from the Unbeaten season, it happens.
And the Champs League
| | | | | |
| --- | --- | --- | --- | --- |
| Game | Date | Opposition | Venue | Result |
| 4 | 01.11.2016 | Ludogorets Razgrad | away | W3-2 |
| 5 | 23.11.2016 | Paris Saint-Germain | home | D2-2 |
| 6 | 06.12.2016 | Basel | away | W4-1 |
So it is perhaps a little difficult for said Eccleshare to look at the newspaper today and see the Premier League table with Arsenal second from the top rather than scrabbling around with the Manchester clubs and West Bromwich Albion trying to get a place in the Europa League
Of course even I know that Arsenal are not top, but they are second.  Still you can prove anything with statistics.  So let's see what Santi Caz is really like as an influence.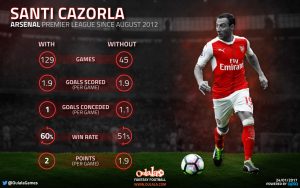 According to Oulalla in the 129 games Santi has featured, Arsenal have won 78, resulting in a win percentage of 60%. Without him they have won 23 of the 45 matches, a win rate of 51%.
They also point out that Arsenal have picked up 261 points from a possible 387 on offer when Santi has featured, an average of 2 points per game . This narrowly drops by just 0.1 points per game without him (84 from a possible 135).
When Cazorla has been in the team Arsenal have scored 242 goals in 129 matches, an average 1.9 goals per game. Without him they have netted 84 goals in 45 games, an average of… oh, how can this be, well I never, better check this again, nope that is right, 1.9 per match.
Arsenal have conceded 123 goals with Cazorla, an average of 1 goal per game, to just 0.1 more per match without him (50 goals in 45 games).
So, as I said just now, how can this be?  Why (remembering that "why?" is always my favourite question), would the Telegraph and the bloggettas who swim along in its slipstream, get it so wrong?
The answer turns out to be dead simple.   Both the mass media and the bloggettas take the view that their readers are idiots and can only cope with one idea at a time as in "Take Santi out and Arsenal flop because there is only one Santi."  Indeed the Telegraph made the point that against Middlesbrough there was no one doing the Santi stuff.
But life isn't like that, and football isn't like that.  You often can't replace like with like, so you change a bit more.  You change the system slightly to fit the personnel.  This player out wider, use x instead of y as the other midfielder alongside Coquelin and so on.
Now this sort of changing often (not always but quite often) takes a few games to get used to.  So if you are measuring games in which a key player is suddenly out for one or two matches, you might well see a blip.  If you know he is going to be out for three months or more the manager (or at least the manager with sense) makes adjustments to the wider team.  It might take a couple of games to settle down, but then it works.
In short, with an injury for a match or two you might get a disruption to results, which affects the percentages dramatically.  Santi is out for two games and Arsenal lose both, the defeat rate without Santi is 100%.  Santi is out for 10 games, and Arsenal lose the first two while adjusting to the change of system and the defeat rate without Santi is 20%.
It's not that complex is it?
However just as the Sun and its fellow travellers won't use words of more than one syllable (which is why they never use the word "syllable") so the up-market papers still think that when it comes to football, their readers can only cope with one idea at a time.   And they also believe that once a story has been run, everyone forgets it.
Anyway, since we are doing some stats from the Telegraph, let's be fair and say that sometimes they do come up with something interesting.  Like this one.  "Which Premier League team has trailed for the fewest minutes this season?"
Here is the list showing how long each team has been behind in total during the season.
Arsenal 183 minutes
Liverpool! 217 minutes
Chelsea 290 minutes
Tony Totts 298 minutes
Man U 364 minutes
Southampton 392 minutes
WBA 410 minutes
Man City 427 minutes
Burnley 486 minutes
Everton 495 minutes
Man U have been behind in matches almost twice as long as Arsenal, Man City 2.33 times as long.
Of course that doesn't equate with league position exactly, but it is not far out from how things stand in terms of the league.  In a sense it is a fairly reassuring study, for if one had a club that was near the top of the league but had a huge number of minutes in which they were behind, then one would suggest they are habitually leaving it very late to score, and that can be dangerous.
Still you can prove anything with statistics.
---
If you appreciate what we do and would like to help Untold Arsenal, please
Follow us on Twitter @UntoldArsenal
Follow us on Facebook (UntoldArsenalToday)
The more followers we get, then the more it helps to spread the word.