By Bulldog Drummond
Now this is all very curious indeed.   According to the Independent, as we saw this week, Arsenal have more injuries than the rest of the league put together and are way out in front of everyone else, largely because of the introduction of the 56 week year and counting injuries of players out on loan.
But physioroom has us in 13th position in the injury table.  Surely that can't be right…
| # | TEAM | TOTAL INJURIES |
| --- | --- | --- |
| 1 | Sunderland | 10 |
| 2 | Hull City | 9 |
| 3 | Southampton | 9 |
| 4 | Crystal Palace | 9 |
| 5 | West Ham United | 7 |
| 6 | Swansea City | 7 |
| 7 | Watford | 6 |
| 8 | Tottenham Hotspur | 5 |
| 9 | Stoke City | 4 |
| 10 | Everton | 4 |
| 11 | Liverpool | 4 |
| 12 | Burnley | 4 |
| 13 | Arsenal | 3 |
Now the three that physioroom recognise as being out of the game are
Player
Injury

 

Return

 

M Debuchy

Hamstring Injury

 

January 31, 2017

 

S Cazorla

Plantaris Injury

 

No Return Date

 

P Mertesacker

Knee Injury

 

January 31, 2017
However Arsenal.com seems to suggest that neither Per nor Debuchy are injured – which presumably means that they are simply not match fit yet – a distinction which those who study these tables at Untold are starting to say often causes disputes about numbers as different clubs evaluate such matters in different ways.  It seems that it is often the explanation for Swansea and Chelsea being shown on the charts with zero injuries – they are counting players as not injured (but not yet ready for the match) much earlier than Arsenal.
Any way there is a fairly general consensus concerning Southampton:
Player
Injury

 

Return
Issues

J Rodriguez

Ankle Injury

 

No Return Date

Slight Doubt

J Ward-Prowse

Chest Injury

 

No Return Date

Slight Doubt

V van Dijk

Ankle Injury

 

No Return Date

Major Doubt

S Boufal

Knee Injury

 

January 31, 2017

 

C Austin

Shoulder Injury

 

April 1, 2017

 

A McCarthy

Hamstring Injury

 

No Return Date

Major Doubt

M Targett

Hamstring Injury

 

March 18, 2017

 

J Hesketh

Ankle Injury

 

January 31, 2017

Major Doubt

J Pied

ACL Knee Injury

 

June 1, 2017
I have not been able to find any consistent links between "slight doubt" and whether being picked in the squad for a match, but when we get a combination of "no return date" with "slight doubt" then I am even more confused than usual.  It becomes hard to put the injuries in any sort of date order, so I've left them as they appear on physioroom.  Make of them what you can.
However Arsenal themselves are reporting that Santi Cazorla is the only member of our squad not fit enough to take part in full training. But Granit Xhaka banned for four games and Mohamed Elneny is playing for Egypt.   So it is fairly likely (if not dead certain) that we will have Francis Coquelin and Aaron Ramsey in the centre.
The alternatives would be Jeff Reine-Adelaide, Ainsley Maitland-Niles, and Alex Iwobi.  The first two are still learning their trade and the last is not a specialist in defensive work, so I think we can say for sure it is the Coquelin/Ramsey axis.
Mr Wenger also looked to explain why there has been a move towards late goals in games, in his press conference…
"The trend is linked with fitness and style of play, but the Burnley result was linked with resilience and mental desire. The focus on what you want to do is not enough, so everything has to be right and it all has to click.
"It's true that there's a relentless attitude in the team, of strength and belief. Maybe the fact that we know we can score great goals means we keep going. Against Burnley we found the resources to score another goal, and for us it was a massive game because we knew we had an opportunity [to go second].
"What's very important is the players who come on off the bench. We say that a lot, that we are a whole squad, we are not just 11 players. Maybe that's been justified more than ever this season because the players who have come on have made a huge contribution every time and we have a quality bench as well. Their attitude is right."
In relation to Granit Xhaka's hounding by the media we have seen all this before with Patrick Vieira who got repeated sendings off in his early years and had the media baying for blood, with regular comments about his nationality, how this wasn't the English way, and how Mr Wenger didn't understand how we play the game here.  (This being the country of Nobby Stiles and all).
Indeed it was out of Patrick's couple of reds within a couple of matches that the myth that Arsenal had more players sent off than anyone else came about.   It has now of course been replaced by the myth that Arsenal get more players injured than anyone else.  When the media finally let go of Xhaka we will probably have the news that Arsenal have more players abducted by aliens than anyone else.
Speaking on this topic (red cards not aliens) Mr Wenger said, "Tackling is not the first quality of Xhaka, but he looks more dangerous than he is. That's why he maybe has to stay on his feet more or improve the quality of his tackling, because you want the right commitment and you want the right level of winning the ball
"He has to realise what has changed in the last five or six years. Tackling from the front is severely punished now, much more than before. Unfortunately for us it's a severe blow because we don't have Mohamed Elneny at the moment, and now we don't have Xhaka on top of that.
There will of course be more on the game anon, but for the moment, here is a note of thanks: Jacamo recently supplied a Weekend Offender t-shirt to Untold Arsenal – which we all rather like and have been fighting over ever since (apart from those of us who went out and bought some).  Here's a link to their range.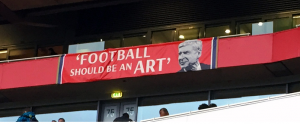 If you appreciate what we do and would like to help Untold Arsenal, please
Follow us on Twitter @UntoldArsenal
Follow us on Facebook (UntoldArsenalToday)
Read all about it