by Tony Attwood
Having heard that Tottenham have put up posters all over the London Underground selling their Premium Packages with the word "premium" spelled wrongly twice, I have some sympathy.  I can't spell either – as of course you will have noticed if u lok ocasionaly @ wot i right.
Mind you there are some benefits in not being able to spell.  As in the fact that the most successful advert I have ever written (which advertised teaching materials for children with dyslexia) had the headline
Nw y knw wht ts lk t b dyslxc 
But I digress.  The point is Untold is run by volunteers and the money we get from advertising just about pays for the server, and the security systems we've had to keep in place.  I think this is a little different from the situation at the Tiny Totts as they build a new stadium and place advertisements on the Underground saying…
"Book an exclusive VR experience for new premum packages at Tottenham."
Plus the one big point I have learned as a writer (apart from the benefit of having an editor who can spell) is that if one is going to make mistakes then try not to make them in the URL of a website one is referring to.  Otherwise people can't find it.  The Tinies poster advertising their top notch situations at the new stadium, has a mistake in it, again in terms of the word which this time turns up as "premiun".
Still, never mind.  It is but a distraction from tonight's match as is the news in the press yesterday that a certain Mr Higuain almost signed for Arsenal in 2013 but that awful Arsene Wenger refused to pay a Real Mad price and brought the present squad instead.
According to the Telegraph, "Given how that saga developed, the decision not to buy Higuain there and then was certainly a mistake in hindsight."
Which is interesting given that as things stand in the league today Arsenal are the second highest goal scorers, just one goal behind Liverpool, and with twice as many goals scored as today's opponents.  Last season we scored six fewer than the top scorers.  Of course we could have done with six goals more, but can we be sure that Higuain (instead of the squad we had) would a) have been injury free (given the way PL refs operate) and b) have adapted overall to PL and PL ref tactics?
According to the same article we also had a "dysfunctional midfield".  So apparently with a lack of striking power and a dysfunctional midfield one can come second in what we are told is the strongest league in the world.  I think that deserves praise not yet another daily put down.
I think we are doing rather well at the moment (true we are not top, but still doing rather well) in part because Arsenal have a full list of 25 players on their rosta, just about the only club to do this, plus we have a group of under 21s who are regularly fighting for a place in the team including the likes of
Bellerin, Holding, Iwobi, Maitland-Niles, and Reine-Adelaide.
Watford have just 19 listed in their "25" and it is suggested that Changchun Yatai have agreed a fee of £20m for striker Odion Ighalo, although some reports say "it is understood" the Nigeria striker is reluctant to join them.   I love "it is understood".  It is fake newsery talk for "this guy down the pub who, I admit, was a bit pissed, said, 'that Odion guy, he don't wanna go'."
Arsene Wenger has mentioned the strength of his squad of late saying, "I believe that number-wise and quality-wise, we have what is required to do well.   We are not in need of buying. On a general front it has been very quiet [in the transfer window]. That shows that there are not many players available who can strengthen English teams.
While Mr Wenger was looking at broader themes the Watford head coach Walter Mazzarri was concerned about the way things went in south London at the weekend, saying, "We have to react immediately.
"When you don't win, of course you always reflect on different possibilities.   Due to our situation, given injuries and that there are just two days until the next game, the manager makes the decision of putting the best possible team out in that moment."
Which is a bit like saying, "I don't really know what I can do."
More on this and other team matters later today.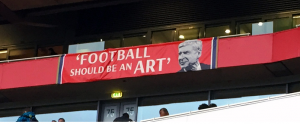 If you appreciate what we do and would like to help Untold Arsenal, please
Follow us on Twitter @UntoldArsenal
Follow us on Facebook (UntoldArsenalToday)
Fixtures and fittings