By Tony Attwood
It happened on 25 January 2003 and is still recorded in most history books as Farnborough 1-5 Arsenal.  But in fact the game took place at Highbury, switched there to help Farnborough get additional revenue.
Arsenal donated all the income from programme sales for the day to Farnborough, and as the teams came out the Arsenal support chanted "You're supposed to be at home."  A singularly droll moment one could say.
In fact Farnborough's dream of knocking the club that had just won the double out of the FA Cup was wrecked in nine first-half minutes at Highbury as goals from Sol Campbell and Francis Jeffers effectively ended the match.   Christian Lee got a red card on 28 minutes just to rub it all in.
Further goals from Jeffers, substitute Dennis Bergkamp (on for Pires) and, finally, Lauren gave Arsenal the win, although Farnborough did get a consolation goal near the end from Rocky Baptiste.   The goal from Baptiste was his seventh of the FA Cup campaign, making him the leading scorer in the competition for the season.
The Arsenal team for the day was
Taylor,
Lauren, Campbell, Cygan, van Bronckhorst,
Vieira, Toure (Wiltord 66)
Pires (Bergkampg), Toure (Wiltord 66), Jeffers, Kanu (Edu 76).
Subs not used: Seaman, Luzhny.
Attendance: 35,108
Sadly Farnborough's decision to cash in on the match by switching grounds didn't pay off in the long term as in the 2009–10 season, with the team looking to win the league title, the club were served with winding up order in court: all the money from the Arsenal game, it seems, had been blown away.
Worse this was just three seasons after the new club formed. However the club pulled itself together and on 17 April 2010 they became champions of the Southern League Premier Division, and were promoted to Conference South.  They stayed there until 2015 when the were relegated to the Isthmian League an then subsequently down into the Southern League Division One Central.
Sutton play in the National League – one league below League Two.  Their ground is at Gander Green Lane and has a capacity of 5,013, with 765 seated.  Here's the current league table.
 

| Team | P | W | D | L | F | A | GD | Pts |
| --- | --- | --- | --- | --- | --- | --- | --- | --- |
| Lincoln City | 28 | 18 | 4 | 6 | 57 | 29 | 28 | 58 |
| Forest Green Rovers | 30 | 16 | 9 | 5 | 61 | 36 | 25 | 57 |
| Dagenham & Redbridge | 29 | 17 | 4 | 8 | 49 | 31 | 18 | 55 |
| Tranmere Rovers | 28 | 16 | 5 | 7 | 38 | 24 | 14 | 53 |
| Dover Athletic | 30 | 16 | 4 | 10 | 61 | 46 | 15 | 52 |
| Barrow | 29 | 13 | 10 | 6 | 47 | 30 | 17 | 49 |
| Aldershot Town | 30 | 13 | 8 | 9 | 37 | 29 | 8 | 47 |
| Macclesfield Town | 28 | 14 | 4 | 10 | 41 | 29 | 12 | 46 |
| Gateshead | 30 | 11 | 10 | 9 | 47 | 33 | 14 | 43 |
| Chester | 30 | 11 | 10 | 9 | 46 | 38 | 8 | 43 |
| Boreham Wood | 30 | 11 | 9 | 10 | 31 | 27 | 4 | 42 |
| Wrexham | 31 | 11 | 9 | 11 | 30 | 38 | -8 | 42 |
| Eastleigh | 29 | 10 | 11 | 8 | 42 | 36 | 6 | 41 |
| Bromley | 29 | 12 | 5 | 12 | 38 | 42 | -4 | 41 |
| Solihull Moors | 29 | 10 | 7 | 12 | 40 | 45 | -5 | 37 |
| Sutton United | 28 | 10 | 6 | 12 | 31 | 36 | -5 | 36 |
| Torquay United | 30 | 9 | 6 | 15 | 35 | 43 | -8 | 33 |
| Braintree Town | 29 | 8 | 7 | 14 | 32 | 49 | -17 | 31 |
| Woking | 29 | 8 | 6 | 15 | 41 | 53 | -12 | 30 |
| Southport | 30 | 8 | 6 | 16 | 37 | 63 | -26 | 30 |
| Maidstone United | 30 | 8 | 5 | 17 | 33 | 56 | -23 | 29 |
| Guiseley | 29 | 7 | 7 | 15 | 34 | 46 | -12 | 28 |
| North Ferriby United | 31 | 8 | 3 | 20 | 18 | 47 | -29 | 27 |
| York City | 30 | 5 | 11 | 14 | 27 | 47 | -20 | 26 |
---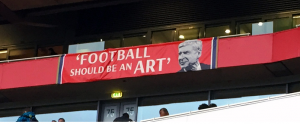 If you appreciate what we do and would like to help Untold Arsenal, please
Follow us on Twitter @UntoldArsenal
Follow us on Facebook (UntoldArsenalToday)