By Tony Attwood
Going away from everyday life for a few weeks gives one a chance to reflect, and given that Untold Arsenal is now over nine years old and by the time I get back from Australia will have published almost 7000 articles, on this subject alone I find I have a lot of reflecting to do.
Has it been worth it?  Should I give up so much time to keeping this going?  Have we achieved anything?  Should I worry when the abuse levels go up?  Did I pick the right name?  Who is Sir Hardly Anyone?  All the usual questions about life, the universe and everything.
In answer to the question about picking the right name, I certainly think I did, for the blog does consistently either cover the stories that others have ignored, or cover stories that other outlets look at, but from a different angle, and that was what I intended.    
As for "have we achieved anything?" yes I think we have – but I've been down this route before and listed some of the topics we've highlighted and which others have picked up on.   And I've been told to stop crowing.
So moving on…
If there is one thing that I really like about it all, it is the fact that Untold has a viewpoint, and we are clear about it, while most of the rest of the media pretends that they are just reporting the world as it is, pretending that they are not making an interpretation.  Sometimes that is just a writer's naivety, but mostly it is done to hide a viewpoint, to make it seem that this viewpoint is THE OBVIOUS viewpoint, and anyone who says otherwise is a moron.  
Of course every day people write in complaining that we don't publish certain comments and that we are afraid of alternative points of view.  My answer is always the same – there are thousands of blogs out there looking at the world through the same viewpoint.  So why should we give space to those who like such viewpoints, unless they follow our rules of not being rude, saying something we have not seen before on Untold, and giving evidence?  
My aim, at least in part, has always been to publish what was not out there – the Untold.  And in a world now dominated by triviality, in which what happened last is the only thing that needs considering, and in which context no longer has a point, there is a huge amount that is not considered, not debated, not discussed.  There is also a huge amount of misleading information being published, while simultaneously the trivial has become the defining quality of our lives, accompanied by made up stories presented as the truth.
I read this week that the average weekly screen time of an American adult is 74 hours (yes really) and is increasing each year.  And since each channel wants to keep the viewer it uses the most obvious technique: making each issue smaller and more trivial.  Everything becomes a tweet.  Who needs debate and paragraphs when you have the hashtag?
It doesn't just affect the football debate – it affects every debate.  It allows a bunch of con men almost to get away with putting a compulsory purchase order out to destroy a football ground, based on a story that was wholly untrue, but which no one ever bothered to check.  It allows politicians to proclaim an £18.2bn annual increase in money available for the NHS in Britain if we leave the EU, only to drop the idea once the vote was one. Yesterday's news – very boring.  Forget it.
The football equivalent is obvious: the "transfer rumour" becomes the dominant part of the football debate, when the reports have an accuracy level of under 3%.
Overall the current approach reduces debate to a playground squabble, and gives us a population for whom the evidence of their own eyes truly is the only form of evidence there is.  Statistics, data, analysis… it is all so passé.
And indeed it is because of this "evidence of my own eyes" issue that I have got so annoyed with newspaper stories that deliberately or through rank carelessness misrepresent what is going on.  
Yes my remorseless repeating of the "Arsenal had only two players scoring in double figures last season" is getting tedious, but it makes the point.  The comment was written by a highly esteemed, knowledgeable, intelligent writer working for the most serious paper we have got left; a senior writer supported by a whole roomful of researchers and checkers, and it was flagrantly misleading.  
Likewise the report recently about Arsenal's psychiatrist not being up to the job.  I'm not picking examples from the Daily Star (which only exists to make the Sun look like a serious newspaper – that joke went down well last time I used it so I thought I would throw it in again) but from the papers that are supposed to give us insight.
And it is not just that in those stories that the Guardian and Telegraph reported untruthful comment – although they did exactly that.  But rather they did it in a way each story was designed deliberately to mislead in order to excite the readership and encourage a particular point of view among those who would swallow the story whole without thinking "is this analysis reasonable?"
Combine that with the under-reporting of the fact that two elected representatives on a local council claimed that Sport England were giving their scheme financial backing (wholly untrue) for an utterly scurrilous scheme, and that none of our so called investigative papers bothered to check if the money was really there, and that shows how much danger we are in.
And all this without even mentioning the FA and Fifa, and the support for both of them from government and the media.   Indeed the Fifa issue seems beyond belief to me: the most corrupt body you could imagine, still recruiting to its offices men who are being investigated for corruption charges, and our government continues to  finance the FA which in turn is continuing to throw money at Fifa.   How insane do you want this to get?
The issue of countries pulling out of Fifa and setting up a new, clean organisation is not a debating point in the media, although it seems to me to be a valid point to discuss.  Instead we are going to spend a fortune sending teams to Russia and Qatar, or at least waste a fortune trying to qualify.  And that is before the moral perspective about whether we should have anything to do with a state that uses slave labour.
Let me try this another way: the European football market is worth about €25 billion a year.   And it is regulated by a bunch of crooks.   And no one is even contemplating the argument that they should be thrown out and an alternative organisation set up.
Such issues don't become debated  because the football industry is treated as trivia by the media.  And this is not because it is a hobby, not because it is not as serious as "real news", but because now, everything is trivialized.  So huge issues such as the aforementioned slave labour used to construct the Qatari stadia, or the fact that football clubs in the UK have been used for years as a place of work for paedophiles, at best surface for a few days and then vanish because the story doesn't fit with the overall message of mindless trivia and yesterday's result.
The new truth, the new reality, does not recognise evidence in the classic sense of something provable, nor does it consider the past in terms of anything beyond the last match.   Nor does it have any morality.  Any attempt to look beyond that is a switch off for many people.
Or to take another approach, the fact that there appear to be people out there who call themselves Arsenal fans but who want Arsenal to lose so that the manager will be sacked and replaced by, well, we don't know who, in a world in which most incoming managers are less successful than the man who has been at the helm for a few years, shows how bonkers all this has become.  Losing, to force out the manager when we don't know who the next manager might be, and when most new managers fail, has not a single shred of logic within it, and yet it is a route that seems to envelope a fair number of people.
But the bonkersness of one issue isn't the only problem.  It is that the bonkersness itself is not an issue for debate.
What Untold tries to do is not popular.  It is not the modern way.  We are trying to take up the fight against false arguments in a world awash with five second trivia.  It hardly makes us mainstream, which is why I am always so astounded at the size of audience we get.
What I felt we needed nine years ago when all this started was a way to put forward exactly this thesis.  Then what we needed was a strategy – and particularly on the issue of refereeing what we have is just such a strategy thanks for Walter, Andrew and Usama.  When we started no one talked about referees other than in the "all evens out in the end".  Now the mainstream are fighting a rearguard action against us bringing in ex-refs to offer sanitised "insights" while still refusing to discuss the essence of the PGMO, an organisation now permanently in hiding.   It might not seem that we have got very far, but when you consider where we were nine years ago I think that is progress.
For the moment I'm working on the basis of seeing fake news and false allegations as an opportunity to make the point: we are being manipulated by a media that now looks more like its owners have read "Brave New World" and seen it as the blueprint for the future, rather than "1984".
The mass media with the exception of the BBC is a selling mechanism, and sadly in order to protect itself against government cuts the BBC is forced to compete for audiences with the popular media.  In some fields, such as the news and drama, it often does this exceptionally well.  In football, it seems utterly unwilling to challenge the reality created by Sky, BT Sport and the press.
So what to do?
Well here's some ideas
1:  Let's not use the media as the definition of what is news and what isn't.  Just because they decide x is the news, that doesn't mean it is.  The media does not determine reality.
2:  We can look at football from the outside inwards and see what it then looks like, rather than following anyone else's view from inside the game as to what the agenda is.  There is no harm in following completely different stories.
3:  Break with the established approach and do our own thing.  No rule says that after every five lines of text you need a picture.  No rule says that anyone should take phraseology like "Arsenal fans will feel" as anything other than the ramblings of a fantasist.
4:  Let's keep looking at today's headlines and seeing how they relate to last week's and last month's.  If nothing else it is amusing to see how inconsistent the message and the messenger has become.
5:  Think where this is going.  If we have this sort of approach and development in terms of both football and reporting continuing for another three years where on earth will we be then?
6: Re-think what it means to write about football, and to investigate football.  Of course we can't expose the perfidious nature of Sam Allerdyce as the BBC Panorama programme did, but we can look for anything that simply makes no sense, and ask what is going on.
7:  Be bold.  Untold has re-written some of the rules about commentary on football; I think we should continue.  And let us never worry if some of the experiments don't work.  That doesn't matter.  All that matters is that some of them do work.
8: There is nothing wrong with a starting point that says everything in the media is made up.  Every outlet is biased – including Untold.  The point about Untold is that we are adopting a form of bias that counters the dominant form of bias with the intention of making the current dominant form of bias more obvious, countering the view that the common approach is common sense.
9: Let's have a few laughs along the way.
10: And remember, there is no point 10.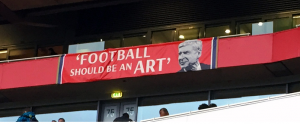 If you appreciate what we do and would like to help Untold Arsenal, please
Follow us on Twitter @UntoldArsenal
Follow us on Facebook (UntoldArsenalToday)
---
---
Now available: Woolwich Arsenal: the club that changed football (Kindle Edition)
For full details please see here.
---
During February some of the regular home page features will be missing due to the fact that the publisher is also missing.
What passes for a normal service on this site may be resumed at some stage in the future.
---