By Bulldog Drummond
Over recent years Arsenal have not done too badly against the team that used to be called West Ham, but which ultimately took advantage of the government's misuse of tax payers money to take a stadium for its own, which they had not paid for.
(And just to avoid any misunderstanding on the stadium issue, the Untold view – and yes it is just our view, only a few other organisations go along with this – is that the stadium should never have been built without a clear understanding of what should happen to it after the event, and full legal agreements in place to recover the money tax payers put into the building.  But we are used to being in a minority.)
Here are the recent games between the two teams.   Lines in red are Arsenal victories.
| | | | |
| --- | --- | --- | --- |
| Date | Home Team | Score | Away Team |
| 29.09.2007 | West Ham United | 0-1 | Arsenal |
| 01.01.2008 | Arsenal | 2-0 | West Ham United |
| 26.10.2008 | West Ham United | 0-2 | Arsenal |
| 31.01.2009 | Arsenal | 0-0 | West Ham United |
| 25.10.2009 | West Ham United | 2-2 | Arsenal |
| 20.03.2010 | Arsenal | 2-0 | West Ham United |
| 30.10.2010 | Arsenal | 1-0 | West Ham United |
| 15.01.2011 | West Ham United | 0-3 | Arsenal |
| 06.10.2012 | West Ham United | 1-3 | Arsenal |
| 23.01.2013 | Arsenal | 5-1 | West Ham United |
| 26.12.2013 | West Ham United | 1-3 | Arsenal |
| 15.04.2014 | Arsenal | 3-1 | West Ham United |
| 28.12.2014 | West Ham United | 1-2 | Arsenal |
| 14.03.2015 | Arsenal | 3-0 | West Ham United |
| 09.08.2015 | Arsenal | 0-2 | West Ham United |
| 09.04.2016 | West Ham United | 3-3 | Arsenal |
| 03.12.2016 | State Aid United | 1-5 | Arsenal |
So what of the current State Aid team?   Here are their four top goal scorers for league games:
Michail Antonio: 9
Andy Carroll: 7
Manuel Lanzini: 7
Andre Ayew: 4
And for Arsenal the top four are
 Alexis Sanchez: 18
Theo Walcott: 9
Olivier Giroud: 8
Mesut Ozil 5
 According to one of the bloggettas "Arsenal handed massive double injury boost ahead of key West Ham clash" which means that both Ramsey and the Ox trained yesterday."  Which may or may not be relevant.
One player who most certainly will be there is Alexis of course, and  www.oulala.com offer conclusive proof that the Difficult One has much more to his game than just goals and assists with "Nine stats that prove Alexis Sanchez is world class"
The subheading is that the "Arsenal forward features in top five in nine key areas this season"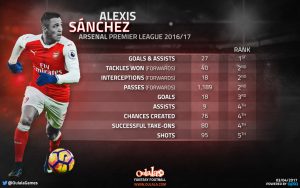 Read more here: http://www.oulala.com/en/community/blog/item/alexis-sanchez-stats-world-class
Moving on we have the usual "everyone is leaving" gibber from the media (you may recall that last summer every single player from the Arsenal first team squad was tipped by the all-knowing all-seeing media to be leaving.  Every single one.  And of course it wasn't really true, as it turned out.  How strange.
But never learning from their errors the Guardian is still at it.  Today it notes that Jack Wilshere "is destined to return from Bournemouth to a place where fans fight among themselves and discord is palpable in the air…. West Ham are ready to bid £30m for the midfielder, scuppering any hopes Eddie Howe had of signing him on a permanent deal so that he can sit on the Vitality Stadium bench and be used as a kind of miniature 20-minute turbo sub at the end of Premier League matches."
We can check that one again come September 1.  As we can with the issue of whether Chelsea are really in talks with Alexis Sánchez about a move to the little stadium to the west.  If they are, that would of course be utterly illegal (something that the Guardian is clearly unaware of) and so there might be some legal action following.
Here's a few snippets to be going on with…
Arsenal

have

scored at least 3 goals

in

8

of their last 10 matches against West Ham in all competitions.
There have been three goals or more in nine of State Aid's last ten games.
State Aid have 

West Ham

have

lost

their last

4

matches in the Premier League.

Arsenal

are

undefeated

in

12

of their last 13 home matches in the Premier League.
Anyway, let's try and do a team prediction:
Ospina
Bellerin  Mustafi  Gabriel Monreal
Xhaka Coquelin
Walcott Ozil Alexis
Giroud
Which might or might not leave lurking on the beach
Ramsey, The Ox, Iwobi, Martinez, Holding, Elneny, Welbeck
Sadly Walter has to go to a meeting this evening, and the rest of us are at the match, so there won't be any after match summary today.  Sorry about that.   We'll be back tomorrow.