by Tony Attwood
Some people are game changers.   Some people like Piers Stefan Pughe-Morgan (born Piers Stefan O'Meara now known as Piers Morgan) are name changers.  He's the man of whom the Leveson enquiry said,he was "sufficiently unembarrassed by what was criminal behaviour that he was prepared to joke about it".
Anyway he was at the GQ Men of the Year awards ceremony, as were Jeremy Corbyn and Hector Bellerin.  The leader of the Labour Party (that's Corbyn not Bellerin – do try to keep up) was there to present Grime star Stormzy with the best solo artist prize.
Now you'll know Mr Corbyn is the MP for Islington North, wherein lies Arsenal, and that I'm very much a supporter, which is why there is a picture on this site of said Mr C and me at the launch of one of the little books I have co-written, but in case you missed it here it is again.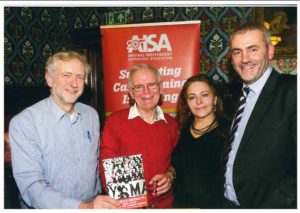 Anyway during the party Morgan, being his normal boorish self, lectured Hector on Arsenal's "poor form."
According to Mr Morgan's Daily Mail column, he had been seated at the same table as Mr Bellerin, and earlier in the evening had been lecturing him on Arsenal's recent run of poor form (that would be the 13 wins, 3 defeats and 1 draw in the last 17 competitive games I guess).
When Mr Corbyn and Hector started a private conversation the Morgan character tried to interrupt the conversation, as he always does, and so Hector and Mr Corbyn switched to Spanish leaving the journo completely in the dark (although undoubtedly pretending he understood what was going on).   Later Mr Corbyn told Morgan, that he asked Hector to "please send Arsène Wenger my very best and assure him he continues to have my full support, even if he's lost yours, Piers. In fact, particularly because he's lost yours…"
Morgan then said, "He's lost mine because we keep losing. You and Wenger are the only losers in football and politics to keep their job… no wonder you love him."
I am not sure if the Leader of the largest political party in Europe (in terms of paid up members it is actually the largest political party ever in Europe) then pointed out the statistics of the last 17 games but Morgan did admit in his column that "Corbyn got a huge cheer when he presented an award. His extraordinary popularity shows no sign of abating."
Subsequently Hector tweeted, "Come on mate, don't take it personally @piersmorgan" along with an emoji weeping tears of laughter.
Meanwhile elsewhere among what are laughingly called "reporters" in the British media, a Mr Ronay (who is not Mr Rooney star of the community work rosta) has taken to calling Arsenal players "gnomes", which I think is rather insulting.  He uses the word multiple times in his commentary in the Guardian including at one point calling the team "dinky little Velcro-touch skill-gnomes".
It is always sad when a journal that has in the past been known for its campaigning on important human rights issues is reduced to this level, but in the world of contemporary British journalism, that is how it goes.
However I suppose that is not quite as silly as the Telegraph which claims today to have "an exclusive" via which the newspaper favoured by ex-admirals, rural vicars and retired colonels claims it has an exclusive showing that  almost half of all Premier League clubs do not meet guidelines set out in the Accessible Stadia Guide.
What is fascinating here is the use of the word "exclusive" in this story in which they claim that clubs (they name Chelsea and Man U in particular in their headline) are facing "the threat of legal action".  So not actually legal action, but the threat of legal action.  And this for not implementing the recommendations for disabled supporters made in 1998.
The problem for the Telegraph is that on 20 Apr 2017 (ie five months ago) they ran the story "Exclusive: Premier League clubs face legal action if they do not address 'unacceptable' progress on disability access".  But even that earlier exclusive which preempted this exclusive wasn't actually exclusive in that in October 2016 the Premier League ran the story on its web site that Lord Holmes had told MPs that legal action against clubs and the Premier League remains an option if standards are not met.
But it still goes much further back than that, because a BBC report in 2014 not only covered the same ground but also got there three years before the Telegraph's repeated exclusives.
Much of this raises the question about just how pathetically stupid and lacking in attention the British media thinks football fans are.   Clearly they believe we are silly enough not to remember a story that we have heard before, and that we obediently go slavering at the mouth when we read the word Exclusive attached to what is a rather old tale.   And come to that a tale that the Telegraph has itself run before.
Now some people who are kind enough to glance at Untold from time to time do sometimes ask me why I keep reading newspapers when they clearly publish so much tripe.   One reason is that they are still getting away with treating us all as if we had the IQ of a semi-skilled dung beetle.  Calling them out from time to time still seems like a good idea to me.
The other is that sometimes they do publish some rather jolly headlines like this one, also from the Telegraph: "Jurgen Klopp backs Alex Oxlade-Chamberlain to shake off baggage and thrive at Liverpool."
I do love these amazing revelations.   Klopp bought the Ox for £35m just a few weeks ago and says he will do well – and that is news?  It would be news if Klopp said, "nope, I got that one wrong, which is why I have relegated the player to the League Cup squad," but Klopp backing a man he has just paid all that much for?
I don't think the Telegraph has quite got the hang of what "news" actually is.
Arsenal in Wartime