By Melissa Hart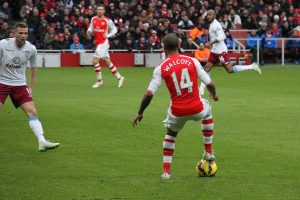 At 28, Theo Walcott should be coming into his prime, but like many players who made the step up to the first team at such an early age, he looks on the wane. Now, don't mistake that for affirmation that we need to sell, but it's the proverbial elephant in the room that needs to be addressed; should we cash in?
The thing about Walcott is that when he's good, he's very good. But due to inconsistency with his form — and, of course, injury setbacks — we don't see that side of his play as much as we'd like. Much of our fan base had doubts when he signed from Southampton in his early years, but he didn't take too long in proving his worth.
As a player with talent by the bucket-loads, we expected big things from our Theo. But no matter how much Arsene wrapped him in cotton wool, the weight of expectations — along with injuries and possibly a bit of burn-out — took its toll. We've never truly seen the very best of Walcott, as good seasons were invariably followed by injury-riddled ones.
However, his dedication to succeed, along with his loyalty to the club, have given him much more leeway with the fans. We'll always see him as incredibly unfortunate rather than frustrating, but we shouldn't let that reciprocal sense of loyalty cloud our judgement regarding his true value to the team.
Theo's stats make for good reading. Although he has 'only' scored 105 goals (55 assists) in 379 matches, he has scored or been involved in a goal every second game, which isn't too shabby for a winger. Yet, in comparison to another 28-year-old former Southampton player, Gareth Bale, Walcott falls short. Perhaps it's unfair to compare him to Bale, who has the distinct advantage of playing on an incredibly creative Real Madrid side, but the stats don't lie.
But perhaps the best barometers of Walcott's true value are the teams that are reportedly interested in signing him. Everton, West Ham, Crystal Palace, and now his former club Southampton, are said to be the clubs vying for his signature should we decide to sell. Compare that with the 'reported' interest from Barcelona, Man Utd, and even Liverpool in years gone by, and you can see how much his value has dropped.
The fact that we would even consider selling our longest-serving player of the current squad is a little sad. But the truth is that unless he offers us more on the pitch, then it might be time to bag a decent transfer fee now rather than letting him leave for nothing in the twilight of his career.
BetStars have us at 11/2 as the favourites to win the Europa League this season, and — I'll be honest — it would be a real shame if we sold him the same year we finally won a European trophy to go along with our Cup Winners Cup. Of course, the ideal scenario would be to see Theo have a stellar season and become the player we all know him to be, but we've been there before. The truth is that even if we win a couple of cups this season and our No. 14 bangs in the goals, he'll more likely than not end up injured the following season.
Should we cash in on him in January? No, it really doesn't make sense when we're in with a shot in a European competition. But if we were to receive a good offer next summer, then it would be hard to say no. He's a great player on his day and a loyal servant to the club, but sometimes you just have to let go.