By Tony Attwood
14 January, 2018.
You'll know, if you have been paying attention, that we are celebrating Untold's 10th anniversary.  Well, to be more precise, I'm celebrating Untold's anniversary, I am not sure what you are doing.
Now if you also occasionally take a look at the Arsenal History Society web site you'll know that over the years we have been building a huge index of the key events in the club's history.   We've got around 5000 events in the list, so it is not too surprising that I have found another anniversary for the day on which Untold launched:
14 January 2008: The launch of Arsenal TV as part of Setanta Sports.  It closed on 7 August 2009 as Setanta was liquidated and was replaced by BT Sport, but without Arsenal TV.
And here we are with post number 7,7797: we outlasted both Setanta Sports and Arsenal TV.  2-0 to Untold I think.
And people are allowed to indulge themselves a little on their birthdays, I'm indulging myself in this article by thinking about what 10 years of Untold has meant to me.
First, the friendships.  Walter, Blacksheep and Andrew have all become great friends as a result of Untold, and I would say that if that was all that had happened, it would have been worth it.  In my experience really solid, positive long-lasting friendships do not fall off trees, and to find three such friendships which I value so very deeply having emerged from this idea ten years ago today, makes the whole thing more than worthwhile.
I did have my doubts about Walter and Blacksheep when without telling me they took over Untold for my birthday last year, but I have to admit I found what they did utterly overwhelming.  That is what friendship can do.
Walter has invited me into his family who I have been delighted to get to know, and Blacksheep invited me to his wedding (not many people would take such a risk) … and these and many more events have occurred simply because of the friendships that have emerged out of this blog.
Blacksheep also came up with the idea of our banner which was funded by Untolders there is a permanent page recognising these contributions.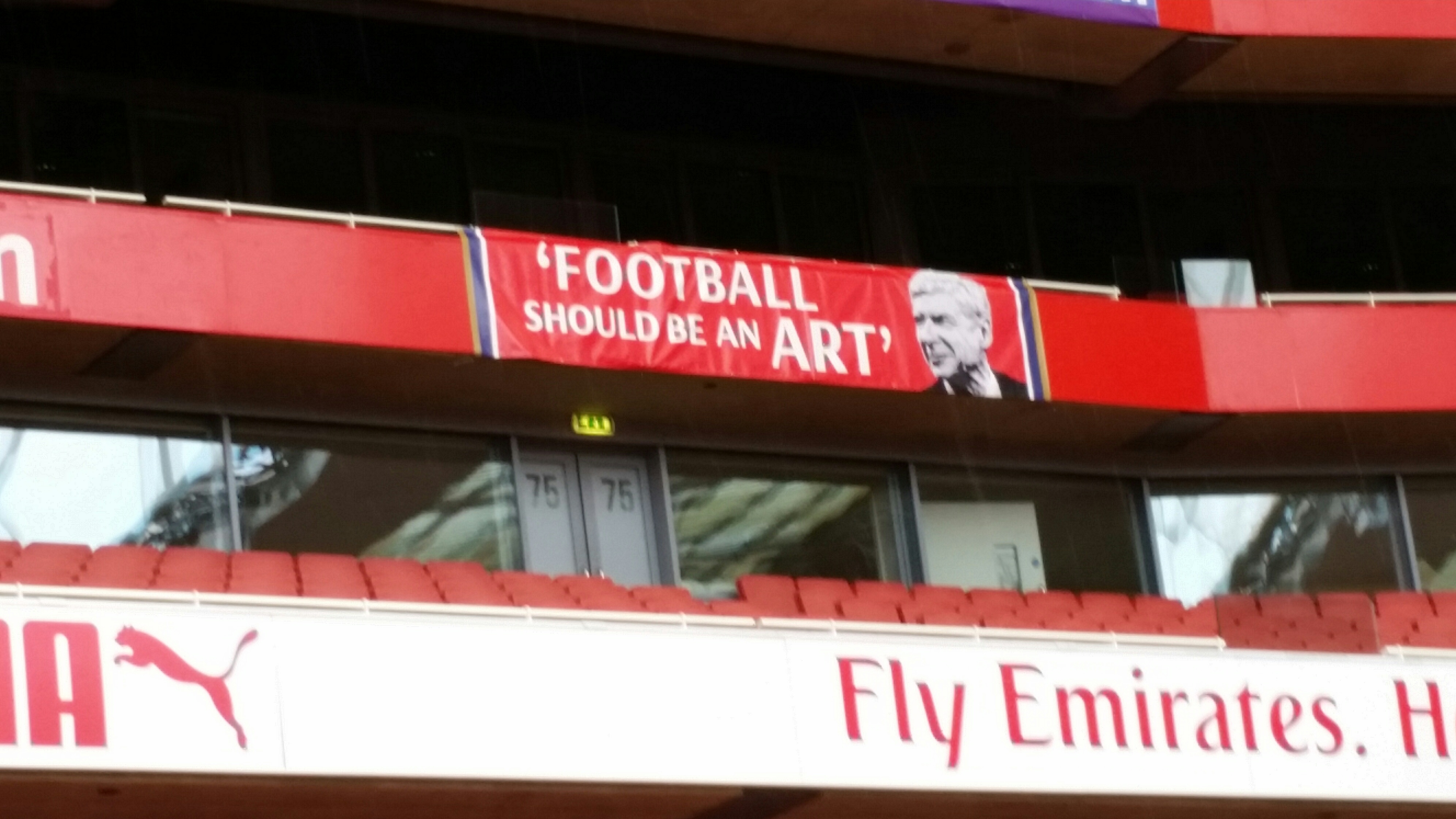 Walter also arranged matters so that I could play football on the Emirates pitch.  OK I was utterly useless and the team would have done far better without me, but for the rest of my life I can say that I have played on that pitch and had a day I shall remember for all time.  The picture of Walter and I which is on the home page was taken on the pitch on that day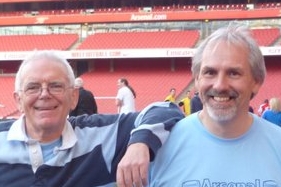 Then we had the people who worked with us for a while and did so much.  We could not for example have had the 160 games research with Usama.
Going back to the early days, Dale Higginbottom created the first ever Arsenal Injury Index which compared Arsenal's injury issues with others in the league and showed over six years ago, that the stories about Arsenal getting more injuries than anyone else were wrong.
Dogface gave us commentaries like we had never seen before or since, Phil Gregory really got us going with match previews, and Anne gave financial insights that brought into a whole new world.
There were so many more contributors of articles that really did get Untold established, quite simply, for its untoldness that I can't list everyone.  But I really must mention Ashley B of Goonernews – Ashley showed faith in Untold right from the start and has been a tremendous supporter of Untold all the way through.  Without his help and guidance I am not sure I would have had the enthusiasm to keep things going in the early days.
We have also published a series of books, for one of which Arsene Wenger wrote the preface – I am rather pleased with that little achievement, and of course that reminds me we've had an ex-Arsenal player and scout write for us too.
And then in addition to all that, having set up Arsenal History Society to run alongside this blog, three members of AISA including myself managed to get a meeting with Ivan Gazidis in which I was invited to offer some thoughts on what the club could do to make the Emirates Stadium appear more welcoming to Arsenal fans.   So it was I was able to set out my plans for a set of statues around the stadium, including, as I said in that meeting, "one of Herbert Chapman, facing the stadium, looking up at it, as if to say 'I created this'."   And lo and behold…
I could go on and on, but you'll certainly have had enough of this self-congratulation by now, so I'll end with my final thought.
Untold was just an idea that I had, after getting exasperated that the media refused to comment on rotational fouling and rotational time wasting.  So the idea came about of doing a blog about Arsenal that was positive about the manager and the team, and which made the point that the mainstream media both decides what is news, and what spin to put on the news.  Who could have imagined that within seven years it would be gaining six million page views a year.
I've absolutely loved doing it, and I am deeply indebted to so many people for helping make this happen, and for encouraging the whole enterprise.  If you have enjoyed it 1% as much as me, you will have had quite a good time.
If you have been, thank you for reading.
10 Years of Untold: trying to change football by being different
10 Years of Untold Arsenal: the issue of referees, corruption and non-reporting
10 years of Untold Arsenal: pondering the question of 3 types of match fixing
10 years of Untold: the shock of the comment
10 years of untold: all the corruption stories and we just keep on keeping on