Stories are only appearing occasionally at the moment as I am travelling.  A more regular service should be established by mid-week
---
By Tony Attwood
Florian recently provided us with an example of how real debate and argument works.   In case you missed it, I have reproduced the illustration at the end of this piece.   The article it comes from can be found here.   And I very much welcome this illustration as I think it is a perfect reflection as to what we get on Untold.
Apart from the messages that you can see on Untold each day we receive many more which are never published.  In this regard Untold is no different from most websites that get over a million page views a year.  Of course as a result I constantly get accused of not publishing comments which argue against points made in Untold articles, but much of the time I am deleting commentaries that fall into the lower categories of the pyramid below.   Mostly I publish the first of these, but then not the repeats – which is more generous that the rules of engagement in this site require.
It is also worth noting that these messages tend to go in waves, with either one person with lots of online personalities, or multiple people copying each other, writing in with the same general type of complaint.  
Now I can understand why people read websites that they don't agree with – indeed I keep an eye on the Daily Mail and Telegraph's site (for example) even though I abhor most things they stand for, just to see how very rich tax avoiders are attempting to propagate their corporate views day by day.   So I have no argument with watching those to whom one is opposed.
However I tend not to write to such publications, since I am clearly not going to move any of the newspapers from their set point of view. 
But some people like to argue with Untold and one issue in particular issue has attracted my attention these last few days was a complaint that I have changed my mind over an issue during the time Untold has been running.
It is a complaint to which I immediately plead guilty in general although not to some of the details within the complainant's piece.  But I rather think that changing one's mind is a normal part of some people's lives, and I am always a little suspicious of people who never change their mind, because it seems to me they are not responding to issues and evidence.   I used to think one series on TV was excellent, now I think it is rubbish.  I used to enjoy the company of person X, now I can't stand her. I used to think that politician x or footballer y was quite good, but now… that sort of thing.  I change my mind a lot.
But it appears that some people feel that by changing my mind on something or other, all the ideas on Untold come tumbling down in one great collapse.    As opposed to the notion that ideas evolve and change over time. Yet another grand divide between people, it seems.
I don't think I am somehow less worthy of the right to cast an opinion than others, just because I used to hold a contrary view.  You, as a reader might feel that my position in an argument is less worthy of note because of this change of heart, which is of course your judgement to make.   But I am not sure that where any person stands on any argument actually affects the argument itself. 
Anyway all this comes from the suggestion that in the past I had had a different attitude towards the FA Cup from that which I have now.  I haven't been back and checked the historical details because they are irrelevant – what is relevant is the implication that changing one's point of view is somehow a weakness or a sign that one's comments cannot be trusted, and that it automatically means the argument falls.   You may think I am a total prat – that's up to you to decide, if it is of any interest to you, but that makes no difference to the argument.
But since that point of changing one's mind has come up let me add my view, which tends to be the other way around – that people who never change their mind are the ones to be wary of.   People with "fixed views" can, in my experience be dangerous because the world clearly changes.
Certainly, some things for me are inviolable, such as freedom of expression, which I am quite strong in advocating overall, but not to the extent of saying anyone can say anything on a particular blog especially if the point is irrelevant or has been said before.  But others (like the importance of winning the FA Cup for Arsenal) are really not so fixed.   There was a time when I used to think the FA Cup wasn't very important; now with Arsene Wenger being the person who has won the FA Cup more than anyone else, I do think it is important.
My change of view (which in reality is neither here nor there, I'm just a guy who supports the club and who expresses his view on a blog) coincided not so much with Arsenal's return to trophy winning, but with the arrival of the football clubs supported by billionaires who were willing to drop vast amounts of their wealth into the club, along with sovereign wealth funds from Middle East countries supporting a chain of clubs around the world.
And I would argue, not to change one's views of what the club should be doing as the world changes is not reasonable.  As matters stand in terms of the investment in some clubs, and as I am occasionally reporting, the alleged activities of Manchester City, plus the proven activities of Real Mad, Barcelona and Atletico Madrid in terms of child trafficking show that some clubs will stop at nothing to protect their investment.
A similar issue arises when we consider the question of diving.  Just because an Arsenal player is considered to have dived doesn't mean that one can't criticise the many other players who do it.  Nor does it mean that we shouldn't call for better refereeing.
The world of football commentary and debate is horribly biased overall towards the lower approaches to debate in the diagram below, as can be seen on the issue of referees.   We constantly have people writing in saying "I've looked through your analysis of 160 games and many of your reviews of decisions are clearly wrong" but they don't give examples.   We took the trouble to review 160 games with video evidence; to counter our arguments one would need to take a fairly large of the games, clearly chosen at random, and give a detailed analysis of the errors we made.
Instead each time we get another generalisation what actually is achieved is that our argument is strengthened because of the assertion that is given that we are wrong, rather than an analysis.
Likewise ignoring the underlying contention that the organisation of PGMO, being so utterly different from the organisation of refereeing in other major leagues, leaves the argument against our stance incomplete.  The question of why PGMO is a reasonablequestion.  Just saying that one can find certain referee decisions wrongly awarded in Arsenal's favour doesn't affect anything, any more than seeing an Arsenal player dive for a penalty makes the activities of serial divers of any club, acceptable.
This lack of logic and reasonableness is everywhere.  Consider the fact that the Telegraph newspaper has announced that Carragher will not be writing for Telegraph for rest of season.   That says that the penalty for spitting at a passer by is three months suspension from one's job.   But why three months?   It is as valid a question here as it was when he threw a coin into the crowd at Highbury an was suspended for three games.   
Indeed one might also ask: why can't more people join  in reasoned debate when it comes to football?   Is it because they never learned how to do it at school?  Is it because of the widespread acceptance of religious creeds which have little evidence within them?   Is it because of the way purveyors of the news do their job?  Is it because broadcasters with their phone-ins actively encourage emotional responses to events rather than analytical?
I suspect it is a combination of all of these.   Here is the chart….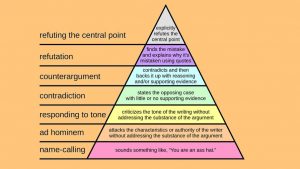 Now that us spectators are the product, we actually do have some power.
Wenger to journalists: "Your job is to get everybody to suffer."