by Andrew Crawshaw
I know I am late with this review, I can only apologise and claim extenuating circumstances.
The Women's Super League Season finished on Saturday, a day before the Men's Premier League and whilst it didn't have quite the same drama, as Arenal had won the League with a game to spare, it was nevertheless intriguing as Manchester City were unbeaten domestically having won both cup competitions and not lost in the WSL.  They had, however drawn 5 matches whereas we had drawn none but lost two.  Both teams therefore were expected to lay down markers ahead of next season.  Just imagine the headlines had this been the men's competition
Arsenal started with pretty much our strongest team given that some players are still unavailable due to long term injuries,
Sari van Veenendaal (GK)
Lisa Evans, Leah Williamson, Louise Quinn, Katie McCabe
Viktoria Schnaderbeck, Dominique Bloodworth, Kim Little (Captain)
Danielle van de Donk, Beth Mead, Vivian Miedema
Subs
Pauline Peyraud-Magnin (GK), Harper, Janni Arnth, Emma Mitchell, Ava Kuyken, Danielle Carter
Two starters and one substitute were playing their last games for the club:-
Sari van Veenendaal is out of contract at the end of June and had decided to move elsewhere, she has largely been superseded as our No1 keeper by Pauline Peyraud-Magnin and has lost her starter slot in the Dutch team as a result so is hoping a move next season will enable her to regain that slot.
Her compatriot Dominique Bloodworth was playing her 100th game, next season she will move to Germany to play for Wolfsburg
Ava Kuyken has decided to go to America to continue her academic studies, she is about to sit her A levels and is one of a number of our Women's Academy players to make that move at the age of 18 in the last few years.  She is going to Florida and will play for the Gators.  Abbie Roberts who captained our U21 squad is also bound for America she is going to the State University of New Jersey. 
I really think that Arsenal are missing a trick here, it must be possible for the club to work with UK universities to enable our young players to continue their football with the club and study for a degree at the same time (OK the course may need to be tailored a bit in terms of duration, timing of assignments etc but surely not beyond the ability of the club to manage).  I hope that Ava will keep her ties with the club and at least be able to train during University breaks.
Enough of these ramblings and 'bees in my bonnet' and on to the match.
The pre-game routine followed tradition with our opponents forming a guard of honour.
Arsenal.com in their minute by minute 'as it happened' have this as their first half incidents
Min 1 – Kick-off
Min 45 – Half Time
I kid you not, according to this report nothing happened at all.  Come on Arsenal this kind of summary is simply not good enough.  Anyone thinking of going to Women's games in the future will not be at all encouraged by this.  The second half is no better, it lists the substitutions, three yellow cards and the one goal and that's it 11 comments in total plus kick-off and full-time.
I was there and I can assure you that although there were no goals in the first half it was far more interesting than Arsenal.com would have you believe.
We started brightly with Leah Williamson celebrating her confirmation of being in the England World Cup squad by proving that she is far more than an extremely capable defender.  She found Beth Mead with a brilliant through ball, unfortunately Beth's shot from a narrow angle only found the side netting.  Leah then came close with two headers.
Ellie Roebuck in the City Goal was in outstanding form and produced great saves to deny Dominique Bloodworth, Matie McCabe and Vivianne Miedema in the first half.  City were also displaying the darker arts of denying Arsenal with three players perhaps lucky to avoid yellow cards for quite blatant fouls to prevent Arsenal players having a clear breakthrough.  Needless to say no cards were awarded.  Arsenal were pressing high up the pitch and forcing turnovers but the resulting balls never really fell properly to Arsenal player's feet and City somehow manages to scramble the ball clear time and time again.
The traffic wasn't all one way though and we were somewhat lucky when Sari made a mistake in gathering a simple ball which almost squirmed into the net, whilst she is a superb shot stopper (and one I would certainly want on the pitch to face penalties) at times she has the strangest lapses in concentration.
For the most part though the two sides were nullifying each other and there was really very little to chose between them.  Arsenal ahead on points but level on goals.
At halftime the U16 and U21 girls teams did a lap of honour with their respective FA Cups.
City made three substitutions for the start of the second half, it was rather surprising that Nikita Parris, the second highest scorer in the league behind Miedema neither started nor was brought on at half time.
The second half largely followed the pattern of the first, Arsenal pressing for a goal, City defending resolutely and neither side really looking likely to break the deadlock.  Danni Carter was brought on for Viktoris Schnaderbeck in the 64th minute, an extra attacker replacing a defender but it failed to break the deadlock.  In the 80th minute Emma Mitchell came on at left back replacing Katie McCabe (Emma has been injured since December and these were here first game minutes this calendar year).  In the 84th Minute Dominique Bloodworth came off for a well deserved standing ovation to thank her for her 100 games for the club.
With just two minutes on the clock City failed to clear an Arsenal corner and the ball came to Emma Mitchell who was on patrol outside the City penalty area, she took a touch, moved the ball onto her left foot and unleashed an absolute rocket of a shot which flew into the top left corner.  The deadlock and City's unbeaten season were both demolished.  For all of her heroics in the rest of the game Roebuck could do absolutely nothing about this shot which was truly worthy of winning any game of football.
Not content with this piece of outrageous skill, Emma made one further vital contribution in extra time as she made an absolutely vital block/tackle to prevent a final chance for City to get an equaliser.
Arsenal's celebrations could start in earnest and I'm sure went on long into the night.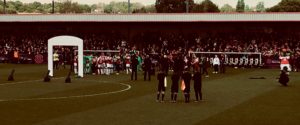 Arsenal finished the season with 70 goals, the outright golden boot winner on 22 (a WSL record) and 18 wins out of 20 played.  We had a goal difference of +54 and had the meanest defence in the league, conceding just 13.  Our goal difference represented more goals than any other team scored.  We won by 7 points from City, were 12 points clear of Chelsea in third place and 14 points ahead of Birmingham in fourth place.  No-one else got more than half our points.