By Bulldog Drummond
Just in case you have missed it, we are playing tonight – details of the game and how to follow it below.  But first…
There is news that we are about to sign Omar Rekik from Hertha Berlin – although he has never played for them, and is expected to be loaned straight away if he does transfer to Arsenal.  He has also already been on the books of Manchester City, Feyenoord, PSV and Marseille as well as Hertha Berlin.
Also we are being told that Willian is on the way out with "reports" saying that he will go to Real Betis or Everton.   It all seems a bit hit and miss to me although if we did sell him the figure of €15million is being knocked around which would go a little way to blocking up the hole in the accounts.
Although there is brighter news with the announcement that it looks like Martinelli is sure to start for the under 23s tonight.  Arteta said,
"Gabriel Martinelli is very close to being available and fit to be part of us as well, which is great news," Arteta said. "Gabi is pure enthusiasm, energy, belief, charisma, and goals.
"He's around the training ground and he's around our training sessions and the energy is different because he goes 100 miles per hour. He's got this passion and his way of playing and he is a threat.
"He's a player that we've been missing because he brings something special to the team. He's contagious with his attitude and I think it's going to be a big boost when we have him."
Kick off of tonight's game is at 7pm and I can't see a live screening of it being available anywhere, but if you know of one please do say.  However there is the usual audio on Arsenal.com so we can follow that. Here's the table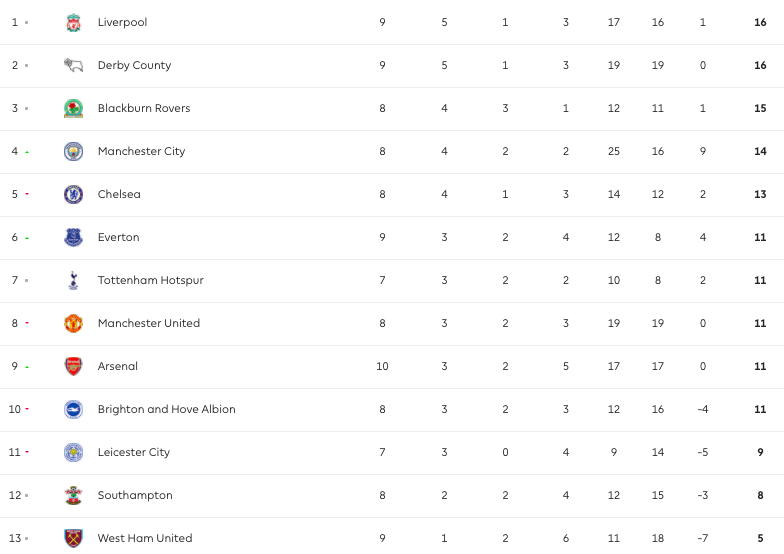 So why are we doing so badly in the under 23s?  Probably because we are bringing forward our star youngsters to play in the Euoropa League so quickly.  Now that's over maybe we will see more from them tonight.
Leicester under 23s lost their last game 5-2 defeat at Southampton.  Their under 23 coach said after that game, "I was very disappointed with our game in the first half (against Southampton). It was there for everybody to see, but in the second half, it was more like it – and we've got to go again, we're away again to Arsenal on Friday and we're looking for a reaction."
Leicester have lost their last two league fixtures, but qualified for the last 16 of the EFL Trophy in between those results.
Arsenal had a terrible start to the under 23 season failing to win a single one of the first seven games they played.   But then suddenly on 6 November they beat Blackburn under 23s, 0-6 away from home.  That marked a turn around with Arsenal with that game being followed by a 1-0 win over Everton under 23s and a 3-1 win over Derby's under 23s.
In the competition rules each team can field a goalkeeper over the age limit and up to three "over-age" outfield players in every match.
Derby County have put the highlights of their match on their website so we can watch Arsenal win there…
https://www.dcfc.co.uk/news/2020/11/u23s-highlights-arsenal-3-1-derby-county
I do wish Arsenal would do the same – and come to that put the game on screen this evening since none of us is allowed to go there.
I am going to have a word with Arsenal Independent Supporters Association (of which I am a committee member) to see if we can't have a discussion with Arsenal about putting under 23s games live on line, and also putting up more information, and at least putting up the after match video.