By Bulldog Drummond
Remember the old days?
Arsene Wenger is to blame for Arsenal's injury crisis screamed the Daily Mirror on 30 November 2015.
They were just a little behind the times (as they so often are) because over one month earlier Talksport.com had come out with…
'Old-school' Arsene Wenger must be blamed for Arsenal's injuries
The Talksport piece was particularly hilarious because it went on to quote what they called, "World-renowned fitness coach Raymond Verheijen" on the subject.
So is he, or was he ever an expert?  Was he world-renowned?    No, in reality if Verheijen was world-renowned then we should also be called TalkSport the "world renowned investigative sports news station".
But more to the point was Verheijen right to blame Wenger for Arsenal's alleged injury crisis?  Was there an injury crisis?   Certainly if there was then with Mr Wenger out of the way presumably Arsenal should now be much more of an injury free zone.   So, let's look and see.
The story of Arsenal's injury crisis was all over the media for a month or so in 2015, but what was interesting was that in the "analyses" published much of the vital information was hidden, and could not be checked.
The other issue concerned Verheijen himself.   He was appointed to the position of Assistant Manager to the Wales national team in February 2011.  In November 2011, Gary Speed, the manager of Wales passed away, and two days after his funeral Verheijen claimed that just before his death Mr Speed had said it was his wish that his assistant manager should "continue Speed's legacy" (he described it as "Gary's wish").
In fact Verheijen's contract had been due to expire in December 2011, but it seems he was probably asked to stay on for the moment while the FA of Wales dealt with the situation, and in February 2012 Verheijen resigned – possibly to avoid the ignominy of not having his contract renewed further.
A year later Verheijen criticised the Welsh FA saying they had "destroyed" the "legacy" of Gary Speed, although in fact Wales qualified for Euro 2016 – their first qualification since 1958 for a major tournament.
Since then Verheijen appears not to have worked again – at least I can't find any reference to it.  Instead he seems to have set up an online company selling courses.
But the notion that Mr Wenger was responsible for Arsenal's "injury crisis" as Verheijen asserted was picked up by the media although the few media outlets that bothered to quote accurate injury figures – largely because they did not back up Verheijen's case that Arsenal got more injuries than other clubs.
However Untold Arsenal have done several analysis of injuries across a whole season (see for example the analysis of the 2016/17 season here) and Arsenal never come out as having the most injuries.  And when others have done the same sort of thing they get the same results as we do.    Below, for example, is an injury "table" showing all 20 Premier League teams for 2018/19 in order of the most injuries to the least, published by Forbes
 This was interesting because it it came out just after the Independent ran the headline "Arsenal suffered more injuries than any other Premier League Club"— New research could raise further questions over Arsene Wenger's training methods. … Arsenal players suffered more injuries and spent more time on the … football coach because he is responsible for the planning of training."
In fact Arsenal did have a period of being near the top of the injury list, but this was because of injuries to two players in particular warped the figures.  First Carl Jenkinson, who was out for 37 weeks and second for Danny Welbeck who was out for over a year (56 weeks in total).
Of course these were still injuries and most clubs occasionally get players out for a very long period of time, but Jenkinson's injury came about when he was out on loan with West Ham.  He wasn't being trained by Mr Wenger but by the WHU coaching team.  Also although Welbeck was injured while he was playing for Arsenal, the fact is that this one injury, taking him out for a whole year, counts for 28% of the total injury list.  Take that one injury out, and Arsenal are once more back in the normal range of injuries.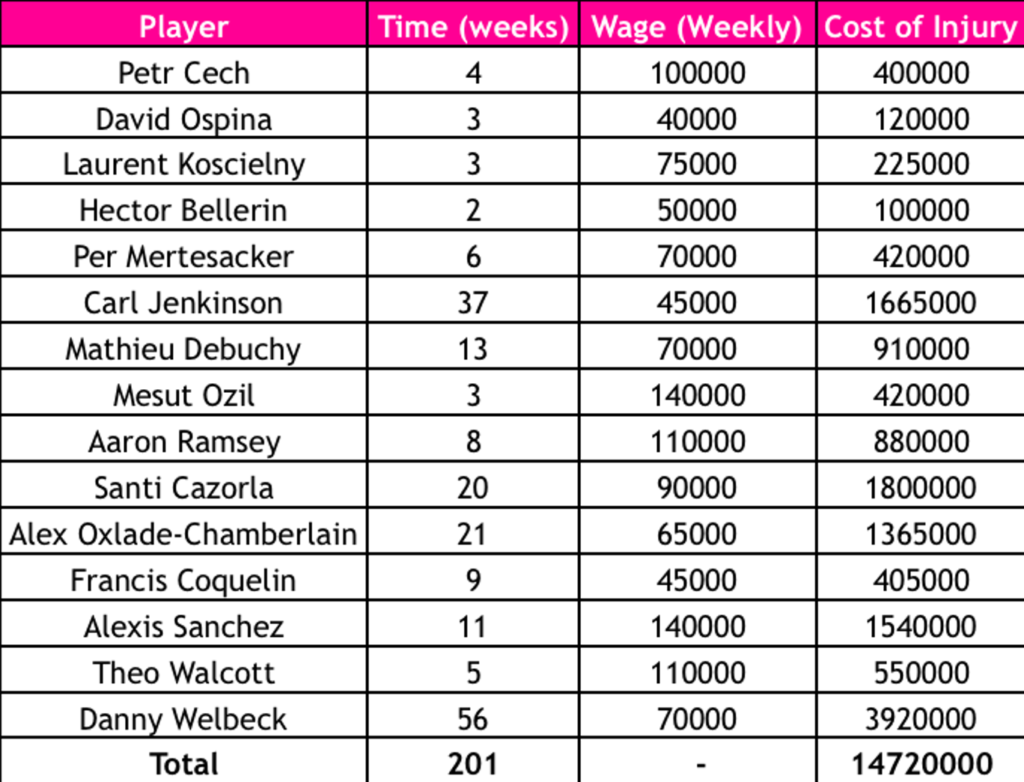 But supposing you don't agree with any of these figures and you think that Mr Wenger's prehistoric approach was responsible for all the injuries.  Then surely, after two changes of managers, and no input from Mr Wenger for a couple of seasons we ought to be getting fewer injuries now.   But as things stand the number of players injured remains similar to the Wengerian days…  These are today's figures from Physioroom, showing the top of the table in terms of players out…
Burnley: 7
Arsenal: 6
Everton: 6
Liverpool: 6
Leeds United: 6
Sheffield United: 6
At the foot of the table we have two clubs with just one player out.  Is the explanation that Arsenal have persistently employed managers who get players injured?
It seems unlikely, but given that we are generally near the top of the injury list there could be another reason, such as the fact that the small number of referees used by the Premier League could mean that certain clubs know that when they get specific northern referees they can kick Arsenal with impunity.
I can't prove that, but at least the statistics support that claim, given that Arsenal, along with certain other clubs, keep getting the same referees over and over – and the situation was the same under Mr Wenger as under Mr Emery and Mr Arteta.