By Sir Hardly Anyone.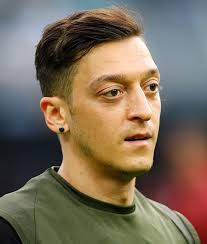 We are in a curious transfer window.
The key issues (how to bring in non-English players under the new post-Brexit regulations, and how to move on players to make room for new comers in the 25 when everyone is facing the same problems of ditching unwanted foreign players) are just being ignored by those websites that specialise in this tittle-tattle, making their commentaries even less reliable than usual.
Now of course Untold Arsenal always likes to help in these matters, so since incoming players will have to pass both an English language test and a citizenship test when they arrive, we thought we would start giving tips.
Obviously as you are reading this you will be able to pass the language test, but what about citizenship.  Here's today's first question from one of the actual tests being sat at this very moment.
What was the last battle between Great Britain and France?
I'll leave that with you.  Meanwhile we know Arsenal are already taking a hit by paying Mesut Ozil a big salary but not even listing him in the 25 either for the Europa League or the Premier League.  And there is at least some chance that next season will see Arsenal without any European competition which a) reduces the club's attractiveness to foreign players, and b) especially reduces its attractiveness to foreign players who meet the criteria for post-Brexit foreign transfers.
Indeed in not dealing with this issue, it seems that many of the English newspapers that so strongly backed Brexit as a way of getting rid of all the foreigners now seem to have forgotten that dream and instead want to see more foreigners enter England!  At least as long as they are footballers.  It's all very odd.
(Oh and the answer to the question above is Waterloo).
Here's one more from yer actual citizenship test
During the reign of Charles II parts of London were destroyed, what was the cause of this destruction?
Hands up if you know.
Anyway when we read that
Arsenal are reportedly eyeing up a transfer swoop for in-form Queens Park Rangers goalkeeper Seny Dieng.
we wonder what his knowledge of English history and language credentials .  Caught offside and Sports Lens don't tell us.  (London was partly destroyed by fire, in case you didn't know).
But one of the problems with the test for non-UK people who want to remain in the UK is that some of the answers are wrong.  For example the question
How often are general elections held in the UK?
does not list the correct answer as one of the options.
But back with the football we might also ask "Why do we need another goalkeeper?"  If you look at the keepers we registered for the Europa league squad you will see there were no less than six of them.  Two of them played (Bernd Leno – age 28 and Runa Runarsson aged 25.)   The others on the books are Matt Macey (age 26), Karl Hein (age 18), James Hillson (age 19), and Arthur Akwonko (age 19).  Do we really want to go on collecting goalkeepers?
And then if we do, how are we going to fit them in the squad?  We really only need three keepers in the first team squad of 25, and we clearly have those (Leno, Runarsson and Macey) and then we have three juniors who were listed in the Europa squad to give them a sense of being with the club and part of the future.  Again why buy more?
Of course all these details are as nought to the football journalists, who quite probably couldn't answer most of the citizenship questions anyway.  So they keep on telling us, things such as
Arsenal midfielder Emile Smith Rowe is "not a skilful player"
That is according to the bonkers Express, who of course never take responsibility for an opinion, but this time blame that on Owen Hargreaves and Paul Ince.   But let's try this one
Arsenal are set to battle Tottenham Hotspur for the signature of Austrian playmaker Marcel Sabitzer. 
This comes from the Boot Room, who don't tell us how the player meets the Brexit Transfer Protocol (no surprise there) nor how he would fit in the 25 (ditto).  Transfermarket however have him valued at £35m which would probably qualify him.
He is a right sided central midfielder who has played for RB Leipzig 10 times this season in the League and five times in the Champions League.
And who does he replace?   Ah, that we are not told.   But ESPN have claimed Arsenal are willing not just to pay the £35m shown as the players value, but actually another £10m, but again there is no telling how he is going to fit into an already over full squad of foreigners.   He would however meet the international criteria for the transfer under post-Brexit rules, so that is one hurdle overcome.
And speaking of hurdles, here's another one for you…
What charity works to preserve important buildings, coastline and countryside in the UK?
I'll leave you to sort that out.   And if any clubs out there are looking for a tutor to help players get through the test, Untold Arsenal will be aiming to help with answers both wrong and right.  But in terms of the general election, the correct answer is not "every five years" as the government funded test tells us, but "whenever the government wishes up to a maximum of five years."
Funny ol' game.