By Bulldog Drummond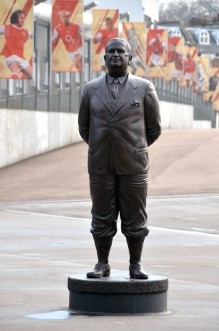 There were two problems with the movement that forced Mr Wenger out of Arsenal.
One was that, so certain were those who wanted him out that all Arsenal's problems were due to Mr Wenger, and that any manager other than Mr Wenger would be an improvement, no one bothered to think of a plan B.
The other has been that the current owners and directors, and the managers who have been brought in to replace Mr Wenger, seem completely unaware of the background corruption that swirls around football, and which we have been highlighting for over 12 years.
Because of this an utterly simplistic approach to reforming Arsenal was adopted: new manager, and lots of money spent on new players.
And yes indeed we did win the FA Cup last year, but overall, all that is happening is that the win percentage that Mr Wenger maintained over 1245 competitive matches is declining, and with it our chances of being in Europe.
Which raises the question: did anyone have a plan as to what to do if the "new manager, new players" project failed twice?  Other than repeat the same mistakes over and over again (which correspondents to this site used to recite as the definition of madness).
Of course a lot of comments were heard about the refereeing yesterday, and I agree with these.  But the point is not so much that this sort of refereeing was still going on, rather that we don't seem to have a management team who knows how to deal with it.  I got the impression that Mr Emery had never quite seen refereeing like we have here because he had not worked in England before, and Mr Arteta certainly wouldn't have seen it when working for Manchester City.
Mr Wenger had a great benefit in this regard in that he was French.  Indeed the English press never got the irony of Tony Adams' infamous comment, "What does he know about English football, he's French".
For the fact was Mr Wenger through being French knew all about referee corruption because he was familiar with Girondins Bordeaux, Olympique Marseille and others.  He watched it all, with inside knowledge when Bordeaux chairman Bernard Tapie, was jailed over match-fixing allegations which went all the way back to 1993.
Mr Wenger left French football in 1994 with match fixing rife.  Indeed we have to remember that when Bordeaux was beaten by Hamburg in 1981 in the Uefa Cup through a very dodgy penalty, it was a penalty awarded by "world famous referee" in a match subsequently reported throughout Europe to be openly fixed.  Of course in England, it was all just blamed on "foreigners" who "being foreign" couldn't be trusted.
Mr Wenger knew what all that looked like, and he was reminded of it when in August 2000 Arsenal played Sunderland.  It was suggested that after the game Mr Wenger, who until that moment had an utterly unblemished record as a manager,  had indulged in violent and threatening behaviour against  Mr Taylor, the fourth official at Sunderland.
There was no evidence against him of course and so on 10 October 2000 Mr Wenger went to a hearing on the issue but in the mistaken belief that the famous "British justice" existed in football, did not call any witnesses since there was only one man's word against his.   He then got a 12 match ban and a mega fine.
That taught Mr Wenger his lesson.  He obviously appealed and the case was thrown out, but PGMO still made Mr Wenger pay a £10,000 fine for "touching the referee" plus the costs of the case.  That was how he learned.
Since then there have been many more such cases, as we have charted on this site.  But the image of British sport always being "clean" lives on.   This is one of the great problems with bringing new managers to Arsenal… they don't know the history between the club and PGMO, and so they don't study techniques on how to cope with English referees.  Mr Wenger had the advantage of being French.  Of course being French, had seen it all before.
Mr Wenger also learned what the media can do to a club, as when soon after his arrival they gathered on the steps of Highbury shouting at him "What about the rumours Mr Wenger?"
The current owners did not experience those tumultuous fight with the media at the start of Mr Wenger's reign, and have never appreciated how Mr Wenger dealt with the press, the PGMO and others.   That's the bit of the jigsaw that is missing.  That is what we need at the club – someone who has experienced all that Mr Wenger experienced and who's advice would be listened to, and taken.
Someone like Mr Wenger in fact.