By Tony Attwood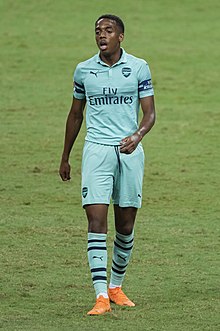 Arsenal do have a problem with recruitment.
First we ended up with too many foreign players and players simply left out of the 25 listing – something I can't ever remember happening before.
Then we had the usual abuse of the players that we did have by journalists and bloggers.  Mustafi took a lot of that, being named the second worst player at one stage.  He leaves Arsenal and has just won the Bundesliga Player of the Week award.
Now we have the media tipping us to have another big sale in this summer's transfer window, off loading a whole raft of players – just at the moment when the transfer market is at an all time low.
Numerous clubs that might normally be expected to spend and spend, can't do that any more having got into real financial difficulties.   And when they turn to their banks for yet another loan they find their banks are simply not handing out the dosh like they did before as they have problems of their own.
Mind you, some things don't change with The Daily Mirror is taking an odd line on life, this time by quoting transfer stories from its arch rival, saying, "According to The Sun, the most high-profile departures will be David Luiz and Lacazette – with the former's contract expiring at the end of the season and the latter losing his first-team spot.   Further exits include Guendouzi and Torreira – out on loan to Hertha Berlin and Atletico Madrid respectively."
All of which is possible but I still find the situation with Guendouzi desperately sad.  He's a staggeringly talented player and I suspect we are going to lose him for next to nothing (in transfer terms), at a moment when we need all the income we can get, having spent record amounts on transfers in the last few windows.
As for the Mirror quoting the Sun, I suspect that is so that the story can turn up on Football London, which the Mirror owns, citing the Mirror as the source, and thus getting the Mirror more hits on its web page.
And speaking of which, the headline on the FoLo Arsenal page is that "Luiz and Ryan among 10 Arsenal players with expiring contracts or one year remaining".   Undoubtedly many will welcome that news of a big clear out but there are problems…
First, as I have noted, the market is very depressed at the moment since so many clubs are running out of money and so many banks have told their football clients the loans will not increase.
Worse, this is not just loans for new players that are wanted, but loans to cover past transfers.   Most transfer fees are paid over a period of three or four years, and since in recent years Arsenal have had record levels of net expenditure on transfers, we have huge outgoings – just at a time when we have no income, other than from TV.
And that TV money is on the slide as audiences are down and the number of games on TV are on the up.
Some of the losses we have had has been enormous: £9 million on Ozil's salary for half a year and no income from his transfer was just the worst, and there have been others.
But worse still, all this comes just when it looks like for the first time since 1996 we will have no European income next season – unless of course we manage to win the Europa League, or several clubs above us in the Premier League suffer a dramatic collapse while we keep winning.   Either scenario is possible, but neither is certain.
If the Kroenkes do put their hands in their pockets for Arsenal again this summer, it will be a complete reversal of what many of us (including me) anticipated from them when they bought the club.  Although the mid-table obscurity we now have is exactly what was predicted based on the other clubs they own.  And indeed as a result of three managers in three years.
The one real ray of light we have is the youngsters who have shown a great deal of sparkle.  I really do hope that none of the wild ravings of the journalists about forthcoming Arsenal transfers are true, and that we allow our youngsters (including Joe Willock, pictured above, and currently at Newcastle) to come to the fore, and put Arsenal finances back on track.
Gaslighting: how refereeing in the Premier League is manipulated, and why the media never speak about it.