By Bulldog Drummond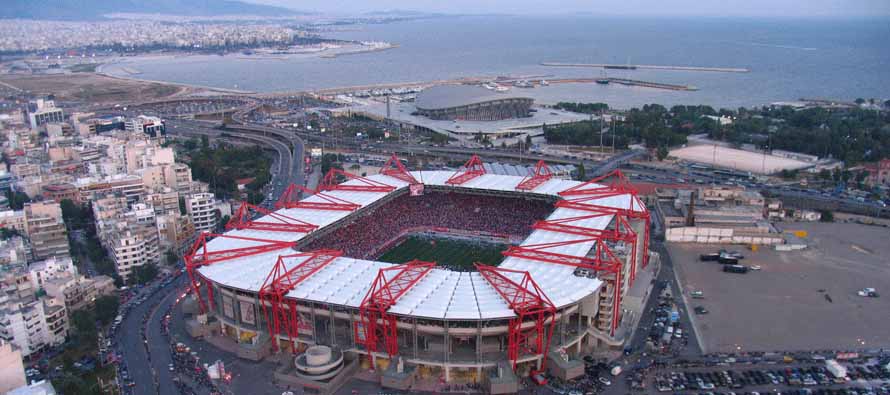 Quite possibly because many websites have been following the Daily Mirror lead which suggests that Arsenal are about to sell half of their first team squad, there is not too much info available about Olympiacos.   Indeed the match fixing findings and banning from the league have been totally ignored by the media for reasons that only they will understand.
But we are told that Ruben Semedo, Ousseynou Ba and Avraam Papadopoulos are injured.
Radio Times forecasts 1-1 which is a score that quite a few others are happy to copy.
So far we have scored 100 goals in the Europa League, although Tottenham, who have of course had much more practice at the Europa League thing, have scored more than we have in the competition.  Although only just, currently being on 101.
And of course Sokratis Papastathopoulos who played for us in the 2019 Europa final now plays for Olympiacos.  We await BT Sport's comment about him asking all the questions. 
Another pairing is that of Bruma, now with Olympiacos and Emile Smith Rowe, who both played togther at Red Bull Leipzig in 2018/19.  
And if you want something really ludicrously trivial, we have Mathieu Valbuena and Lacazette both playing for Lyon – although not at the same time!
But Arsenal should enter this pairing remembering that Olympiacos lost their first five matches in the Champions League this season, which is why they are in the Europa (Greek law ensuring that no matter what they do, they win the domestic league).
And let us have our moment of glory.  The 20 goals we scored in the preliminary round is the highest ever by an English team.
So, moving along, Sports Mole offer a team of
Leno;
Cedric, Luiz, Mari, Tierney;
Xhaka, Partey;
Saka, Odegaard, Pepe;
Aubameyang
The Hard Tackle goes with 
Leno;
Bellerin, Luiz, Gabriel Tierney;
Xhaka, Ceballos
Saka, Odegaard, Pepe;
Aubameyang
The Short Fuse offers
Leno;
Bellerin, Holding, Mari, Tierney;
Partey, Xhaka,
Saka, Smith Rowe, Pepe;
Aubameyang
The Standard goes with
Leno;
Bellerin, Luiz, Gabriel, Tierney;
Partey, Xhaka;
Saka, Odegaard, Pepe;
Aubameyang
Kevin Campbell on Sky Sports reported on HITC tries his luck with
Leno;
Bellerin, Luiz, Gabriel, Tierney;
Xhaka, Tierney;
Saka, Odegaard, Pepe,
Aubameyang
The first choice team thus becomes
Leno
Bellerin Luiz Gabriel Tierney
Xhaka Partey
Saka, Odegaard, Pepe;
Aubameyang
Just going back one step, I know that Mr Campbell has of late said a few odd things, but really, I don't think we have the Tierney twins in the squad at the moment.  I mean, if we did, surely we might have noticed.  I'm not sure if someone is larking around, or if this is an HITC cockup or that of our Kev.
Oh yes, and TBR tell us that "Arsenal have confirmed that young goalkeeper, Hubert Gracyzk, has signed his first professional contract with the club at the age of 18."
And while we are on a bit of a meander, Lancs Live has the comment 'I don't understand Arsenal not getting a penalty against Burnley' made by a Mr P. Guardiloa of Lancashire.   I wonder why the managers of clubs that feel that refereeing in the Premier League is now totally out of control don't get together and make a clear demand, such as sort this out by the start of next season, or we refuse to play under your auspices.
"Sort it out" would mean we… 
a) have the same number of referees being used equally, as other major leagues in Europe.
b) have a balanced geographic spread of referees.
c) restrict the number of times a referee handles a match involving each club in the PL to two per season, as an insurance against bias (conscious or unconscious).
d) make all decisions of the referee available on line after each match so we can all check the 98% accuracy claim made by the PGMO.
e) have an analysis of home and away results this season made on line, and then a comparison made with the last season where crowds attended all games.  Then offer an explanation as to why the two are so different.  If that explanation is different from the findings of the LSE research, explain why.
f) make referees available for interview on TV after a match.
g) explain why none of the above have been done before.
Of course that's not all we want, but it would be a start.
It is the fact that this is such an utterly reasonable set of demands and yet is not considered by PGMO and never considered by the English media, that makes me continue to believe something dodgy is going on.