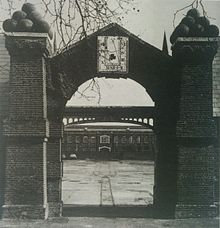 By Bulldog Drummond
This picture of Dial Square reminds us of course of the club's origins, and the ordinary working men who simply wanted to play football on a Saturday afternoon.
We've travelled such a long way since 1886 and what football is today would be quite meaningless to a traveller in time from those days, and the stadium in which today's match is being played would seem extraordinary.
But the rivalry with Tottenham would not seem strange to our mythical time traveller since Tottenham were formed in 1882 as the Hotspur Cricket Club.
But the clubs clashed severely in 1913 when Arsenal looked to move from Plumstead to Islington – although as we pointed out recently Tottenham had already shown their antagonism to the notion of other clubs in London being in the same league as themselves, by opposing Chelsea's entry into the Southern League, thus causing Chelsea to join the Football League instead in 1905.  It was a move Arsenal warmly welcomed, having seen from the start that having several clubs in the same city would keep football in the news, and make it the dominant sport.
So this different vision has continued across the years.   Meanwhile, in case you want to occupy the moments before the game starts, here are the previous articles ahead of today's game…
The BBC give us a prediction of a 0-2 away win, but do have the grace to note that Arsenal have only been beaten in two of their past 35 home league games against Tottenham, although they then feel it necessary to give fulsome details of those defeats.  Although I suppose rare events do grab more attention.
But otherwise it is all gloom and doom and then some more doom with added gloom from the BBC, noting that we "have won just two of their past seven league fixtures, and have failed to keep a clean sheet in any of their previous six."
After that they rub in the fact that we have lost more home games this year than any season since 1994/5, although failing to note that this is much the same for quite a few clubs, because of the effect of there being no crowds.  It would be reasonable surely to point out that so far this season there have been 104 home wins and 110 away wins in the Premier League, whereas in every other Premier League season home wins have far outweighed away wins.
But no, here's a chance to knock Arsenal, so hey, let's be totally misleading and give no context whatsoever to any statistics we give. 
Here's another fact.  Only seven teams have won more games at home than Arsenal this season.  And of course I'd love us to be top of the home wins list but these sorts of points that the BBC loves in its football coverage are just there to knock Arsenal and be misleading.
Here's another one, "Mikel Arteta could become the first Arsenal manager to lose his first three north London derbies."  OK that is probably true, I haven't checked every manager, but Herbert Chapman lost two of his first three north London derbies and drew the other one.  So yes, technically possibly true, but a little context helps us understand the real historic context.
But let's be fair.  They do at least mention that the Totts "have only scored 10 goals in their past 11 top-flight away fixtures."
As for the line-up, Sports Mole gives us a team of…
Leno;
Bellerin, Luiz, Mari, Tierney;
Xhaka, Partey;
Saka, Odegaard, Pepe;
Aubameyang
The Guardian offers
Leno;
Bellerin, Luiz, Gabriel, Tierney;
Partey Xhaka
Pepe, Odegaard, Smith Rowe;
Aubameyang
The suggestion in their commentary is that the manager will want to give "a flagging Bukayo Saka some rest."
As ever the Guardian do give us a list of the remainder of the squad some of whom will be on the beach: Rúnarsson, Ryan, Marí, Chambers, Holding, Soares, Elneny, Ceballos, Saka, Willian, Nelson, Martinelli, Balogun, Nketiah, Lacazette
Sky Sprouts as ever don't give us a team, even when they are showing the game, but they do point out that "Tottenham's Gareth Bale has had a hand in six goals in his last four Premier League appearances" and we can only hope that the ref and lines-persons keep their eyes peeled for this deliberate use of the hand at key moments.
Goal.com predicts a Tottenham win 2-1 but won't give a team selection.
90matt who we have not covered before, however does come up with the goods
Leno;
Tierney, Gabriel, Luiz, Cedric;
Xhaka, Partey;
Willian, Odegaard, Saka;
Aubameyang
Football London gets weirder by the day, running the headline, "Emile Smith Rowe and Cedric start, Bellerin misses out – Predicted Arsenal lineup vs Tottenham" but then fails to give us a line up.  And then they give us the most amazing 145 word technical explanation of the origins of a picture of the two managers which is truly weird in the extreme.  It is pretty much incomprehensible – so in keeping with their other writing I guess .  Goodness knows what they are smoking.
Back with at least a semblance of reality the Standard gives us
Leno;
Bellerin, Luiz, Gabriel, Tierney;
Partey, Xhaka;
Saka, Odegaard, Willian;
Aubameyang.
The Metro meanwhile joins the growing trend of not predicting the team.  If it goes on like this, we'll have to go back to making our own Untold predictions.
Hey ho – that's it.  Let's just keep fingers crossed.
Meanwhile, if you've nothing to do you might care for a glimpse at some Arsenal games from the past…