by Andrew Crawshaw

First the Context: Chelsea have been the WSL champions most years recently. They have the deepest squad and, in Emma Hayes, one of the most determined managers in any branch of the game.
To say she dislikes losing is an understatement. Manchester City are the only other team, apart from ourselves to have prevented Chelsea from winning the title.
We secured a 5 – 0 win against Chelsea on our way to winning the title in 2018/9, since then we have played them 5 times in the league losing 4 and drawing one and lost all four cup games.


| | | | |
| --- | --- | --- | --- |
|   | League |   | Cup Matches (FA Cup and Continental Tyres cup |
| Year | Home | Away | Home |
| 2017/18 | Draw 1 – 1 | Lost 3 – 2 | FA cup final Lost 3 – 1 at Wembley |
| 2018/19 | Lost 2 – 1 | Won 5 – 0 | FA Cup Lost 3 – 0 Away |
| 2019/20 | Lost 4 – 1 | Lost 2 – 1 | Lost Conti Cup final 2 – 1 |
| 1920/21 | Draw 1 – 1 | Lost 3 – 0 | Lost Conti Cup group game 4 – 1Away |

Here is a table comparing our results against Chelsea and Man City over the last four years compared with the other clubs the league


 

2017/18

2018/19

2019/20

2020/21

Chelsea

won –

draw – 1

loss – 1

ppg – 0.5

won – 1

drawn –

loss – 1

ppg –

won –

drawn –

loss – 2

ppg – 0

won –

drawn – 1

loss – 1

ppg – 0.5

City

won – 1

draw –

loss – 1

ppg – 1.5

won – 1

drawn –

loss – 1

ppg – 1.5

won – 1

drawn –

loss – 1

ppg – 1.5

won –

drawn –

loss – 2

ppg – 0

Others

won – 9

Draw – 3

Loss – 0

ppg – 2.5

won – 14

drawn – 0

loss – 0

ppg – 3

won – 11

drawn –

loss –

ppg – 3

won – 10

drawn –

loss – 1

ppg – 2.7

 
 
 

NB Bristol City failed to complete the season

Season abandoned and teams places decided on ppg


Against the non-top three teams we have only lost one game and drawn 3 in the last four years giving us a points per game total of 2.8, against Chelsea we have won 1 and drawn 2 giving us 0.6 ppg and against Man City we have 3 wins giving us 1.1 ppg. A win would therefore be a massive result and really improve our chances of coming higher than third in the league this year.

Match report

With no premier League or Championship games the WSL were strongly encouraged to hold matches this weekend at the clubs main grounds, rather than the Non or Lower League grounds where the Women's teams normally reside. Our game was accordingly at the Emirates an experience most in the squad wouldn't have had before.

Tickets were widely advertised on the Arsenal websites and something like 8.500 spectators turned up. We were seated on the opposite side to the players tunnel mostly in the lower and club tiers. A different view for me as I normally reside in the upper tier.
As I indicated in my preview I was hoping for a win but honestly would have settled for a draw before kickoff.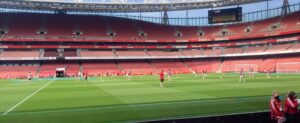 My predicted line up was


Manuela Zinsberger
Noelle Maritz, Leah Williamson, Jen Beattie, Steph Catley
Lia Wälti, Kim Little, Frida Maanum
Nikita Parris, Vivianne Miedema, Mana Iwabuchi


Jonas Eidevall decided to start with Katie McCabe nominally at Left Back instead of Steph Catley and Beth Mead instead of Nikita Parris in the forward line. As things turned out an inspired choice (that's why he is the manager and I'm just a supporter and part-time blogger).

I thought the opening exchanges were rather nervous from Arsenal and Chelsea seemed to settle into their routine a little quicker than us gut their early attacks were quite easily repelled by our defence which I was pleased to see.

In the 14th minute there was a moment of magic from Arsenal McCabe received the ball from Jen Beattie about 15 yards short of the half way line. For once there was no Chelsea player pressing her. She played a wonderful ball down the left hand channel for Vivianne Miedema who got to the ball before two Chelsea defenders, sold a dummy to the nearest one and finished calmly inside the near post. I think that was Viv's 97th goal for the club in 107 appearances.

We remained firmly on top for another 20 minutes or so but gradually Chelsea came back into the match and more and more of it was played in our last third. Eventually their pressure told just before half time we failed to adequately clear following a corner and Erin Cuthbert shot home from just outside the 6 yard box.

Katie McCabe was booked in the 23rd minute, it was our first foul. By then a couple of Chelsea players had been talked to for fouls that seemed far worse (some things don't change – the PGMO are now in charge of match officials in the WSL as well as the men's game).

Half time and the score was one all – probably right given the balance of play.

No changes at half time by either manager and again Chelsea looked to start the better until a wonderful counter attack from Arsenal. This time Viv turned provider and from deep in our half provided an inch perfect pass for Beth Mead between the two Chelsea Centre Backs, Beth outpaced them, composed herself and with her weaker left foot fired in a beauty to the right hand side of the goal giving the Keeper no chance. Certainly a contender for Arsenal's goal of the month competition. Our lead restored and the crowd was in raptures.

Chelsea responded by making three substitutions (five are allowed in the WSL) but it didn't stop Arsenal's momentum as Beth was played in by Iwabuchi, rounded the keeper, dummied the only Chelsea defender and calmly side foot passed the ball into the empty net. No VAR (or goalie technology) in the WSL yet so the goal stood. Replays indicate that Beth looked offside but hardly anyone in the ground cared much as we were 3 – 1 in the lead.

The lead didn't last long though, a Cuthbert cross found Pernille Harder in the box and he out jumped our defenders to head home Chelsea's second goal. After that Chelsea just about threw everything at us but we were resolute in our defence and dealt reasonably comfortably with everything that they threw at us to seal a memorable and valuable win. The table might not show us top but we all knew that's where we are right now.

This was our coaches reaction at full time – he knew it was a momentous result.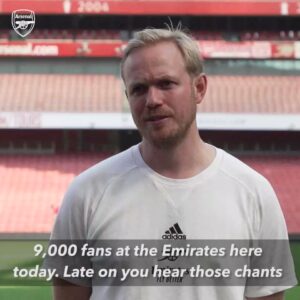 Here is a link to the FA Player Highlights video – you may need to create an account to view it but it's free and will give you access to all Women's games not being broadcast live by commercial channels which you will certainly need at some point in the season to pick up Arsenal live.

What next for our Ladies? On Thursday afternoon we are in Prague for our second leg Champions League round 2 tie. We take a 3 – 0 lead from the first leg and must be firm favourites to progress. Then next Sunday we have a WSL match away to Reading with a 14:00 kickoff. Reading lost their opening game 2 – 0 away to Manchester United. Sunday's game looks like it is to be shown on the FA Player.