By Tony Attwood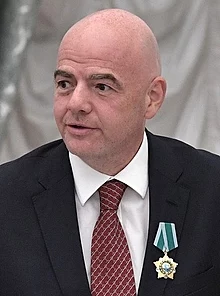 You will know if you are a regular reader that G. Infantino, the head of Fifa, is under investigation in Switzerland for colluding with the head of the Swiss legal system in a series of illicit, private and unrecorded meetings while he (Infantino) was under investigation.
Now the rest of Europe (but not England) are talking about Infantino again.  Because he has moved out of Switzerland and gone to Qatar.
Meanwhile, although possibly unconnected this has happened just as some drones sent from Houthi Yemen have exploded in the UAE.
The story is turning up in news media across the world – but not very much in Fifa-loving England for some reason.  Odd that.
As revealed by Blick, (the Swiss German language newspaper) "Infantino lives in Qatar," which of course we know as the host country of the World Cup with a very dodgy human rights record.  Apparently he has even sent two of his daughters to school there. "Qatar, of course!" Bild says in its headline.   Other German media are expressing indignation and the notion that the move leaves a nasty taste in the mouth.
As Untold has said, reflecting countless others, Qatar has been criticized for its non-existent human rights record. "Gianni Infantino's move to the Emirate illustrates the closeness between Fifa and the Qatari state which is getting closer all the time," says Blick.
"The criticism may not subside in the future," says the magazine "Spiegel". The portal "T-Online" describes the relationship of the FIFA President with Qatar as "curious". "Welt" even calls the move "absurd".
And you know there must be some weird going on when even Gary Linekar (yes that Gary Linekar) is talking about it, commenting negatively on the issue.
Gianni Infantino is, of course, a man who, when he can be bothered, can justify anything – such as hiring a private jet to fly him from Suriname in central America back to Switzerland, instead of waiting for a regular airline the next morning, for a meeting that did not exist.  His justification now is that with the World Cup starting in the heat of November this year, there is a lot to do in Qatar.
But although the English don't really want to know too much, "L'Équipe" has made it a major story, adding that "FIFA assures us that its president still works in Zurich and pays his taxes in Switzerland."
However whether he is still in touch with Swiss prosecutors who are certain that he has broken a string of laws in Switzerland by colluding with the head of the legal service over a case involving himself, we don't know.  Quite possibly he sees himself as being above the law.  And indeed out of reach of the law while in Qatar – a country that we know has no regard for international law.
But of course there is another problem.  How would the Swiss feel about Fifa moving totally to Qatar?   We know that the FA won't mind because they don't mind about anything apart from trying to get the next bank loan and ensuring they are not blamed for the spread of the Uefa Variant after the chaos at Wembley.
So let's see how this is likely to go…
At some stage, Infantino is going to be fully charged with corruption in Switzerland regarding the meetings with the state prosecutor that were off the record.
Around this time Infantino will get a Qatari diplomatic passport which means he can't be arrested anywhere.   And then soon after that Fifa will move to Qatar.   Fifa is already running African football, having expelled all the previously elected officials, and so it will then take over the direct running of middle eastern football as well.
The rest of the world will be invited to tag along with this, and right at the front will be the English FA saying "yes" to anything as long as it gives them the cash to start paying off their debts.
Incidentally, I don't think Interpol have any authority in Qatar.  In fact  rather think we've all been conned.
And what do the English media make of this?  The Telegraph has no mention of the story but leads with Exclusive: Everton to interview Wayne Rooney and Frank Lampard for vacant manager's job
The Guardian leads with  David Squires on … Benítez's sacking and the Merseyside blues
The Daily Mail leads with  Wayne Rooney and Frank Lampard are 'set to be interviewed by Everton' for vacant manager's role following Rafa Benitez's sacking, with ex-England team-mates 'on shortlist of four'
Glad to know it is business as usual.