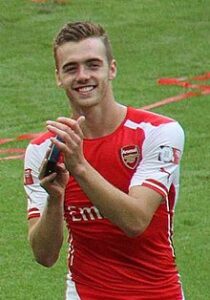 By Sir Hardly Anyone
Although, as we saw in the last article, the Guardian's list of transfers does not seem to include anyone coming in for a fee, this is not how the rest of the media see the situation.  As for example with 'Done deal confirmed': Romano says Arsenal have reached 'full agreement' to complete first signing of 2022 which appeared in The Boot Room.
The player is Matt Turner of New England Revolution, who is allegedly coming in to replace Leno as the backup to Ramsdale.
Next on our list of transfers satisfactorily completed we had this one: Mikel Arteta's £74m Arsenal success confirmed by late Douglas Luiz move to bury Newcastle worry
Which is interesting in that it comes from Football.London which is part of the same group as the Mirror as said (as we quoted in our last article) that Arsenal couldn't sign anyone.
Now that story has disappeared from the Football.London website – which rather looks like someone at the Mirror reminding someone at Football London that the policy is one of knocking Rsenal not celebrating its forthcoming success, whatever that success happened to be.  This incidentally is not the only FoLo piece suddenly to vanish of later- it looks like they are making a bit of a habit of it.
Mind you other websites have suddenly changed their tune as well as we had 'Final details and then done deal': Fabrizio Romano shares Arsenal transfer update from The Boot Room although that was a little disappointing as it turned out to be the Turner story again.   As indeed was 'Agreed to terms': Pundit claims Arsenal have just taken huge step towards first summer signing from HITC.
Arsenal's reasons for allowing early Calum Chambers transfer exit become clear from the Mirror appears to be there as a way of explaining how come the paper that seems to know everything about every deal didn't know about this one.   They explain their lack of knowledge by saying "Arsenal and Aston Villa's agreement for the move of Calum Chambers has surprised everyone as they kept the slightly peculiar deal firmly under wraps.  But they finally worked out that with Chambers being out of contract at the end of the season and with cup matches over letting him find a new club was the decent thing to do.  But of course Arsenal doing the decent thing isn't a news story.
Then we had another story that quickly disappeared: Arsenal report: Ruben Neves targeted, as Gunners 'reach agreement' over another midfielder  FourFourTwo
Report: Arsenal now the most likely side to sign 'incredible' £40m winger before Monday from The Boot Room is about Dejan Kulusevski who everyone has been saying is going to Tottenham.  There is talk of Aubameyang going the other way.
Liverpool's Luis Diaz move gives Arsenal major boost over high priority £83m double deal was yet another story quickly put up and taken down by Football.London.
Eventually of course some stories have to be true just because if one tips every player to come to Arsenal in the end one will actually sign up.
But there are a number of things wrong with the whole way in which this group of newspapers and websites deals with transfer.
First there is a total lack of seriousness about both the reporting and the story that is reported.  There's no background or build-up, just suddenly the announcement that this player has appeared.  And when between 95% and 98% of the stories don't happen, no one in the media admits it is their fault.  Rather the implication is that it is the club's fault for not focussing on the issue.
Second, we can see how the media tosses aside the story that Arsenal are after this player, or need a player in that position, when such transfers don't happen.  Instead they then pick fights with Arsenal, claiming Edu and co are not up to the job (implying that if only the writer could run Arsenal's transfer arrangements then we'd see things really happen).
Put those two points together and we get a third: the readers of these tales are dopes.  And a publication treating its readers as idiots is surely itself contemptible.
And yet despite the above, seemingly more than half of the readers of this endlessly wrong set of predictions seem to think they are true.  Although talk to people in the ground and one finds more like 5% think the stories are real, but Arsenal simply cock the opportunities up, one after the other.
In fact the most reasoned and logical conclusion is that the modern day media has utterly lost touch with both the reality of what is happening in football and the reality of what many (probably most) supporters think.
The journalists and their editors are aware that the incoming player story is itself well past its self-by day, but no one in the blogs or the pop media has a clue what to replace this by.
The media in fact has adopted a campaign-style form of reporting in which pronouncements about what Arsenal need are mixed up with predictions of what will happen.  This sort of writing builds up a momentum of its own, which has to be fed by ever more overzealous efforts to tell us who else Arsenal are going to buy.
Thus news and analysis have been abandoned – indeed how many outlets made any attempt to cover Arsenal's dramatic improvement in the last two-thirds of last season or their change from being the most carded to almost the least carded club in one year?
The attraction for the media is that invented transfer tales cost nothing, but ultimately some fans do realise that the whole premise that buying players takes a club up the league is gibberish.  For as we showed (complete with evidence) just a couple of days ago, of last year's top spending clubs, only 1 has reached a higher league position.
Football journalism is just a nasty little con trick.