Arsenal on Twitter @UntoldArsenal
Untold Arsenal on Facebook here
RefWatch – Aston Villa v Arsenal (27/11/2010 – 12:45)
By DogFace
•              Referee:              Mark Clattenburg
•              Assistant 1:         Ron Ganfield
•              Assistant 2:         Adam Watts
•              4th Official:        Phil Dowd
Good morning (afternoon) all… Can I first just say what a horrible week it has been to be a Gooner – 2 games that, if we had won, we would be feeling invincible… if we had drawn – we would be worried – but as we lost the both of them we have resorted to abject misery and self harm.  Well – some of us anyway; Untold, as always, has tried to keep a fortress against the trolls and retain some perspective on these two games – something of a 'Helms Deep' against the forces of darkness.
It's been a busy week for me (again) and unfortunately I can't write about my team and it's circumstances as a full time job so, again, apologies for any errors – as I type, it's 10:40am and I'm trying to look busy (as the token techie in the corner) during a video conference with a major client… I just looked up and nodded knowingly following a general comment by 'Management talking head #1' about our IT infrastructure… we let them go 'blah', 'rhubarb' and swing their dicks at each other but when this 4 hour meeting is over I will just call their techie guy and we'll come up with a something better within 12 minutes.
Our referee on Saturday is one Mark Clattenburg… and as we have already covered him in a previous RefWatch – I'll skip the character assassination bit (as he had an excellent game last time) and move swiftly on to the fourth official.  The fourth official for today is Mr. Phil Dowd – oh yes, how we remember him this season!  One draw to Sunderland in which he had a shocker and a loss to the scum only last week with Dowd giving a gentle shove, in terms of the run of play in the second half, firmly in Tottenham's favour.
Let's check out the numbers, but before we do I'll explain the new format:
Familiar readers will already be aware of the Average Points Per Game league charts, Asian Handicap Swing league and Seasonal Form charts that I have generated on a 'our referee for today' basis for your perusal in the past – the shiny new format is like a 'funky mashup' of all these with colours and lines and shit so we can study any trends that might reveal themselves… you know – like managers in a board room pointing at graphs, going 'blah' and 'rhubarb'… oops – time to nod knowingly again and churn out some tech- jargon to baffle them – talking of which, here's the key:
•              PPG = Points Per Game
•              AH = Asian Handicap (see an explanation on this in my previous post)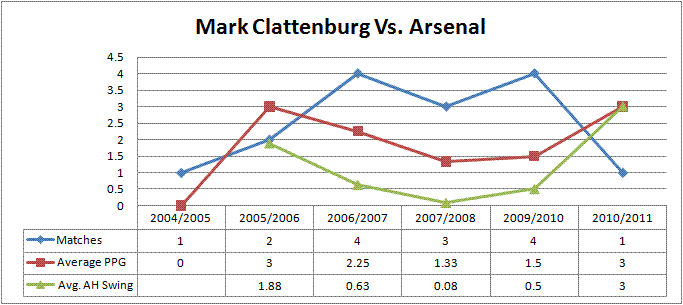 We'll start with Marky C:
As you can see – we have never hit negative numbers on against the handicap with Mark Clattenburg… which is good – and the trend over the last few seasons has been climbing from its nadir (we hope) in the 2007/2008 season.   The PPG line tells a similar tale – although our current number of matches for this season only stands at one and, at present, the curve for both figures is currently a little too high on the up-swing – but both show a positive trend.  We will contrast and compare this with Mark Clattenburg's form for Aston Villa: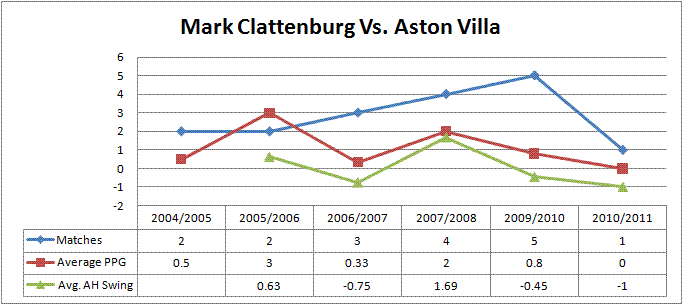 It's fair to say that Mark Clattenburg hasn't been great for Villa and their form under him has been somewhat erratic – bouncing between negative and positive numbers on the handicap – again there is a clear correlation (as you would expect) between this and Villa's PPG.  We can speculate on the reasons for this when we study his data in full and compare it to Aston Villa's closest rivals (and subsequently their form under Clattenburg) – but I suspect that this is not entirely relevant to this game and I won't bore you with it.
Let's move on now to Phil Dowd and how he has been for Arsenal: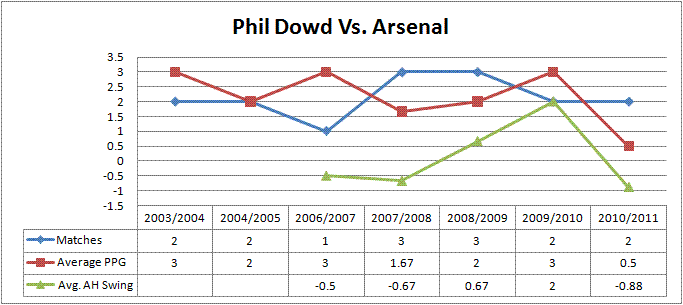 Oh crikey – those numbers stink!  We have gone from a steady climb against the handicap (to the 2009/2010 season) to a market crash this season with negative numbers of -0.88 already.  It's fair to say, looking at these figures, that Phil Dowd has not been great for us as a referee – as a fourth official you have to suspect he might also have some negative influence on the game… but – as this is only half the story – so let's flip the coin: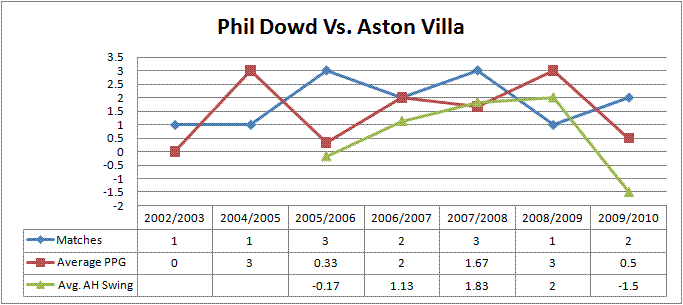 To start with; the more observant among you will have noticed just how similar Aston Villa's form is, under Phil Dowd, as Arsenal's – a steady climb against the handicap from 2005/2006 (where they started in negative numbers) to a total crash, back into the negative, in form this season – although Villa only had one game under Down in 2008/2009 so this would distort the curve… this also seems to reflect something of their actual form in the league… hmm – maybe I'll build data that into my next RefWatch – as I think it would certainly be useful?!
So bear in mind, with all the above charts, the teams actual form that season and if it has a steady correlation with the numbers.
Right – as this meeting is really boring, I'm going to knock up the bookings charts for both teams under Mark Clattenburg.  These are also funky mashups and the key is thus:
•              FPB  = Fouls Per Booking
•              BPM = Bookings Per Match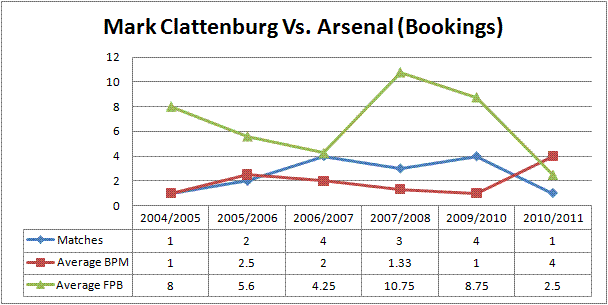 Now this is curious as it's shows that we were being penalised steadily more over the period from 2004/2005 season to the 2006/2007 season only to be given something of a 'shit kickers' charter in the 2007/2008 season… I say this but this number was not in any way unusual at the time.  From that point on we have seen Clattenburg really lay the law back down again – and in the one game we have played under him this season (against Manchester City) he was by far the most harsh with 2.5 fouls per booking – which shows just how good a win that was for us.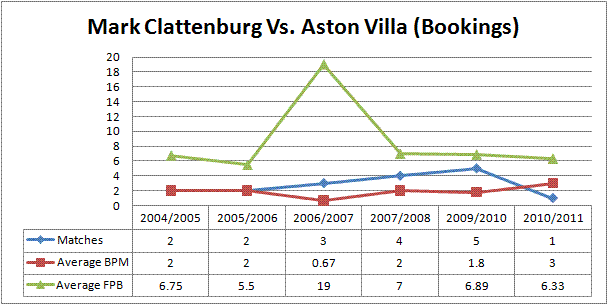 We see something of this trend repeated for Aston Villa under Mark Clattenburg – although Aston Villa are allowed far more leeway in the challenge with a staggering 19 fouls per booking in the 2006/2007 season – which backs up a lot of fans suspicions that Arsenal are punished by the referees more in the tackle than other teams.  I have an interesting theory as to the exact reasons for this which I will leave for another post.
So what can we expect from Mark Clattenburg on Saturday?  Well you now have the data – so make your own mind up!
The Christmas present for the Arsenal fan with everything
Latest bits from the Arsenal History site
There's told told's, told untold's, untold told's and untold untold's.
Is Arsenal well and truly going down hill?
Want to argue against Wenger and his philosophy? Then you must read this first, or your comment may not be published