Note: Because of the origins of the Arsenal Statues and because of their obvious historical context, the launch of the statues has already been covered in depth on our companion site the Arsenal History blog. 
But, I know that many readers of Untold don't always pop along to the History site… and this was such an important event that I do want to encourage all Arsenal supporters to take in what happened. 
The simple fact is that here it was shown that Arsenal supporters can have an impact on what the club does. 
So, perhaps for the first time, an article that appeared on the History site is now also appearing (with a couple of minor changes) on Untold.   I promise it won't be a regular thing, this reprinting of an article from one site to another, and I hope you understand why I'm doing it this time.  Tony
Arsenal: The Statues.
By Andy Kelly
Last Friday I represented the AISA Arsenal History Society at the unveiling of the three legends' statues at the Emirates Stadium.
I had already received texts from a  good friend of mine saying "guess where I'm working this week?" along with a photo of the Emirates. He knows that I am a big Arsenal fan and I know that he works for a company that specialises in the transportation works of art, including sculptures. I asked him if he was delivering three statues and he said he "might be".
The next three days were agony as he said he was sworn to secrecy as to the identity of the statues. He sent photos of two of the statues but they were covered in tarpaulins.
Friday came. The invitation stated that we should arrive at the Dial Square suite at 2.15pm for a reception. By the time I got there at 2.00pm there was already a sizeable crowd of guests waiting in anticipation. The doors opened at 2.15 and we were invited up into the function room. On the  way were presented with a security badge and complimentary CXXV scarf.
Rather than stand around like a lemon I made small talk with a few of the other  invitees. These included David O'Leary (he is on one of the banners of fans, etc hanging from the lights outside the ground) and Goonerholic.
As expected at these events, Bob Wilson was there in  support. I took the opportunity to have a photo taken with him.
We were then led out of the Dial Square suite via the fire exit and down to ground floor. We made our way to one of the exits where the first unveiling was to take place. While we were waiting, along came Peter Hill-Wood and Ken Friar in golf buggies! Then Arsene Wenger and Thierry Henry walked past us causing a stir amongst our small crowd.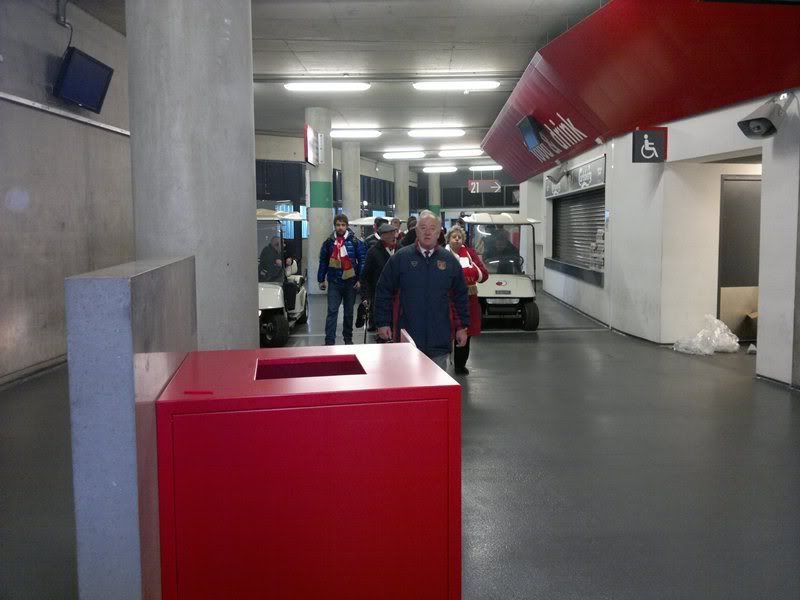 We walked out to a special section barriered off from the  crowd of those not quite so privileged. Peter Hill-Wood started the ceremony of  the first statue to be unveiled. Herbert Chapman was revealed to a round of  applause. Arsene Wenger then said some words in his typical humble manner, proclaiming Herbert as the best manager Arsenal has ever had.
We were then ushered back into the stadium and off to North end of stadium where we watched Tony Adams' statue being unveiled. Again, Peter Hill-Wood spoke with Arsene Wenger also adding his bit. I wasn't quite ready and missed about 20 seconds of the start of Hill-Wood's speech.
I took the opportunity to say hello to Ryan Rocastle (son of David), tell him how much I admired his dad and wished him good luck for the future.
Again, it was back into the stadium this time for the long walk down to the Clock End.
Once again, Peter Hill-Wood spoke, followed by Arsene Wenger. Then Thierry also spoke. At one point he stopped speaking in mid-sentence. We thought he had finished and started to clap but then realised he was having an emotional moment.
After the ceremony, Thierry signed everything that was put under his nose and I managed to shake his hand. Well chuffed.
I took some photos of the Thierry Henry statue but we weren't allowed to get too close as the rigging and lights hadn't been taken away (health & safety, blah, blah, blah).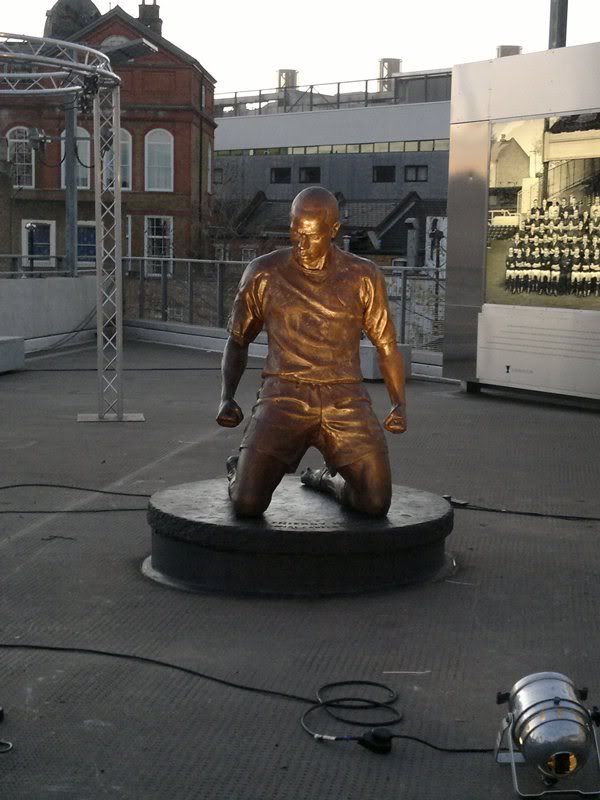 As the VIPs disappeared, Ivan Gazidis hung around and was interviewed by Mark Bright. When he finished I took the opportunity to ask him a question, much to the annoyance of the security guard in close attendance.
AK: "Mr Gazidis, can I ask one quick question. Are the statues anything to do with your meeting with Tony Attwood last year?"
IG: "Yes." and smile on his face.
AK: "Thank you."
I texted Tony Attwood straight away knowing that he would be chuffed.
His reply: My life is complete.
Mark Andrews then arrived and we spent some time taking photos of Herbert Chapman and Tony Adams.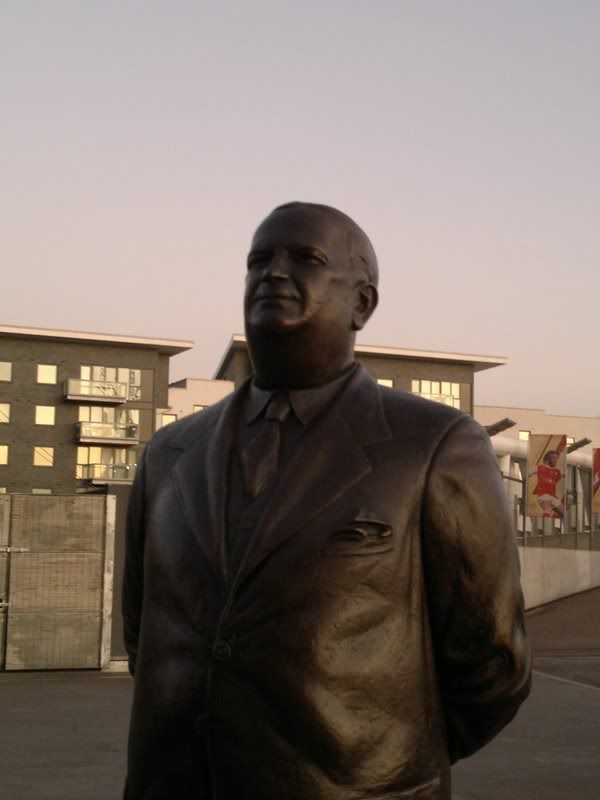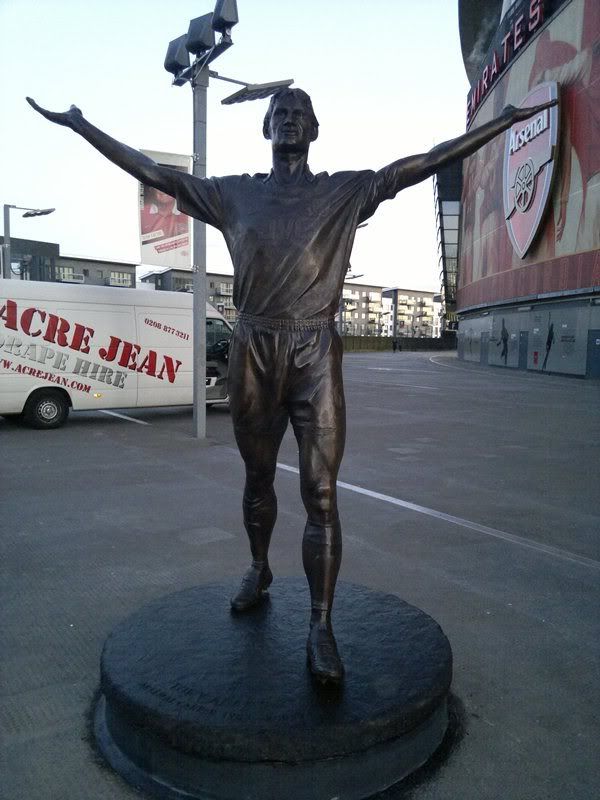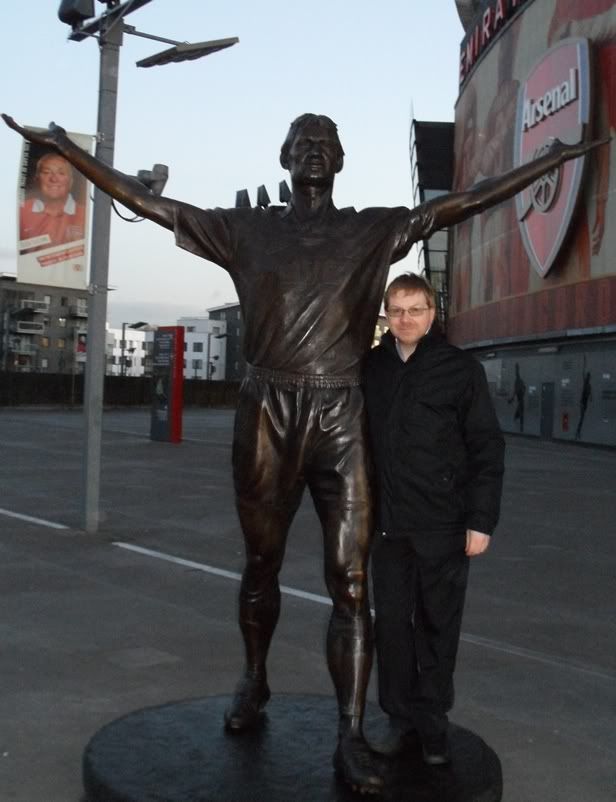 We then had a quick meeting with Iain Cook, the museum curator and one of life's nice guys, about the club's history and agreed to meet in the new year with a view to updating it.
A truly memorable day.
————————-
Follow us on Twitter @Untold Arsenal
———————————-
"Making the Arsenal" –

is available on Amazon, Arsenal on line, the Woolwich Arsenal site and in the Arsenal store.
———————————–
—————————————-