Chelsea v Arsenal 05 October 2014 – The Match Officials
by Andrew Crawshaw
Referee – Martin Atkinson
Assistants – M Mullarkey and S Child
Fourth Official – J Moss
Martin Atkinson is another useless FIFA Accredited twat of a referee, at least as far as his beloved Chelsea and hated Arsenal are concerned. We have less chance of fair refereeing in this match than a snowball in hell.
He became a referee at 16 and according to the official Premier League website "has risen through the ranks to become one of the most well respected officials in the Premier League". Not in my books!
On Untold we like to present some facts to support our assertions and I'm aware that I have two or three bold ones so far.
Martin Atkinson v Arsenal and Chelsea
2011/2012 Season
His year end summary was
Ref Review: Martin Atkinson. Poor on goals, ok elsewhere (unless you are Everton)
Basic competency of 70.7% correct for weighted results. His goal decisions were wrong 13% of the time, penalties were roughly 50/50, on red card decisions he got 83% wrong and 44% of yellow card decisions were wrong. Not good numbers anywhere and diabolical in terms of goals, penalties, red and yellow cards.
In terms of bias, his showed double the bias against Everton and Arsenal compared with any other team, Chelsea was neutral and QPR and Liverpool were the main beneficiaries of his largess.
If you want to check further through the Untold Archives for the full story behind the 2011/12 review then this is the place to start – good for a rainy day or three – Ref Review 2012
2012/13 Season
Here are the bias figures for Arsenal from the 2012/13 season for all referees.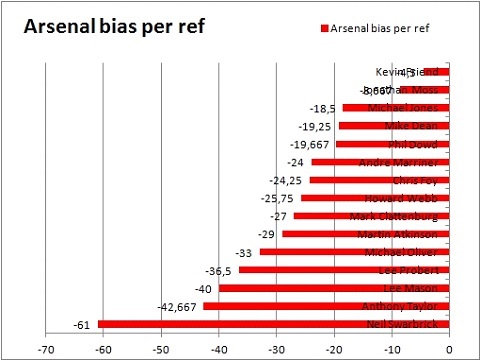 OK Atkinson isn't the worst but has an overall bias figure 50% worse than Mike Dean so he is certainly pretty bad. Here is a link to Walter's summary of his work for the season Ref Review 2012/13: Martin Atkinson. This is not a Fifa ref. – The key points from the review were :-
red cards – one correct out of 7 decisions he had to make
second yellow cards – none correct out of 11
yellow cards – 62 correct out of 122
penalties – 8 correct out of 21
goals 40 correct out of 47
Again rotten numbers and not worthy of him holding a FIFA badge
His Arsenal Games that season were :-
Match Referee Review: Martin Atkinson – Arsenal v Aston Villa (2 – 1) [23/02/2013] – to be fair this was a pretty good refereeing performance, 85% overall competence, neutral bias and no wrong Important Decisions (second yellow, red cards, penalties or goals).
Ref Review: Martin Atkinson – Chelsea Vs Arsenal (2 – 1) [20/01/2013] – 71% overall competence, bias against 69/31 and one wrong Important Decision when in Minute 18 Torres has both hands obstructing Kos as Chelsea score a goal, should have been a free kick to Arsenal.
Match Review: Martin Atkinson – Arsenal Vs Chelsea (1 – 2) [29/09/2012] – 61% overall competence, bias against 10/90 and 7 wrong Important decisions. In the first minute Diaby had his arms around Oscar, this continued into the penalty area and Chelsea should have had a spot kick (yes we call wrong decisions against Arsenal as well as our opponents); Minute 5 Ramires plants his studs on the foot of Coquelin, nothing given (should have been a yellow card and a free kick to Arsenal, seconds later Mata scores a goal directly from a free kick with no other intervention from Arsenal players, had the original decision been correct the goal wouldn't have been scored; Minute 15 Ramires initiates contact with Szcz inside the penalty area gaining a penalty, the foul was by Ramires who should have been booked for a dive and as he should have been bookesd in Minute 5 he should have been sent off, the conversion from the spot kick shouldn't have counted either so three wrong Important decisions from one disgraceful piece of cheating from the Chelsea player abetted by Mr Atkinson's bias/incompetence; Min 62 Ramires again cheating without being penalised; Min 77 Ramires again with a clear push in Wilshere's face – a straight red again ignored by Mr Atkinson; Min 94 Cahill all over Vermaelen in the penalty area preventing him being able to jump for the ball, a foul in the penalty area is a penalty Mr Atkinson no matter which team is involved.
A total of two incorrect decisions in favour of Arsenal and 21 in favour of Chelsea and a game where Mr Atkinson single handedly ensured that Chelsea won. Of all of the games I have watched in the past few years this was the worst refereed match I have seen and one I'm still spitting blood over.
Apart from the two Arsenal games above, there were no other reviewed games featuring Chelsea.
2013/2014 Four Arsenal games
Sunderland v Arsenal 14 Sep 2013 (1 – 3) Another game where Mr Atkinson put in a decent shift, OK penalty against Kos, decent decision to blow for a foul before Altidore put the ball in the net. Sunderland 1 – Arsenal 3 : a longer one, some interesting things about referees and booing and hating players
Arsenal v Liverpool 2 Nov 2013 (2 – 0) – a game where Walter didn't mention the referee once in his post match summary Arsenal – Liverpool 2-0, Who had predicted this league table in August?
Man City v Arsenal 14 Dec 2013 (6 – 3) – Mr Atkinson assisted by Mssrs Burt and Lennard made a complete 'horlicks' of this game to the extent that Walter did a full referee review of this game A referee review Martin City – Arsenal. An utterly unacceptable referee – 21 wrong decisions and all against Arsenal. Key wrong decisions in Min 37 monrealwas wrongly called offside when he had both a shooting or passing option, wrong decision killed a goalscoring chance, in the following minute Negredo scores for City; Min 45+2 Walcott called back for offside again wrongly and again killing a promising attack; Min 55 Toure with studs up challenge on Giroud, not even a foul should have been at least a yellow and probably a red card; Min 59 Zabaletta handles the ball in the penalty area, nothing given; Min 64 Nasri dives with Sagna near him wins free kick from which City score, no foul so no goal and Nasri should be booked; <Min 89 Bendtner goal wrongly ruled out for offside, he was level.
A game where the referee and his assistants decided the outcome of the game.
Everton v Arsenal 6 Apr 2014 (3 – 0) Everton and a bit of Chelsea – Arsenal 3-0
Arsenal didn't create enough to win the game but Atkinson didn't make it easy for us, he was good in booking Coleman for a reckless challenge on Sagna, then forgot that standard when he allowed bad challenges from Naysmith on Arteta andBaines on Cazorla; he should have dismissed Barkley for pushing Arteta to the ground with both hands, booking Arteta instrad. His assistant then chipped in in extra time when Sanogo scored but was wrongly called for offside.
Three Chelsea Games
Man United v Chelsea 26 Aug 2013 (0 – 0) Both teams cancelled themselves out, described by more than one commentator as a 'bore draw'. One possible Atkinson moment when the Cleverley's volley hit Lampard's hand in the area but the referee wasn't interested in giving the decision. With two minutes to go United had another shout for a penalty when Mikel turned into RVP's volley but it would have been a harsh decision and one that Atkinson probably got right.
Southampton v Chelsea 01 Jan 2014 (0 – 3) No controversy over this game, Southampton had the better of the first half, but Chelsea had too much in the second. A number of mentions of Chambers having a great match which is promising for us.
Liverpool v Chelsea 27 Apr 2014 (0 – 2) Gerrard slipped just before half time, Ba latched on to the ball before nutmegging the advancing Mignolet and Willian got the second in second half added time. Chelase intent on defending, Liverpool attacking. Min 38 Chelsea had a shout for handball but ruled ball to hand, Chelsea not happy; Min 51 Sterling goes down under a challenge form Kalas on th eedge of the Chelsea box but play waved on. I can't find any other references to potentially 'iffy' decisions.
Mr Mullarkey v Arsenal 2013/14
He was assistant to Mr Webb consistently through last year and turned up at the following Arsenal games :-
Fulham v Arsenal 24/08/13 (1-3) referee Mr Webb
Arsenal v Everton 8/12/13 (1-1) referee Mr Webb
Arsenal v United 12/02/14 (0-0) referee Mr Clattenberg
Arsenal v W Brom 4/5/14 (1-0) referee Mr Jones
Mr Child v Arsenal 2013/14
Swansea v Arsenal 28/09/13 (1-2) referee Mr Clattenberg
Arsenal v Cardiff 01/01/14 (2-0) referee Mr Moss
In Summary
1. Mr Atkinson can have a good game but rarely does when Arsenal are involved
2. Mr Atkinson is not very good at making Important Decisions (second yellow, red cards, penalties or goals) despite holding the highest level of FIFA accreditation.
3. Mr Atkinson is known for having pro-Chelsea leanings
4. Mr Atkinson cannot be trusted in Arsenal v Chelsea games and in an honest system should never be appointed to referee between these two teams.
5. Expect fouls committed by Chelsea and Arsenal to be treated differently
6. There is no reasonable expectation of Arsenal being awarded a penalty even if shot in Chelsea's penalty area
7. If Mr Atkinson has an opportunity to assist Chelsea with a decision he will take it even when no foul has been committed.
8. If Arsenal are still unbeaten on Sunday Afternoon it will because Arsenal have had a magnificent game as they will certainly be playing Chelsea and Atkinson and his assistants.