By Walter Broeckx based on the research done by Goonermikey who should get the credit for this article
A while ago Goonermikey came up with the stats about how Wenger has overachieved per  £1m of net spend on transfers and how this compared with other EPL clubs over a decade.  And now he has come up with some interesting numbers on yellow cards.
This will make interesting reading for anyone who still does not believe that there is something wrong with the referees in the PL and their behaviour against Arsenal. Of course they could close their eyes once again and ignore the facts because it would shatter their ideal dream world land.
Thinking about the treatment Chambers has received this season, he decided to look at the fouls v cards position.   Figures are accurate up to and including the Everton v QPR game.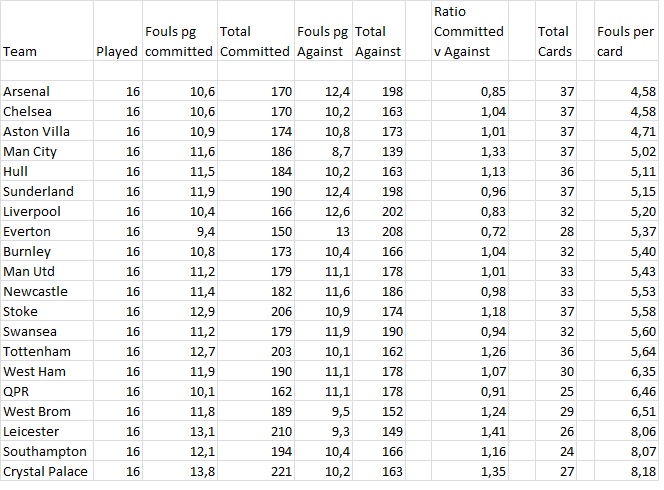 Some simple conclusions can be found in this table:
Only three teams have committed fewer fouls than AFC
Only three teams have been fouled against more than AFC
Depending on whether or not you choose to count a red card as 2 yellows, it can also be said that no team has received more cards than Arsenal (I've counted a red as 1 card since I don't know for each team whether there were straight reds or not.)
Arsenal are also only one of 7 teams who commit fewer fouls than are committed against them and actually have a ratio of 0.85 fouls committed for every one against
At the other end of the scale, Leicester commit 1.41 fouls for every one against them
It's not just the lower teams though since the second worst offenders are Man City who commit 1.35 for everyone against
How often teams get a card is interesting too (and I know some fouls are worse than others, I'm talking about a bigger picture as you well know).  Surprise, surprise, no team gets cards more often than AFC.  One for every 4.58 fouls committed (remembering that we are far more likely to be fouled than to commit fouls)
At the other end of the table is actually Crystal Palace who commit almost twice as many as AFC 8.18 per card (and bearing in mind they commit 1.35 for every foul against).
Interestingly the second least likely to get a card is Southampton at 8.07 fouls per card.
And this links and brings us nicely back to Callum Chambers and we can show this table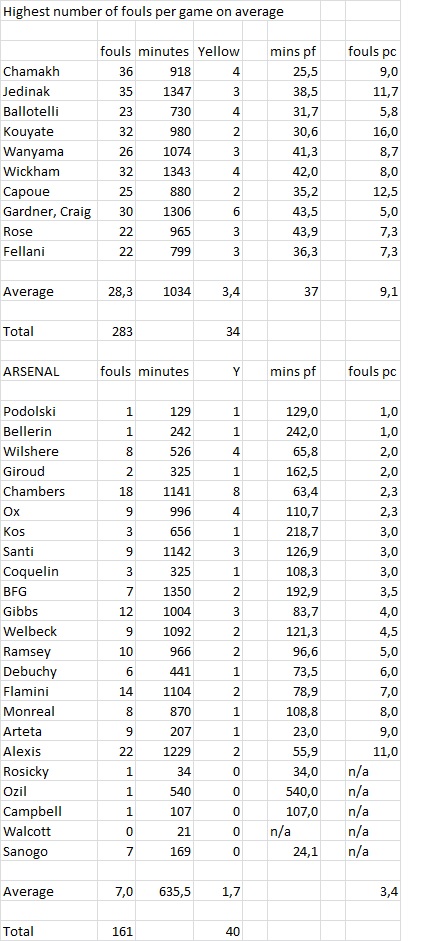 Again some interesting conclusions can be made:
Callum Chambers – who I understand played 22 times for Southampton last season and did not pick up one card.  He has made 12 EPL starts for Arsenal and picked up 6 yellows and a red at the rate of a card for every 2.3 fouls (based on the fact that the red was two yellows).
Now this is where it gets interesting.  When we look at the ten players who in the EPL who on average commit the highest average fouls per game we find that, on average they commit a foul every 37 minutes and pick up a card for every 9.1 fouls.
Now those 10 players have committed 283 fouls between them and picked up a total of 34 cards.
The whole AFC squad (excluding goalkeepers) have committed 161 fouls between them yet picked up 40 cards (NB not all for fouls though).
AFC players on average pick up a card for every 3.4 fouls they commit (even though we commit fewer fouls than most)
The worst ten foulers in the EPL on average pick up a card every 9.1 fouls (even though they are the worst foulers in the EPL)
The most harshly treated of those 10 is Craig Gardner who picks up a card for every 5.0 fouls and he commits a foul every 43 minutes.
Aaron Ramsey also picks up a card for every 5.0 fouls but he only commits a foul every 97 minutes.
What's worse is the fact that we have 12 players who pick up a card more often than Craig Gardner.  YES TWELVE!!!!  In fact we have two who have committed just one foul and each picked up a card.
For those who might choose to argue that it depends on which position you play in, 3 were forwards, 4 were midfielders and 5 were defenders.
As I said, I know some fouls are worse than others but there's a big picture here.  That is to say, we don't commit many fouls (only 15% of teams commit fewer), we are fouled more than most (only 15% are fouled more) and we pick up cards more often than anybody else.  Is it really any wonder Arsenal fans believe the PGMO have an agenda??????
In fact if you look at these stats and compare this with the referee reviews it is in fact a miracle that there still are Arsenal fans out there who discard the influence of refs as irrelevant. But yet these refs punish Arsenal players much more and harder than their opponents.
The conclusion is that there is no level playing field when Arsenal enters the field. They will get carded more than any other team and some players are targeted it seems. Callum Chambers is the prime example. A player who never got a yellow card in his 22 appearances for Southampton now suddenly gets booked every 2 fouls when playing for Arsenal.
Did Chambers suddenly change from being one of the cleanest defenders in to a dirty footballer? I think the only thing that is different between this season and last is that he is wearing another shirt: the Arsenal shirt. And that seems to be a big problem for referees.
Looking at these numbers one might start to think that there is really something rotten with referees in the PL.