Ref in this match was Anthony Taylor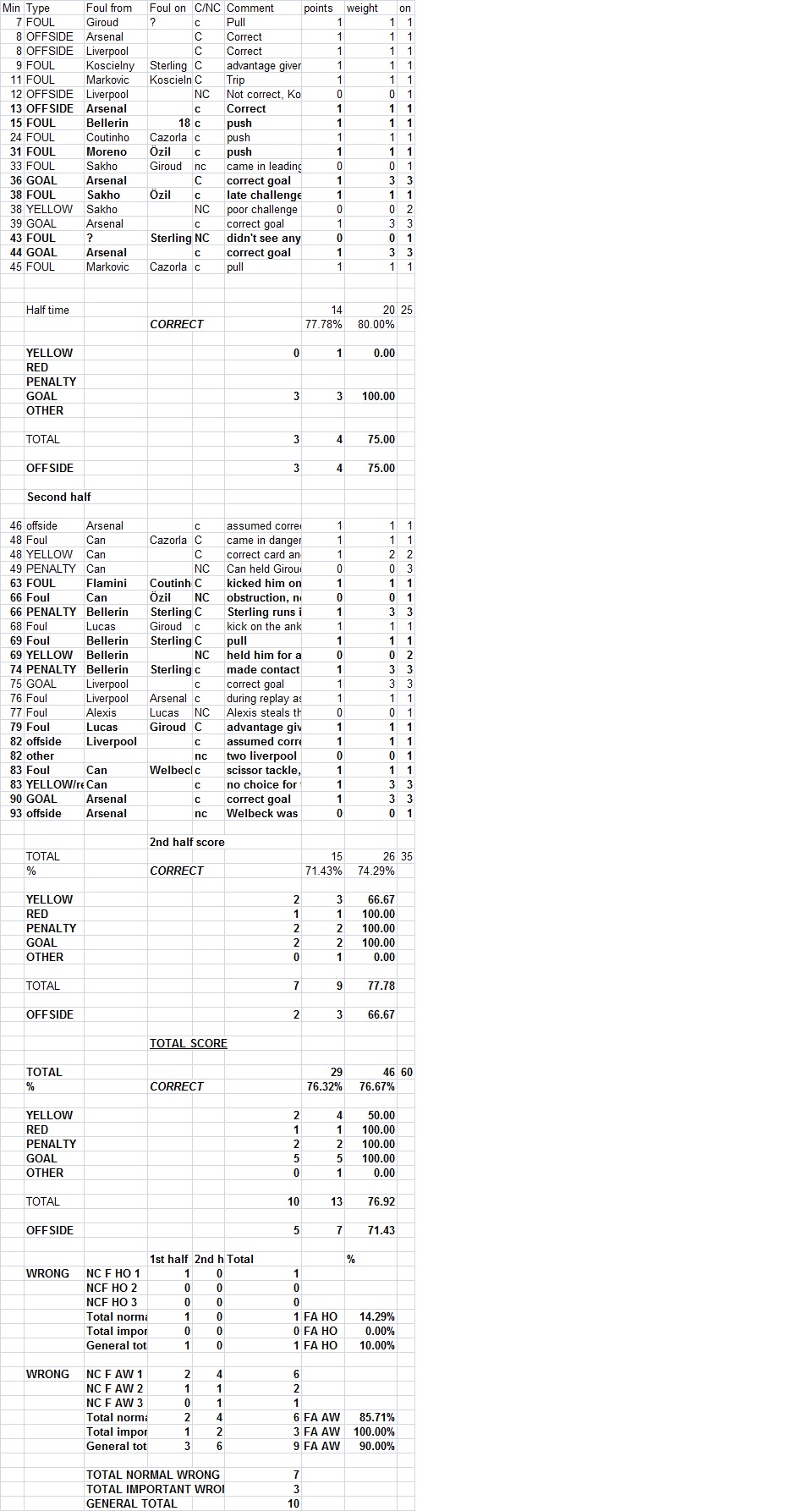 A first 30 minutes that were rather un-Taylor. As he made no mistakes. The only mistake was from an assistant who judged a Liverpool player offside but Koscielny was still behind him.
The first error from Taylor was then again a typical one. Sakho came in leading with the arm against the head of Giroud but he let it go. He could have even given a card for the challenge.
The first Arsenal goal was correct. And the same can be said about the second goal. Taylor correctly giving a foul for a late challenge from Sakho on Özil. Sakho should have been carded for this challenge and certainly because it was his second poor challenge within 5 minutes.
After that Taylor tried to help Liverpool by inventing a foul when Sterling was losing the ball. But it didn't help Liverpool as Arsenal scored a third goal shortly after.
The score in the first half was a rather good (for Taylor) score of 77,78% and if we put weight on the decisions it goes up to 80%. Looking only at the important decisions his score was 75%. Bias score was 25/75 in favour of Liverpool.
In the second half he called correctly a dangerous tackle on Cazorla from Can and even gave him a yellow card after Can showed openly dissent about the decision. From the resulting free kick the ball was send in to the penalty area and Can was hanging all over Giroud with both his arms clamped around him in order to stop him going for the ball. A clear penalty but somehow missed by the ref.
Then he missed a foul from again Can on Özil. He sure was letting a few things go in favour of Liverpool.
But credit where it is due. He didn't fall for Sterling trying to win a penalty when he ran in the back of Bellerin.
A bit later Bellerin made a foul on Sterling just inside the Liverpool half and the ref gave a soft card indicating a pull. Only long and continued pulls should be carded by the ref. If he would give a card for every pull that would be fine for me but he later showed that he didn't do this. So a very soft one.
He then called the penalty for Liverpool and that was a correct decision. No card and that again was very well within the instructions. Sterling was not going into a dangerous position, it was a trip, no dangerous foul. It's not because a foul is made inside the penalty area that there should be given a yellow card. Liverpool goal correct.
In order to assist Liverpool to a possible 2nd goal he then let a few fouls go on Arsenal players that I could not really judge as there were no replays. Lucas lost the ball to Alexis and the ref saw a foul and stopped a promising Arsenal attack. Typical Taylor stuff.
Then he stopped a promising Arsenal attack when two Liverpool players bumped in to each other. Nobody was holding their head (Henderson was holding his leg a bit) but somehow the ref decided to stop the match and call Welbeck back. Terrible decision from the ref.
Can then lost his head and chopped down Welbeck with a late, dangeryous scissor tackle. He got his second yellow card and walked alone in to the shower.
Arsenal then scored another correct goal in injury time and Welbeck was called back for offside when he was onside.
Second half score for the ref was 71,43% and if we put weight on the decision we get a score of 74,29%. If we only look at the important decisions his score was 77,78%.  Bias score in the second half 0/100 in favour of Liverpool.
Seen over the whole 90 minutes ref Taylor gets a score of 76% and that is rather high for Taylor. And this 76% is also the score when we put weight on the decisions and if we only look at the important decisions.
So a good day at the office for Taylor.  Okay not perfect at all but we have seen worse things from him in the recent past.
Bias score however is 10/90 in favour of Liverpool. So despite a relative good score still a very one sided performance from Taylor.