by Andrew Crawshaw
Firstly an apology for the inadequacy of my preview of Jon Moss.  In essence I got things right but failed to predict the scale of his 'crimes'.  My predictions for his performance are in blue italic script, post match comments are in black
Mr Moss is really not a terribly good referee either in Arsenal games or elsewhere.  In his last 7 Arsenal games over the last three seasons he has made 17 wrong Important Decisions – two and a half per game.  In his eleven games this year in the PL he has made 22 wrong Important Decisions two a game.  These figures simply aren't good enough. – He actually made 10 wrong Important Decisions in the game which goes way beyond "not a terribly good referee" and transports him to another level altogether.
In Arsenal games his bias figures are as bad as it gets two games with every wrong call against Arsenal and a 'best' bias of 78/22 against Arsenal.  His actual bias numbers were 71/29 which in fact are the best we have seen from him.
Despite these numbers we do generally manage to cope with him in charge and are far more likely to win than lose.  Well I got this one right!
Mr Moss is particularly bad in dismissing players for disciplinary offences, he seems almost scared in Arsenal matches to show cards for even terrible fouls on our players and in other matches this season 13 of his 22 wrong calls are for cards.  I'm going to claim this one as a correct prediction (albeit with caveats over the scale of his errors).  I said to my seat neighbours immediately following the Xhakat'tackle' that it was a bad one and can understand the red card.  However, using his somewhat jaundiced view of Xhaka's two sendings off this season as the template he should have sent off a further 7 players in this game.  Giroud and Mee for head high feet, Barton for a two handed push to Alexis head, Defour for a kick at Xhaka, Lowton for a kick from behind on Alexis' achilles, Barnes for an elbow to Mustafi's head and Marney for a challenge on Özil.
He isn't great on Penalties either with three in Arsenal games over the past two years and 6 wrong out of 13 in other matches this year (this is an accuracy rate of 54% which is lower than the league average of 65%). Again I'm going to claim this as correct. He failed to give the clear penalty when Mustafi was pushed by Grey in Min 56, He then wrongly awarded us a penalty in the last minute when Koscielny was offside in the build up to the one he did award.
I do hope that he doesn't suffer a repeat of his goal blindness he had in the game against Southampton last year when three of their four goals shouldn't have counted.  Worryingly we have him down for 3 wrong goals in his league games this year as well.  As the last minute penalty was wrongly awarded the consequent goal shouldn't have counted so he added to his numbers under this prediction as well.
In total I make a total of 10 wrong Important Decisions – for which he should have his referee's licence revoked permanently.  No team should ever have to put up with this level of incompetence (or bias depending on your point of view) again.  Sadly though this isn't going to happen as on Thursday evening he was in charge of the League Cup semi-final between Hull and United where he seemed to revert back to his normal degree of incompetence with a wrong penalty to Hull and a two footed challenge from Rojo going unpunished.
I also said in my introduction that Mike Dean had demoted himself to the Championship after a string of errors in his recent games.  He continued to show he isn't fit to hold a whistle as he awarded a penalty for a handball that occurred at least a metre outside the penalty area.  He has now been rewarded with a return to the Premiership for the game between Burnley and Leicester – god help them both.
Our game on Tuesday night is against our Training Ground neighbours Watford.
Referee – Andre Marriner  Age 45 from the West Midlands and FIFA Accredited
Assistant Referee 1 – Scott Ledger  from South Yorkshire
Assistant Referee 2 – Sian Massey-Ellis  from the West Midlands
Fourth Official – Kevin Friend 45 years old from Lancashire
This will be the third time this season we will have had Mr Marriner and the second time this month which is really too much and certainly too soon.  Probably we should regard it as a respite before they really make it tough for us at Chelsea.
I am delighted that Sian Massey-Ellis will be on duty on one of the touchlines.  She is one of the few officials in whom I have complete trust – I just hope that doesn't put a jinx on things.
Manchester United v Arsenal 19/11/16 (1 – 1)
67.5% overall weighted score, bias against the two teams of 16/84 and almost certainly costing Arsenal two points.  There were three wrong Important decisions (second yellow cards, red cards, penalties and goals).  Darmian should have been sent off twice, in Minute 25 for a second yellow card and again in Min 30 for a straight red card and in time added on at the end of the game Rooney should have had two yellow cards for dissent.  The game ended one all but against a ten man United team I think Arsenal should have had a fairly comfortable win.
Arsenal v Crystal Palace 1 January 2017 (2 – 0)
82% overall and bias figures irrelevant with only 5 wrong decisions all game.  None of his wrong decisions were Important, only two not given yellow cards.  If only all refereeing was like this we could all enjoy our matches without worrying about interference from the Men in Black.
2015-16 Last Season we had him in two games
Newcastle v Arsenal 29 August (0 – 1)
76% overall weighted score, bias against the two teams of 33/67 and 2 wrong Important Decisions.  Min 12 Thauvin fouls Bellerin in the penalty area but no penalty to Arsenal or yellow card for Thauvin and Min 26 Thauvin correctly gets a yellow card for a foul against Coquelin but this should have been his second.  arsenal won the game but should have had a far easier time had the penalty been given and Newcastle reduced to 10 men for 60 minutes.
Arsenal v Man City 21 December (2 – 1)
58% overall weighted score, bias against the two teams 87/13 and two wrong Important Decisions, both not given second yellow cards against Fernandinho.  In Min 31 he fouled Campbell, Mr Marriner noted the foula nd played a correct advantage but failed to return and issue a card at the next break in play.  Min 59 He should have had a second yellow card for a foul on Bellerin and a third in Min 61 for another foul on Campbell.  As Arsenal won the game these incorrect decisions didn't affect the outcome of the game but we would probably have had an easier time against 10 men for the last 30 minutes.
2014-15 Again we had him in two matches
Arsenal v Southampton 3 Dec 2014 (1 – 0)
59% overall weighted score, bias against the two teams of 77/23 and two wrong Important Drecisions Min 87 Southampton player punches the ball away in their penalty area – no penalty given and Mr Marriner didn't look as though he was at all interested in awarding one but luckily Giroud scored from the rebound and Min 90+2 Alexis fouled in the penalty area with no penalty given.
Arsenal v Everton 1 Mar 2015 (2 – 0)
69% overall weighted score, bias against the two teams of 75/25 and one wrong Important Decision when in Min 53 Jagielka used his arm to block a Giroud shot in the penalty area resulting in a corner kick instead of the expected and deserved penalty.
Summary
Mr Marriner is a referee who if you only look at the match scores would seem to be quite a good referee for Arsenal, we tend to win with him in charge particularly at the Emirates.  Dig a little deeper however and you can start to see his spots emerge.
His scores over the past couple of years have rarely reached the 70% minimum competence level, the game against Crystal Palace being a welcome change as he had an excellent score of 82% with no wrong Important Decisions.  A continuation of those numbers would be most welcome.
Historically he has not been good at judging penalties in Arsenal games (but he is better at judging them in other games with 16 out of 24 correct this season).
With Disciplinary offences he has correctly issued one red card this year but should have issued a further 13 so he is about on a par with the rest of the PGMO.
Don't expect an Arsenal penalty  – we will have to score from open play.
He will probably not send off a Watford player who should be but may well take the opportunity of a cheeky red card for an Arsenal player – Coquelin and Ramsey be on your very best behaviour and don't give him the slightest opportunity.
Hopefully this will be another game where we will win despite his efforts but I'm not expecting it to be in any shape or form a 'walk in the park'.
COYG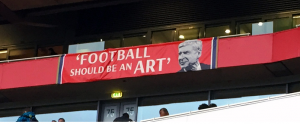 If you appreciate what we do and would like to help Untold Arsenal, please
Follow us on Twitter @UntoldArsenal
Follow us on Facebook (UntoldArsenalToday)
In the news
Referee Latest
From the History Society