by Bulldog Drummond
So here we are having the worst run ever under Arsene Wenger in the league and we are sixth in the table as things stand.
The current run of league games (table amended from Statto.com) consists of
| | | | | | |
| --- | --- | --- | --- | --- | --- |
| Game | Date | Opposition | Venue | Result | Pos |
| 18 | 26.12.2016 | West Bromwich Albion | home | W1-0 | 4 |
| 19 | 01.01.2017 | Crystal Palace | home | W2-0 | 3 |
| 20 | 03.01.2017 | Bournemouth | away | D3-3 | 4 |
| 21 | 14.01.2017 | Swansea City | away | W4-0 | 3 |
| 22 | 22.01.2017 | Burnley | home | W2-1 | 2 |
| 23 | 31.01.2017 | Watford | home | L1-2 | 3 |
| 24 | 04.02.2017 | Chelsea | away | L1-3 | 3 |
| 25 | 11.02.2017 | Hull City | home | W2-0 | 3 |
| 27 | 04.03.2017 | Liverpool | away | L1-3 | 5 |
| 29 | 18.03.2017 | West Bromwich Albion | away | L1-3 | 5 |
(The "position" column shows where we were immediately after the game.  That obviously then changes as other teams get extra matches while we are playing cup games).
So the sequence across the ten games is five wins, four defeats, and one draw.  That is of course not good enough for Arsenal and we would like it to be better.  But it is worth remembering just what the worst runs were like under other managers, just by way of comparison.  (And especially because we have had people write in saying it has never happened like this before).
I know George Graham got a run of eight games in 1987/8 of four defeats and four draws.  And Terry Neill got the all time worst run of seven consecutive defeats in 1976/7.  That total run was no wins, eight defeats and three draws.  Makes the current run look perfectly ok by comparison.
Bertie Mee had some pretty gruesome runs as well, especially the ten match run in 1974, which delivered seven defeats and three draws.  Mind you Herbert Chapman lost seven in a row in 1927, including a 0-7, a 1-6 and a 1-5.  But those were the old days, so I suppose they don't count any more.  Still I expect there were people on the terraces in 1927 who wanted Chapman out and were calling for Henry Norris to leave the club.  Mind you they got their wish in that regard.
Anyway back to today what is particularly challenging is the fact that Manchester City has an interesting away form – combined of course with their current run of form in general – four wins and two draws in the last six.
Home
Away
Total
W
D
L
F
A
W
D
L
F
A
GD
Pts
1
Chelsea
12
0
1
36
8
10
3
2
23
13
+38
69
2
Tottenham Hotspur
13
2
0
35
8
4
6
3
20
13
+34
59
3
Manchester City
7
6
1
24
14
10
0
4
30
16
+24
57
4
Liverpool
10
3
1
36
13
6
5
4
25
23
+25
56
5
Manchester United
6
7
1
20
10
8
3
2
22
13
+19
52
6

Arsenal

 
9
2
2
26
13
 
6
3
5
30
21
 
+22
50
If you have been reading the Arsenal History Society series on Arsenal in the 1930s, you'll know that there is a lot of discussion there about how Herbert Chapman transformed the club from a team that never won any major trophy, to one that won two FA Cups and five league titles in nine seasons.
The key factor, at least in the early very high-scoring years before Allison took over, was that Arsenal developed a very specific counter attacking approach, and then played it at home and away, so that (as with Chapman at Huddersfield Town before he came to Arsenal) the club ended up getting an away set of results similar to those obtained at Highbury.
What we can see from the above is that Man City have gone even further and have more away wins than home wins and have scored more goals away from home than at home.
So this suggests it is going to be a tough game, irrespective of anything else, although it is interesting in passing to note that the one team that doesn't have any semblance of balance between the home and away fixtures is Tottenham (13 wins at home but only four away).  I wonder if the state of their ground is helping them – and indeed if they will lose that ability to do so well at home if and when they move to Wembley.
Curiously, although all of us who truly support the club want Arsenal to win every match, it seems there is a benefit from not being in the European competitions and having the problems that can be associated with being in the Europa or Champs League.   Chelsea are the obvious beneficiaries this season – although whether the pain of such a decline as they had last season could be accepted by Arsenal fans as part of the route to recovery I doubt very much.
Anyway, before we move on to the details in the next article, here is a piece from our friends at Oulala who have again provided some statistics that might take one or two people by surprise.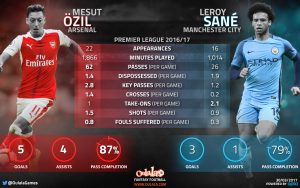 Mesut should be back and fully operational for the match on Sunday, and if he can find top form again he should certainly have a major impact on the game.
And certainly Manchester City have not done that well against us of late…
Date
Home team
Result
Away team
29.03.2014
Arsenal
1-1
Manchester City
13.09.2014
Arsenal
2-2
Manchester City
18.01.2015
Manchester City
0-2
Arsenal
21.12.2015
Arsenal
2-1
Manchester City
08.05.2016
Manchester City
2-2
Arsenal
18.12.2016
Manchester City
2-1
Arsenal
Just one win for them in the last six.
More on the match in the next post.
---
Arsenal HistoryLatest
The site of Arsenal's foundation to be transformed into an arts zone
Ongoing: The series on Arsenal in the 1930s is complete and the first six articles in the series have now been completely revised and updated including new pictures from the first Racing Club v Arsenal match.
Arsenal History Books on Kindle
The novel "Making the Arsenal" by Tony Attwood which describes the events of 1910, which created the modern Arsenal FC, is now available for the first time on Kindle.  Full details are here.
Also available on Kindle, "Woolwich Arsenal: the club that changed football" the only comprehensive history of the rise of Arsenal as a league club, and the attempts to destroy the club, from within and without.   For full details please see here.
Both books are also available as paperbacks.  Please see here.