---
By Robert Haynes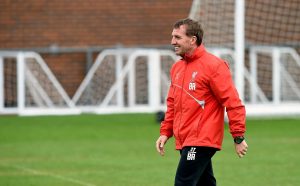 Source: Liverpool FC via Facebook
Every dog has his day and Arsene Wenger's has been and gone. Three FA Cup final victories have boosted his stock as Arsenal manager but it is the right moment for the club to move on. Wenger failed to prepare his side for their Carabao Cup final clash with Manchester City and not one Arsenal fan would claim that the Gunners deserved to win. Arsenal were second-best in every department and Pep Guardiola's side were well worth their 3-0 success.
In the days that have followed that February defeat, a few potential successors have been branded about. Jurgen Klopp? Arguably the ideal replacement but it is hard to see Arsenal prizing him away from Anfield at this moment in time – Liverpool are well-placed to push on and build under Klopp. Thomas Tuchel and Diego Simeone have been linked with the role but questions over whether their managerial style fits the philosophy of the club.
One name that continues to crop up is Brendan Rodgers. The former Liverpool manager, now in charge of Scottish champions Celtic, has Premier League experience but is he the right fit for Arsenal? In many ways, yes. The Gunners could do a lot worse than Rodgers; opting for the Celtic boss would be a better option than sticking with Wenger for another year. In addition, he has over 150 matches of Premier League experience; an absolute must for most of England's elite clubs.
According to the official Premier League website, Rodgers won 75 of his 160 matches in charge of Liverpool – giving him a 47% win ratio at Anfield. Comparatively, Wenger has a much better win rate; the Frenchman has led Arsenal to victory in 58% of his 817 games at the helm. Also, Rodgers was helped by Luis Suarez, a world-class talent and one of the best strikers in top-flight history, during his Merseyside reign.
Arsenal have slipped out of the fight for a top four finish in recent weeks; the Gunners are 13 points behind arch rivals Tottenham Hotspur, also in FA Cup contention this season. Coming outside the top four is bad enough but finishing lower than Spurs, 6/1 to win England's oldest club competition in FA Cup betting odds, for a second successive campaign is worse. There will be plenty of angry Arsenal supporters around if Spurs finish in the top four AND win the FA Cup.
For Arsenal, appointing Rodgers at the helm would be a high risk, high reward move. Fans would be split on his arrival; some have claimed that the Celtic boss has the credentials to return to the Premier League whilst others believe that he has found his level in Scotland's top flight. With all due respect to the Scottish Premiership, the quality of football north of the border is relatively poor compared to England's primary division.
Thierry Henry? Not enough experience. Patrick Vieira? More experience but not at a high level. Still, fans would relish their passion and commitment to the club – a change is needed to shake things up. Rodgers isn't a long-term fix by any means but for now, he is an upgrade on an ageing Wenger and Arsenal fans would surely be more supportive of their new boss.