By Andrew Crawshaw
I met Mark at Hammersmith Station just after 11.00 giving us plenty of time to walk to Craven
Cottage. For those of you who don't know the ground it is rather old fashioned and, for the Premier
League, quite small with a capacity of some 25,700; so less than half of that at the Emirates.
It is a ground that I enjoy going to, you are close to the pitch and it usually has a good friendly
atmosphere.
Mark, a Fulham season ticket holder since early childhood had kindly got me a seat in the mixed
Putney stand. A third of the stand is set aside for the official away team supporters and the rest is
taken by a mix of occasional fans supporting both teams. The other three stands are home
supporters only. The stand is behind the right hand goal as the managers sit.
As we walked to the ground, Mark said that he was expecting us to win quite comfortably as
Fulham simply couldn't defend.  His money was on a three one or four nil win. I said that I was
expecting goals at both ends as our defending wasn't too good either and that with Mitrovic, Fulham
had a really good striker who I thought could well give us trouble.
We also had a chat about Calum Chambers and how he hasn't progressed quite as well as either of us had expected. He hasn't really nailed down a starting slot yet and still flatters to deceive at times. Obviously he wasn't going to feature on Sunday as the PL loan rules preclude him playing against his parent club.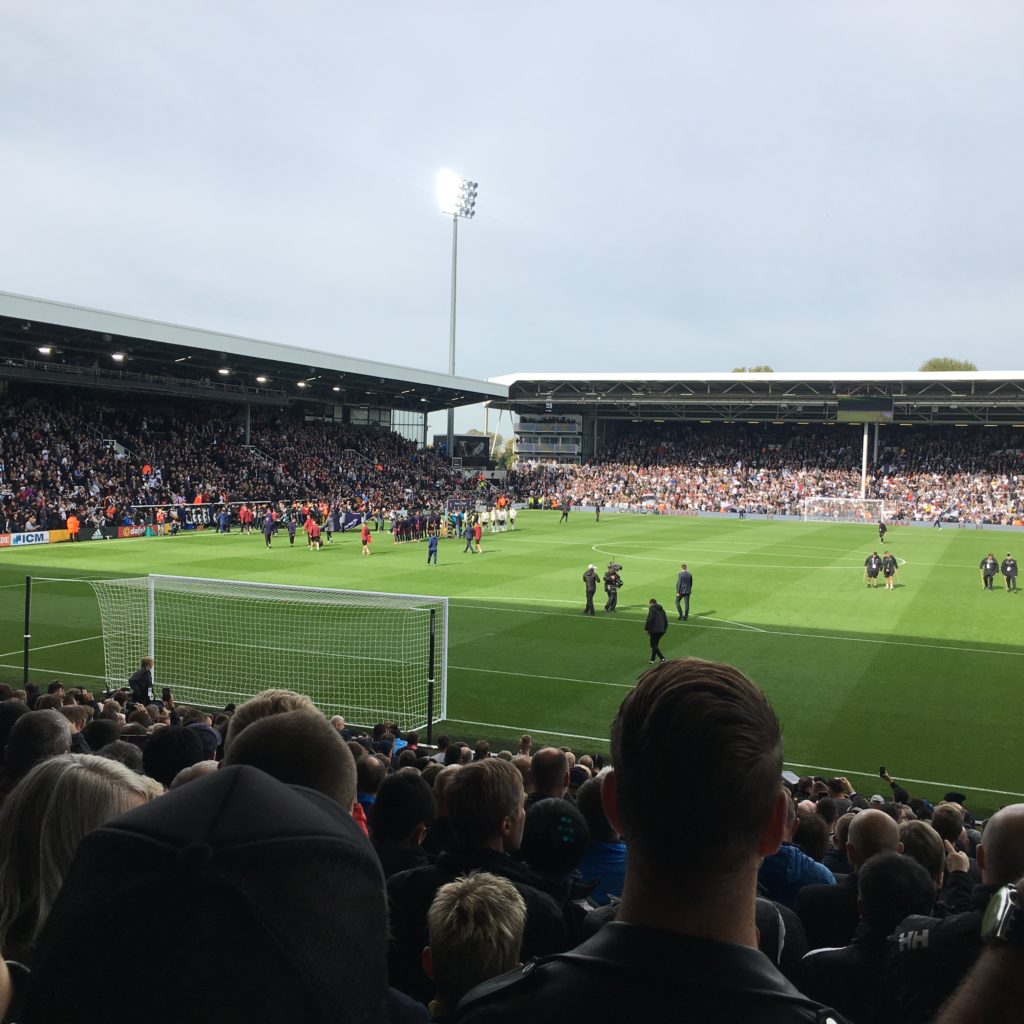 The ground was full – as far as I could see a sellout and the official away supporters to my left were
in fine voice. We started out defending the goal in front of me. A big surprise was no Özil,
Mkhitaryan starting in midfield instead.  Following their good performances in Baku, both Holding
and Iwobi kept their places with Monreal and Bellerin at full backs. Torreira at the base of midfield
with Xhaka and a front threesome of Iwobi, Lacazette and Wellbeck.
Both teams made a reasonably good start and it was pretty much end to end play which is more or
less what I had expected. Both teams like to play their football with the ball on the ground, neither
are known for being 'dirty'. One thing though, the rake of the seating was fairly shallow and
everyone stood up to see what was happening whenever the ball was in the last quarter of the
pitch.
Our away fans took things a step further and never sat down, the rest of us did whenever the
action moved further away. This away support is amazing and kept up a loud vocal support throughout the game, even chiding the Fulham fans with an ironic "this is the Emirates" during the quieter periods.
After a few half chances and a save or two we took the lead when at the far end of the ground
Lacazette got the ball with his back to goal swiveled and struck a low shot into the left hand corner.
Betenelli in the Fulham goal had no chance of stopping that one. We then seemed to lose a little
intensity and allowed Fulham back in to the game much to the annoyance of the fan on my left who
bemoaned the fact that we always seem to do it (he's not wrong).
As the half wore on the Fulham pressure started to tell, and their high press, when we were playing
out from the back, for once brought a dividend when Monreal's attempted pass was intercepted. A
pass to Shurrle and he was through and able to lob our keeper. A good finish from a good player.
That was the last real action before halftime and Holding and Mustafi took Mitrovic out of their
pockets and let him run off the pitch for his halftime refreshments.
One all at halftime struck me as being about right, both teams had had chances, both keepers had
been alert and only two pieces of individual skill had resulted in goals being scored. The referee
had made some strange decisions, our forwards were being pushed or barged in the back with
impunity and Mitrovic should have had a card at least for a nasty rake down Lacazette's (I think) Achilles.   Holding had been very impressive and Torriera had run over just about every blade of
grass on the pitch – what a great player he is!
The second half started with no changes and I had no idea of the treat that was in store with
Arsenal attacking the end where I was seated. I started to get an idea though as it was obvious
that we had increased our tempo by quite a bit.  A ball into Lacazette, a quick turn and bang into the top corner, no messing about, no tippy tappy just a great strike and we had our lead back.
Auba came on for Danny and Aaron for Iwobi in what must rank as the most inspired substitution of
the season as we were treated to a team goal that will long be one of those sporting "I was there"
moments. A flowing team goal from the far corner to the back of the net with the most amazing
assortment of flicks, backheels, headed passes and a sublime finish from Ramsey. Exquisite and
a worthy successor to Wilshere's at the Emirates from a few years ago (I was there then as well).
Truly a move worth the price of the ticket.
Cue the away fans singing WE'VE GOT OUR ARSENAL BACK
After that we didn't do anything stupid, we kept the pressure on and Auba got a goal pretty similar
to Lacazette's first, ten minutes after the wonder goal. To add more icing on the cake he was
played through in the first minute of time added on and with his speed and finishing prowess there
was only one place the ball was going to end up. Betinelli again had no chance as was really the
case with all six goals on the day.
Despite The goalscorers rightly getting most of the plaudits for me the outstanding performance was from our little terrier Torreira who covered every blade of grass in both halves of the game, won numerous challenges despite a number of fouls. As his chant goes :-
Torriera oh-oh
Torreira oh-oh-oh-oh
He comes from Uruguay
He's only 5 foot 5
Torriera oh-oh
Torreira oh-oh-oh-oh
A fabulous second half performance to complement a beautiful sunny day on the Thames. If we
can continue to build on this performance maybe the away fans will be proven correct as we all can
say "WE'VE GOT OUR ARSENAL BACK".