By Tony Attwood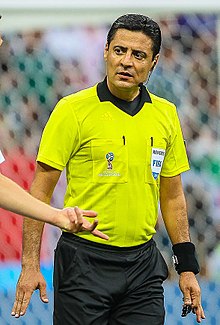 In my recent articles about the bias of referees in terms of favouring the home team when there is a crowd present, I have moved away from earlier commentaries on this site which have sought to show that there is persistent bias by referees in the Premier League.
Now I want to try and pull the various elements in our discussions about refereeing in the Premier League together.
First, there is the bias that has been revealed by the LSE research which shows how crowds influence referees.  This is now clearly proven, and is revealed both by the movement in terms of the change in the percentage of home and away wins, and the percentage of home and away team penalties.
Second, there is the level of errors and general bias which was revealed through the review of 160 games at the start of the 2016/17 season  that were considered in depth by Walter and his team.
Third there is the policy of the media in which each outlet follows the others.  Thus none of the British media has covered the legal cases involving Fifa and its top executives, except one in which Fifa is bringing charges against Blatter, and so put out a press release which the media dutifully published.  Cases in which Fifa is the defendant (as in Switzerland at the moment, or the announcement by Uefa that match fixing was out of control) are simply not mentioned.  Our news is being edited.
Finally there are the policies of PGMO, the organisation that runs refereeing in the Premier League. There is an article on that here, and links to further articles relating to our research into the workings of PGMO which show there are numerous elements of their work in the PL which should be carefully considered and questioned, but which through general agreement, are again never touched by the media.
Now those four different areas of enquiry have all come from Untold, without support from other blogs, the broadcast and print media or anyone else.  In some cases we have factual information, and in some we simply follow logic.
And one might think that those four separate areas of enquiry with the issues they raise are enough to make any reasonable person question what is going on.   But it is possible to go still further into a fifth area, and it relates to the fact that referees make immediate decisions, which must be influenced by their knowledge of the teams they are officiating.
Although these days referees are able to turn to VAR, most of the time they don't.  Questions of what is a foul, and what merits a yellow card are still dealt with instantly by the referee, who rarely if ever changes his mind.
Thus it is perhaps not the slightest bit surprising that with the increasing use of technology by clubs, who have long since measured every aspect of each and every game, that the technology has also been used to watch referees and their decision making.
That this has not been made public is also of no surprise.  Clubs are hardly likely to admit that they are tracking the behaviour of referees, nor that they are experimenting to see just how far they can get away with certain tactics.  But it would be most curious if they did not.  If a club can work out a way to get extra leverage in a game by studying the psychology of refereeing, then given the massive amount of money to be derived from each win, it would be crazy not to do so.
And here's a point: in Italy and other countries where there have been referee scandals, the issue of refereeing is under constant review and analysis.  Only in England is referee still controlled by a secret cabal that answers to no one – and it is the effect of this that pushes clubs towards analysing not just their opponents but also each and every referee.
And it is my suspicion that the recent changes at Arsenal in terms of the hierarchy and ownership has led to this type of analysis being downgraded from the days of Mr Wenger who through personal experience early on, learned just what sort of organisation he was up against when it came to the PGMO.
My thesis here is that in regards to this area of bias PGMO referees quite probably remain blissfully unaware that they have are being used by clubs in this way.  That does not deny the validity of our earlier explanations, but adds another level to it.
For now we have proof that the home team fans influence the referee, and we have statistical data to show how huge this influence is, it is quite reasonable to ask how this influence builds over time.  And if referees like everyone else have certain "blind spots" it is surely possible to exploit them.
I'll explore this further in the next article.