By Tony Attwood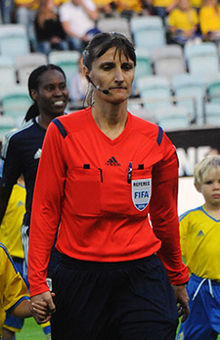 In my last article I suggested that there were numerous issues we had discovered with regards to refereeing in the Premier League.  In summary these are
1: The LSE research which shows how crowds influence referees.   This destroyed the PGMO assertion that referees are getting 99% of their calls right.
2: The general bias of referees which was revealed through the analysis of 160 games at the start of the 2016/17 season
3: The policy of the media in the UK of not making comments about or criticism of referees, which removes the issue from the agenda.
4:  The policies of PGMO, in keeping the number of referees much smaller than found in other major leagues, and not allowing referees to be interviewed or questioned, while the organisation continues to assert that there is no problem.
You might quite reasonably think that was enough to be going on with, but then we found something else, and on 6 February last year we published "How a club can commit the most fouls, but get the fewest yellow cards" with a follow up article on 26 February "What is the relationship between fouls, tackles and yellow cards?"
Those articles found that Leicester had a foul given against them every 2.08 tackles.  That could be because they have learned the art of clean tackling.
But then we found that Leicester had to commit nearly twice as many fouls as other clubs to get a yellow card.  9.48 fouls for every card in their care compared with Arsenal on 4.32.  (And Arsenal in these figures is fairly mainstream; it was Leicester that was the outlier).
Either Leicester had a brilliant player who could deliver perfect tackles or else they were being treated much more leniently by referees than any other club.
We began to suspect that it was the latter for no sooner had we published our figures than their figures in terms of fouls and yellow cards started to change radically.
One explanation given was that Leicester did have an expert tackler in their side, who had got injured, resulting in a change of style, but this explanation didn't accord with the dates at all.  It was a remarkable situation which gave us a new insight, which we now think of as "Factor Five".
Factor Five
As we know, referees are influenced by the crowds which is why the number of away wins rose dramatically when matches started being played in closed stadia, and why at the same time the number of penalties given to home and away teams also started to balance out, rather than always favouring the home team.
So we asked, what else influences referees beside the crowd?
Our answer to that question is that referees bring to each match a view of the players and the teams they are refereeing.  Clearly as the game continues they can't analyse how many tackles each team has made and ensure equality in the number of tackles a team can make before a foul is called.  Nor can they count the number of fouls made by a team across the pitch before a yellow card is given.
And yet the numbers for most teams remain very similar match by match.
Which suggests the process is conducted by a (probably subconscious) feeling by the ref that a team has committed five or six fouls so it is time for a yellow card.
But what about the teams that find themselves being penalised much more for fouls?  And the teams penalised much less than is the norm?  How does that come about?
And what about the teams that get penalty after penalty – far more than any other team in the league is getting?  How does this happen?
Increasingly, as we studied the figures that compare tackles, fouls, yellow cards and penalties we became convinced that something else was happening which we had not considered before.  This is our Factor 5: "Playing the Ref".
Consider this extract from our recent table of club activity on the field of play
| Club | Tackles | Fouls | Tackles per foul | Yellow cards | Fouls per yellow | Penalties for |
| --- | --- | --- | --- | --- | --- | --- |
| Leicester | 288 | 167 | 1.72 | 35 | 4.77 | 10 |
| Liverpool | 222 | 169 | 1.31 | 16 | 10.56 | 5 |
The number of tackles by each team and the number of fouls called against each is very similar, although Liverpool in creating fewer tackles curiously get more fouls given against them.   And yet when we look at yellow cards, Liverpool get under half the number of yellow that Leicester give.  On the other hand Leicester pick up twice as many penalties in their favour as Liverpool.  What is going on?
The first and most obvious point is that when no one publishes the figures of tackles, fouls and yellow cards, no one notices that certain clubs are committing lots of tackles and getting very few cards.  The media never mentions this – which in itself is odd.  We're the only people looking at this.
The only common sense explanation is that Leicester players are far worse tacklers than Liverpool players, and so deserve their yellow cards, while at the other end, defenders find they have to chop down Vardy as they have no other way of dealing with him.
But watching the videos as a neutral doesn't give that feeling.  The feeling we get as neutrals is that Liverpool are given a much easier ride by the referees, and that Vardy in the penalty area is looking for penalties which the refs oblige him with.
So the question now is why are referees treating  these clubs so differently?
Part of the problem is that the Premier League has so few referees who are used regularly that the same referees are overseeing matches involving these clubs, and inevitably they are taking up a point of view.  This seems to be "Liverpool are a clean side" and "Vardy needs protecting from thuggish tacklers".
Simply that.  Referees through familiarity develop views which undoubtedly they exchange with each other.  Liverpool are seen as a clean side, and Vardy is seen as the innocent victim, and this influences how referees react.
The series continues…