By Tony Attwood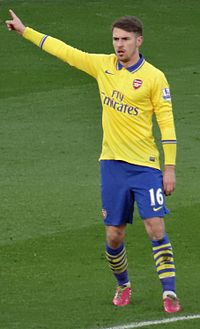 We've been discussing from time to time how Arsenal let young players slip through their fingers and go elsewhere.  The implication in the media is that it is always Arsenal's fault, and no other club makes the same cockups as Arsenal.
And indeed it is interesting that one player we held on to for a long time, before he decided to leave of his own volition has found life is not so green elsewhere.
For the Daily Mail are pointing out at the moment that Aaron Ramsey has been having trouble since he went to Juventus on a free having let his contract run down at Arsenal.
Some of the article contains the usual misleading anti-Arsenal stuff (for example suggesting Juventus is complaining about his salary, but forgetting that this has to be balanced against the fact that there was no transfer fee), but it also seems he has had some injuries.
That in turn means that Juventus have had to find a replacement for him, and they have with the American Weston McKennie.
The Mail's piece also doesn't really make it clear that part of McKennie's value is that he can play in a multiplicity of positions.  And it's not that Ramsey hasn't been playing at all – he's managed around 40 first team games since moving in 2019.
But even that "fact" is wrong.  The number quoted are League games only.  Ramsey has played 55 first team games when Cup matches are included.  So here we see it is not just the Mail's facts that are wrong, the nuances can't be back up either.
However the real problem is the problem of Juventus itself.  Starting in 2012 Juventus won the league nine seasons running and so might well be expected to win it this season as well.  I wouldn't say they'd already paid for it, but with Juventus, you never quite know. 
But no, shock horror, Juventus are not likely to make it ten in a row…
| | Team | P | W | D | L | F | A | GD | Pts |
| --- | --- | --- | --- | --- | --- | --- | --- | --- | --- |
| 1 | AC Milan | 21 | 15 | 4 | 2 | 45 | 23 | 22 | 49 |
| 2 | Inter Milan | 21 | 14 | 5 | 2 | 51 | 23 | 28 | 47 |
| 3 | Juventus | 20 | 12 | 6 | 2 | 41 | 18 | 23 | 42 |
| 4 | Roma | 21 | 12 | 4 | 5 | 44 | 35 | 9 | 40 |
What is also a factor is that the club has had a change of manager and Maurizio Sarri who brought Ramsey into the team has moved on (because winning the league easily every season is a simple pre-requisite of management there), and the new manager has had a habit of playing Ramsey all over the pitch, where ever he is trying to make an improvement.  That makes it harder for the player to settle.
Then the media started to throw in comments about him not having the stamina, and so he's being given blame that he doesn't necessarily deserve.
The Mail also makes a big thing of Ramsey only having played 14 times this season, which left on its own might sound a small number, until one looks and realises he played in five of the Champions League games and a Cup game as well as around three quarters of all the League games – which suggests he was not quite so injury prone as the Mail suggests.
So they go on to say that he lacks the mental strength, charisma and physical strength to establish himself in Serie A at 30 years old.  I am not at all sure that I agree, but supposing that is so – then surely the blame lies entirely with the manager who brought him in.  After all his mental strength, charisma and physical strength are undoubtedly much the same as they were when he was at Arsenal.
It is a typical hatchet job, putting all the blame on Ramsey and none on the manager who brought him to the club for nothing, while ignoring the fact that suddenly after years and years of utter control of the League in Italy, Juventus have fallen off the edge of the cliff.  And all that in addition to getting many of the basic facts wrong while leaving many of the other facts out.  In short it's a typical Daily Mail hatchet job, and the poor guy doesn't even play for us any more!
In September last year 1000 fans were allowed into each match in Italy – I am not 100% sure that is still how it is – and maybe that absence of fans has caused Juventus to flop – and maybe their decline is just a coincidence.  But in 2018/19 they won the league by 11 clear points.  In 2019/20 they won it by just one point from Inter, and now… that long, rather tedious, and ultimately suspicious run is coming to an end.
Statements from the club don't blame Ramsey for their problems, that is just the Daily Mail doing its Daily Arsenal Knocking routine, but I imagine he might move on at the end of this season.  He's now 30… and I wouldn't be surprised if he eventually did not find time to play a few more games for Cardiff City.
But it is sad.  Once a player has played for Arsenal he is going to be knocked and attacked with a load of false information no matter where he goes.
Chaos in Europe; silence in England