by Bulldog Drummond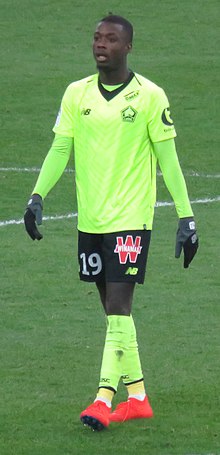 The BBC confirms that we will be without Thomas Partey, who has a strained hamstring and Kieran Tierney who has a leg injury.   Bernd Leno and David Luiz are of course available.
That site also reminds us of the earlier meeting at Elland Road when Nicolas Pepe was sent off in a goalless draw and then they add,
"There will be goals this time, though, I am sure of it. Leeds were too good for Crystal Palace on Monday, while Arsenal have been hard done by to lose both of their past two games, against Wolves and Aston Villa."
They go for a 2-1 win to Arsenal as long as no one else is sent off, but given it is the PGMO in charge, that is not a given.
The best match fact in our favour is (again from the BBC) that we "are unbeaten in five at home and have not conceded in any of the last three."   Which in turn means that we could have "five successive home clean sheets in all competitions for the first time since a run of seven from December 2013 to February 2014."
And one more from them about Arsenal while we are at it…"Bukayo Saka has created 26 chances and won 42 fouls, more than any other Arsenal player in the Premier League this season."
Which might be balanced by their comment on Leeds, which notes they have "lost their last six Premier League fixtures in London by an aggregate score of 2-18."
So who is going to play, I hear you cry.  Well… the always obliging Sports Mole offer us
Leno;
Bellerin, Holding, Luiz, Cedric;
Ceballos, Xhaka;
Saka, Smith Rowe, Aubameyang;
Lacazette
The Standard also predict a 2-1 win, but like the BBC won't venture into a squad prediction.
The Hard Tackle gives us exactly the same line up as Sports Mole but at least the Guardian have different ideas…
Leno;
Bellerin, Holding, Luiz, Cedric;
Ceballos, Xhaka;
Saka, Smith Rowe, Pepe
Lacazette
Yes only one change but a powerful thought – dropping Aubameyang totally rather than hoping that finally his form returns.  So that would mean bringing him on as a backup.
The Independent isn't very independent today as they go with the Sports Mole line up, which is in fact proving very popular at the moment.
Sky Sports have a page on line about the game with the word "Prediction" in the headline but there is no prediction of the squad, merely a statement that we will lose 2-3.
Football.London do however not only give us a team but remember that we have just signed a new player on loan, so they offer radically different from the rest when it comes to the forward line.  Smith Rowe they reckon, deserves a day off.
Leno;
Bellerin, Holding, Gabriel, Cedric;
Ceballos, Xhaka;
Aubameyang, Odegaard, Saka;
Lacazette
And the Sun takes a meander down its own curious ways as well…
Leno;
Bellerin, Luiz, Gabriel, Cedric;
Xhaka,  Elneny
Smith Rowe, Aubameyang
Lacazette
And the last one for the road – the Daily Express
Leno;
Bellerin, Holding, Luiz, Cedric;
Ceballos, Xhaka;
Odegaard
Saka, Lacazette, Pepe
As ever one pays one's money and takes one's choice.
And here is the actual team
Leno,
Bellerin, Luiz, Gabriel, Cedric,
Xhaka, Ceballos,
Smith Rowe, Odegaard, Saka,
Aubameyang
Subs: Ryan, Marí, Holding, Elneny, Chambers, Martinelli, Pépé, Lacazette, Willian