By Tony Attwood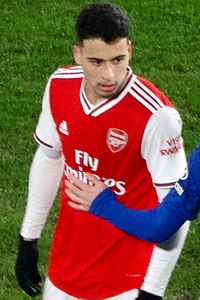 So far this season Arsenal has had the third highest number of minutes played by players aged under 21 in the Premier League.  We also have the seventh youngest average age of players used this season.
Only Wolverhampton W and Sheffield U have had more minutes out of under 21 year olds – and both have particular reasons for their policy.  Wolverhampton, as we have noted, have severe financial difficulties, having borrowed against the second TV payment last season, thus ratcheting up their debts just before the pandemic cut their income, while Sheffield United have been trying out every player they have as a way of trying to stop the rot.
Our nearest rival from the traditional "big six" clubs in this table is Manchester City with a 31% lower use of under 21s than Arsenal.  Manchester United have a 42% lower use than Arsenal of under 21s while Tottenham Hots use can't be shown in percentages because they have not used a single under 21 year old for a single minute of the season.
Of course just as fourth is not a trophy, nor is using under 21s a not a trophy.  But just as fourth has turned out to be something we would very much like to have once again, having lost it, so there is a value in giving a lot of experience to under 21s who are up to the task, for generally speaking they only get better and better.
Now the deep and well-thought through intellectual argument often heard from broadcasting commentators and clubs that put out old teams ("you don't win anything with kids") is the normal sort of simplistic avoidance of a debate that we have come to expect from the media.  As a result few commentators realise just how much advantage over time can come from having a young squad and playing these players 
First, players only develop their natural talent by playing in a team at the highest level possible.  They are not normally able to play every game not least because of the propensity for old hackers in lower level clubs to chop them down without referee interference, but when they are fit, they develop more quickly through being in the team.
Second, young players have advisers and even agents, and if they are doing their job properly they will advise the youngsters to go to clubs known to be playing the younger players.  
Now the point about all this is that these youngsters have their career in front of them.  Not all maintain it at the highest level but some will, and indeed some will develop into players Arsenal might be unlikely to afford.  Indeed in the years of building the new stadium Mr Wenger made quite a financial contribution by buying in young players and flogging them to the likes of Barcelona a few years later.
The only thing that can go wrong is where we have a manager who puts discipline above everything else, as we had with Bertie Mee, and again appear to have now.
Bertie Mee, having won the first Arsenal double, then presided over one of the most dramatic declines in the club's history, taking us from double winners to a team struggling at the foot of the table in a matter of four years, while the manager talked of reducing the squad to 18 professionals and winding up the academy completely.  
Behind it all was Mee's sense of discipline, and his dramatic falling out with Charlie George was only the most publicised of his "discipline first" tactic which brought about the disastrous decline.  It took us 18 years to win the league again.
It is possible that Mr Arteta has the same sort of feeling, given the way he treated Matteo Guendouzi, and it seems likely that we shall never see his skills again, which I feel is a shame.
Young players of great talent are hard to find but they have an enormous value to the club, not least because up to the age of 21 they don't count in the "25" player list.  This not only means we can have as many of them as we want, but also their nationality can more readily be adjusted. 
And with the EU regulations no longer holding sway over English football, the FA has not stopped putting pressure on the Premier League to tighten its "home grown" regulations ever further.  A player who is not of UK origin but who has played for Arsenal for several years before turning 21 is more than likely to be able to get permission to stay, or indeed get dual nationality.
The proof that something is seriously wrong with football refereeing and reporting
The Arsenal video collection: free