by Bulldog Drummond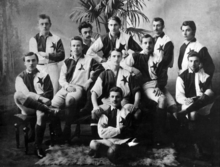 Nice line on Twitter from Welbeast: "Arsene Wenger would have beat them 7-0 with our under 21s."  Ah a man after my own heart – although perhaps we should not get carried away.   5-0 would have done.
And a nice helpful line from Sky Sports today: "With Arsenal needing goals to go through, Arteta will hope to have as many of his attacking players available as possible."  Well, yes, I suppose so.  It makes sense.
The Independent comes up with a magical line too, "Arsenal are too inconsistent to be relied upon," which is about as circular as one can get.  Inconsistency means one cannot be relied upon… except to be inconsistent.
That paper then gives us the attacking combo of…
Leno;
Bellerin, Holding, Gabriel, Cedric;
Xhaka, Thomas;
Pepe, Saka, Martinelli,
Lacazette
Football.London have a laugh by giving us the "Full Arsenal squad available for Slavia Prague showdown" and start it with…
Goalkeepers: Bernd Leno, Mat Ryan & Karl Hein.
Well, yes, they are available, but so what?  Besides by the time they get further up the pitch they are saying "Martin Odegaard (if passed fit)".  Again, well, yes, if passed fit, he is available.  I think we knew that.  A bit like "too inconsistent to be relied upon,"  Or "If I manage to get out of bed in the morning and turn on the computer I've available to write the previews."
The Radio Times website tells us that they expect Arsenal to win 1-0, but don't tell us the team they think we might use in order to achieve this.
Who Scored give us a team of
Leno;
Bellerin, Holding, Gabriel, Soares;
Xhaka, Thomas;
Saka, Smith Rowe, Martinelli,
Lacazette
The Hard Tackle website comes in with
 Leno;
Bellerin, Holding, Mari, Cedric;
Partey, Xhaka;
Pepe, Smith Rowe, Saka;
Lacazette
and they also have a stat I don't think we've used before with "Slavia Prague have played all of their last five Europa League games against British teams (Leicester City, Rangers, Arsenal) and are unbeaten in all the matches (W2 D3)"   They then go on to predict that Arsenal will be defeated 2-1.
Uefa.com, maybe having some insights not available to us mere mortals go with
Leno;
Bellerín, Holding, Pablo Marí, Cédric;
Willian, Smith Rowe, Xhaka, Elneny, Saka;
Aubameyang
which is to say very different from the selections by everyone else.
A website we haven't looked at before mrfixittips.co.uk tells us that the odds on Granit Xhaka to be carded are 5/2.
Now if you have been following our stats this season on tackles, fouls and yellow cards you will know that the relationship between the three activities is tenuous, but Arsenal have sought to reduce their number of yellow cards by reducing the number of tackles (since PGMO officials give almost every tackle as a foul).
I won't bore you with the full set of stats, but here are a few key numbers for yellow cards this season…
| Rank | Club | Yellow cards |
| --- | --- | --- |
| 1. | Sheffield United | 58 |
| 2. | Fulham | 56 |
| 3. | Leicester City | 55 |
| 4. | Manchester United | 55 |
| 10. | Tottenham Hotspur | 43 |
| 11. | West Ham United | 43 |
| 12. | Wolverhampton Wanderers | 43 |
| 13. | Arsenal | 42 |
| 18. | Chelsea | 37 |
| 19. | Manchester City | 36 |
| 20. | Liverpool | 35 |
Despite the propensity for referees to see everything Arsenal does as highly dubious we have managed to drop down the table of yellow cards.  Different sources give different totals for Xhaka's yellows in the league this season, but one thing is certain he is not only not top of the yellow card table for the league, he isn't even top of the table for Arsenal in the league (that is Bellerin).
So there we have it.  All we can do now is sit in front of the TV and hope.  Or if you have some spare time, read the series on gaslighting below.
Fingers crossed.
Gaslighting: how refereeing in the Premier League is manipulated, and why the media never speak about it.
(Footnote: the first ever mention of gaslighting in connection with football appeared in the media – six weeks after the launch of the above series on Untold)