By Tony Attwood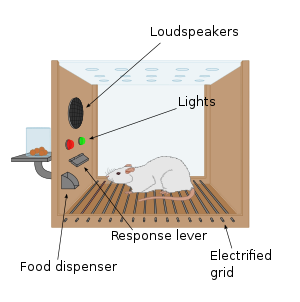 When I was studying psychology one of the key issues was memory – how fast could a rat learn, how much could it remember? 
At the heart of the experiments were the mazes rats were put through and that devilish device, the Skinner box.  Could the rats learn to tap a lever in order to get the pellet of food, and what might help them learn and what could distract them.   Turns out they can learn quite quickly, and then hold that memory – as long as the nasty humans don't change the background features.
It is a key premise of football commentators and pundits that football fans are rather like rats in a Skinner box.   Vary the world a little and they'll forget and fall in line with whatever drivel is being spouted at them next; they'll keep running to the food.  In this case the food is the next transfer story, or the next tale of managerial and ownership mismanagement.  It's Monday, here's today's tale of an Arsenal cock-up.
Today the tale is that although Stan Kroenke's decision to pay Arsenal's Super League fine of just under £1.5m himself seems ok on the surface, it won't work because Uefa will deem it "owner funding" under Financial Fair Play calculations and so it will reduce the amount of money Arsenal can spend on transfers.
Except for two rather big things.   First Manchester City drove a coach, the horses and the roadway through those regs when they took on Uefa in relation to their spending.  Uefa tackling Arsenal while leaving Manchester City and PSG alone would be such a glaring reason to think again about having a Super League once more Uefa are sure to leave it.
Second there is nothing in the story to remind us that Arsenal has been spending record sums on transfers across the last couple of seasons anyway – while still staying way below Man City's spending.   And it palpably hasn't helped Arsenal's cause.
This of course is the story the media absolutely don't want out, because it blows apart 99% of their football content which is focused on the need to buy new players all the time.  But one look at the chart below shows you the problem.
| Season / manager | Purchases | Sales | Balance | League position |
| --- | --- | --- | --- | --- |
| 2020/21 Arteta | £76.50m | £16.79m | -£59.72 | 9th? |
| 2019/20 Emery/Arteta | £144.36m | £48.29m | -£96.07 | 8th |
| 2018/19 Emery | £72.14m | £7.11m | -£65.03m | 5th |
| 2017/18 Wenger | £137.57m | £142.20m | +£4.64m | 6th |
| 2016/17 Wenger | £101.74m | £9.32m | -£92.42m | 5th |
| 2015/16 Wenger | £23.85m | £2.25m | -£21.60m | 2nd |
| 2014/15 Wenger | £107.08m | £25.02m | -£82.06m | 3rd |
| 2013/14 Wenger | £44.33m | £10.94m | -£33.39m | 4th |
The TV companies would find themselves offering matches to no one.  The advertisers would quickly walk away – as indeed Man U have just lost their training kit sponsor.  The revolution would take one season at most.
It hasn't happened because… well, because the media wouldn't stand for it, because rather than being the independent reflectors of reality, they are deeply involved.   They've paid.
And that's the big point.  The people who are trying to convince us that they are the neutral news bringers and commentators are nothing of the kind.  They are financially involved in keeping football as it is.   Each TV company with any rights to football, pays for it.  Do you think they are going to support a movement that weakens it?
Of course not, which is why they are so critical of any supporter protest, unless it is one that suits them.  They loved the Wenger out movement, because it was a free story of turmoil.
The media's biggest fear is of supporters being aware of what is really going on.  Day by day they are being misled.