"The whole climate of thought will be different. In fact, there will be no thought, as we understand it now."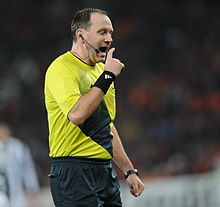 That comment about the future of journalism was written in 1948, but could have made in relation to today's reporting of football where all we have, straight statement.  And that is not just bad writing, that is perfidious.   For it destroys debate and through its constant application to matters relating to football, it destroys football itself.
For such statements have the aim of shutting down any thought or debate.  There is no chance of thinking that the story presented could possibly be wrong because simplistic assertions are hammered into us day after day without evidence or discussion.    Consider this which turned up on Reddit,  from former referee Jonas Eriksson (pictured left):
If you've been reading Untold you'll know it isn't obvious, and have presented a lot of evidence to show that a total transformation in playing style and results, unreported in the media at large, took place in Arsenal last season.  But most people believe the simplicity of what could be called Football Newspeak because it is hammered at us 24 hours a day from hundreds of sources, and so has become dominant.
It is indeed a human trait; we tend to believe the things we are told a lot.
While we present evidence about Arsenal's downturn in tackling and massive upturn in results, others just state, over and over and over, that Arsenal were awful and need new players.  It is what in other contexts we would call brainwashing, remembering that brainwashing is a two part affair – repeating the false narrative constantly while also ignoring any alternative interpretation or reporting of events.
When this happens across the board, we get a unity of argument so that anyone who says otherwise is looked upon as an idiot.   It is a perfect example of being brainwashed.
The essence of brainwashing is not to make one believe x rather than y, but rather to make people believe that x is the only story and y does not exist.  In this case the story is, Arsenal were awful last year, so they need to buy new players.  Arsenal are said to be chasing over 100 players.  They only fail to get them because Arsenal dither and won't offer enough money.  All other clubs get it done quickly and accurately.
No data, no facts, no evidence, just assertion.  That is brainwashing.
More later…