By Bulldog Drummond
Rangers v Arsenal: the history between the clubs
So far this season Rangers have (according to the information I've got, and please don't shout at me if I've missed something) had three new players arrive, all on a free.
Fashion Sakala, a 24 year old centre forward from KV Oostended on a free

Nnamdi Ofoborh, a 21 year old who plays in central midfield, from Bournemouth on a free

John Lundstram, a 27 year old central midfielder from Sheffield United also on a free.
Those saying goodbye include Jamie Murphy to Hibernian, Jamie Barjonas to Kelty Hearts, Greg Steward leaving without a club to go to, and Bongani Zungu to Amiens at the end of a loan.
Now there is a name that I wasn't quite read for in that, and that was the club Kelty Hearts.  In fact in 2021 Kelty Hearts were champions of  the Lowland Football League on a points per game formula and so joined the Scottish League, after beating Brechin City in a play off.  Thus a new team in the Scottish League.
Arsenal have but one player coming in (at least last time I looked) with Nuno Tavares arriving from Benfica.   But if you follow our table of rumours you will know that we currently have 111 players tipped to be coming to Arsenal.    As the numbers grow day by day the chances of these bonkers bloggers and journos getting a name right simply by pure chance must increase.    I mean, in the end they'll have covered everyone.
We've had three departures so far: Matteo Guendouzi on a loan to Marseilles (sadly inevitable), David Luiz walking off alone into the distance and William Saliba going to Marseilles on a loan.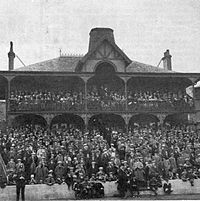 But there is another connection that you might not be fully aware of.  For on 19 August 1904 the Woolwich Gazette reported Archibald Leitch was engaged in work on the Manor Ground building refreshment bars utilising the back of the Abbey Wood End slope.  It was probably the first job since the Ibrox disaster for the man who went on to design Highbury.
So a man connected with building Ibrox, working on a small scale job for Woolwich Arsenal before he worked on Highbury…   Here's how the tale goes…
Archie Leitch's first high profile job involved building a new stadium for Rangers just outside the Glasgow city limits.  It was outside the city limits I think because that reduced some of the rules and regs that the stadium had to abide by.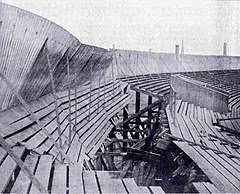 However part of the stadium collapsed causing many deaths. In the subsequent enquiry Leitch was not charged with any crime (partly because the stadium was so carefully placed outside the city) but there was considerable doubt expressed over whether the builders used the right materials.  Leitch had specified a high grade of wood, and was in charge of overseeing that this stipulation was complied with.  But the evidence presented in the hearings shows that other than writing a letter or two expressing concern, he was not fully engaged on the issue.  Thus the argument is put that because of the lowering of the specifications that part of the terracing collapsed.
What is also curious is that it is reported that Leitch did the job for Rangers for no payment – he was a supporter and a young architect making his way, and it was one hell of a commission to get.
But as the nightmare of the collapse of part of the ground rumbled on, Leitch left Glasgow and headed for London, and that is probably why he took on another unpaid (or at least a lowly paid) job.   Although there were connections between Woolwich Arsenal and Glasgow at the time so Leitch would have known of the club, and would have had an introduction.
There's no suggestion that Leitch's work on the Plumstead stand was not adequate, and it certainly stood firm until after Woolwich Arsenal moved out of Kent in 1913.  But between its building and the abandonment of the site, Leitch was involved in yet another controversy.
He was engaged to design and oversee the building of the Chelsea ground in the summer of 1905.  At exactly the same time he was engaged to design and oversee the building of new stand at Fulham.   True the grounds were close, but even so, it is hard to see how he could have supervised both jobs at once.
As it was the terracing of the ground at Stamford Bridge was a disaster, and much of it had to be rebuilt subsequently as many holes appeared.
Whether all this means we should re-evaluate the work of Leitch is difficult to find out – the propaganda machine in favour of his work has ridden over the evidence from the early years, and I must stress, he was never charged with any wrong doing.
Anyway in 1910 Henry Norris became Arsenal chairman and paid off Leitch's bill to Arsenal for his work in 1905, and told him to be ready for the next job… which turned out to be Highbury in 1913….
More on Rangers v Arsenal shortly…