By Bulldog Drummond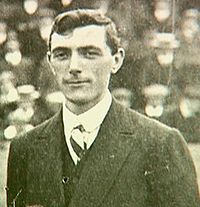 The league cup can hardly be called our favourite competition as we have only won it twice and have been runners up six times.  Those wins were 1987 and 1993.  The last final was 2018, and that was interesting in that the referee was noted as playing considerably less time added on, than was shown as being due.   Mr Wenger commented after that when he protested to the referee as he walked off, the referee said, "Well it didn't matter did it?   You weren't going to win."
So whereas we are out in front in terms of winning the FA and being in FA Cup finals we are, in this competition lurking with the likes of Birmingham City, Norwich City and Wolverhampton Wanderers who have also won it twice.
West Bromwich (whose longest serving manager Fred Everiss is pictured) as we have already noted have won once and lost twice in the final.  
Unfortunately it is not possible to get detailed data from the Championship on WBA's playing style in the way that we can from the Premier League in terms of tackles, fouls and yellow cards, although we do have the data for last season for fouls.
In this table we can compare Arsenal, Tottenham and West Bromwich for fouling.
| | | | | | | |
| --- | --- | --- | --- | --- | --- | --- |
| Team | Played | Total fouls by team | Fouls per game by team | Total fouls by opposition | Fouls per game by opposition | Fouls committed / Fouls endured (%) |
| Arsenal | 38 | 345 | 9.08 | 421 | 11.08 | 81.95 |
| Tottenham Hotsp | 38 | 439 | 11.55 | 494 | 13 | 88.87 |
| West Bromwich | 38 | 404 | 10.63 | 430 | 11.32 | 93.95 |
Despite the Allerdyce's reputation West Brom last season were not one of the teams that fouled more than they were fouled, and indeed their fouling level was not that far above ours, and they themselves were quite a bit behind Totteham.  
Last season in terms of yellow cards they had 51 against Arsenal's 47 – so again that suggests that they were not a dirty team at all.   This season they have seven yellow cards in four games giving a per game level of 1.75 yellow cards a game.  Arsenal have three in two games (1.5 per game).
Interestingly West Bromwich's turn around from relegation from the Premier League to challenging at the top of the Championship this summer has only involved two incoming players (leaving aside loans).   Adam Reach from Sheffield Wednesday, and Alex Mowatt from Barnsley – both being free transfers.
Three players left for fees bringing in around £17m.  So this looks like an approach to promotion and relegation from the Premier League akin to that of Norwich.   Rather that buy lots of players in the hope of staying up (and thus spending vast sums of money as Aston Villa has done) the club looks to be set on a course where financial stability can be gained by keeping the income from the PL and the solidarity payments thereafter, rather than spending the funds on players in an attempt to come up immediately.
The problem with the "spend and promote" approach of course is that if it fails, one is still left with a lot of players on high salaries who have cost far more than they are now worth, and who can't be unloaded once the club is relegated.
Although not every relegated club is spending to get re-promoted I do think this is becoming an increasingly favoured approach, which means that in the Premier League most seasons we will be banking their PL income, rather than wasting it on transfers and ever higher salaries.
Where these clubs have smaller grounds (such as West Bromwich, and indeed Norwich City) this hardly affects the club's income, and the grounds will be full whichever league they are playing in.
It has indeed been interesting to note that a number of these clubs seem to have given up on the notion of building new stadia, and are willing to stay where they are.   In December 2016, Bournemouth for example, announced plans to find a new site and in July 2017 confirmed it was looking to build a new stadium near the current site in Kings Park.   Now it may be that there have been developments that I have missed, but as far as I know these plans have been dropped, and the club has instead been looking to follow the model of making most of its money out of seasons spent in the Premier League and accepting occasional sojourns into the Championship.  
This doesn't mean that Norwich and West Brom will yoyo every year, but they will do it quite often by investing in a manager who can bring them up, rather than players who will keep them up.