By Sir Hardly Anyone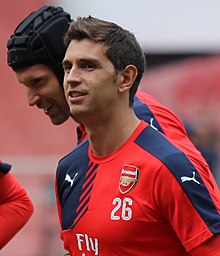 We've talked about the way in which the Daily Mirror has pretended that Martinez had a better season in 2020/1 than Leno and that Arsenal made a mistake in selling Martinez.  They ignore the fact that Martinez was not happy to stay on as backup keeper, and had he been forced to, he would have walked at the end of his contract, and the fact that Leno is Germany's second keeper.   
But now there is another twist, because Emiliano Martinez was one of a group of Argentine players who are now under investigation for breaching quarantine rules.  (And incidentally can you imagine how big the headlines would be if Martinez was still at Arsenal!?)  There are details of the current advice from the UK government here – in essence it is DON'T GO!
Also involved are Giovani Lo Celso and Cristian Romero of our dear neighbours the now even tinier tots (what with their squad being depleted) as well as Aston Villa's Emiliano Buendia.  They are currently facing 14 days quarantine in Brazil plus 10 days quarantine when they get back to the UK.  (Although we do know that the UK government tends to believe that coronavirus doesn't affect football, which is why the Euros went ahead leading to the rise of the Uefa Variant).
Anyway, the reason the players have failed to declare they were in the UK (although it was patently obvious) before arriving in Brazil was to avoid quarantine.  Instead (we are told) that the group said they had been in Argentina or Venezuela, despite featuring in PL matches – which tend to be shown all over the world.
Including in Brazil.  And that's important because Brazilian law imposes a 14 day quarantine on anyone who has been in the UK – and then a period of quarantine back in the UK which would mean missing at least three PL games plus various League Cup and European games.
Interestingly Tottenham ordered its players not to go a-travelling, but they went anyway.  Well, you know, these employers and their regulations.  What do they know?   Anyway everyone knows that UK law doesn't apply to footballers.
One way out for the players is to pay a fine and leave the country, although that could still see them being quarantined upon arrival back in the UK.
A spokesperson for the Brazilian authorities stated that the players stated clearly they had not been to a restricted country for 14 days, but seemingly the authorities got a tip off, and looked up where the guys were playing.  Whoever would have thought of doing that?
The players are now also being investigated for a breach of the criminal code in Brazil which could then involve two years in prison, which could be less than rather jolly for the gang, although I suspect the authorities would sooner be paid lots of dosh by way of a fine.
Just to make things worse the players then tried to say that the law didn't apply to them because they had stayed in a team bubble (which of course doesn't actually explain why they lied about where they had been).   But that didn't help much because team bubbles are not recognised in Brazil as a way around the restrictions.
Some players did refuse to break the rules – but Lo Celso and Romero of Tottenham broke their club rules.  Villa allowed their men to go on the grounds that they returned to England after the second game, not the third.   However that is weird since they would still need to be quarantined both on arrival in Brazil and upon return to England.  One wonders if Villa have quite got the hang of the rules (although of course maybe I haven't grasped what quarantine means – that's always possible).
The game is being played today at 8pm UK time, and Brazil have now demanded that the Premier League sanction the clubs who refused to release their players.  That would mean Alisson, Fabinho, Roberto Firmino (Liverpool); Ederson, Gabriel Jesus (Manchester City); Thiago Silva (Chelsea); Fred (Manchester United); Richarlison (Everton); and Raphinha (Leeds).
What we don't know and will probably not know is why the players thought they could get away with entering Brazil with false information when they are such high profile people.  I imagine that someone somewhere simply told them that the officials had been "dealt with" and it would all be "all right".  And being the simple little souls that they are, they believed it.
But it is also the point that Untold has run hundreds of articles about the incompetence of the FA in England, and maybe the players simply assumed that if the English FA is this dumb, then the Brazilian FA and its immigration authorities must also be that dumb.
Certainly if this is typical of Martinez' view of the world and authority, we are well rid of him.  Although if he had still been at Arsenal, I'm sure the media would have blamed Edu.  But if we want another reason why Martinez left, apart from Leno being a better, more experienced keeper, it's might be because he is arrogant, stupid and easily led.