By Sir Hardly Anyone
Well!  I say again, "Well!!!"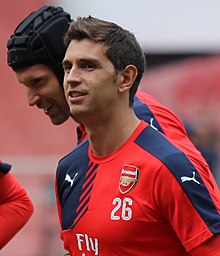 Can you imagine what the reaction in the UK media would have been if the ex-Arsenal goalkeeper Emiliano Martínez had still played for Arsenal.  The world (and possibly half the solar system) would have come crashing down on Arsenal's head.   Or what if Tottenham's Cristian Romero had actually played for Arsenal.  I think Farcenal would have been on the cards for the headline.
The Daily Mail's headline overnight, "Brazilian public health officials storm the pitch to DETAIN Premier League quartet playing for bitter rivals Argentina – with World Cup qualifier ABANDONED – amid claims the Tottenham and Aston Villa stars lied when entering the country" is fairly strong in itself, but if Arsenal had been involved – that would have merited a 10 page special pullout feature.
The ragingly anti-Arsenal Daily Mirror didn't even mention the players or clubs in its headline, "BEDLAM IN BRAZIL! Officials storm World Cup qualifier and threaten four Argentina Premier League stars with deportation"
Was there another reason why Arsenal ditched Martinez and kept Leno? was our article headline, as we ran the story that Marintez three other players had not declared the obvious fact that they had been in the UK before entering Brazil.   And then this evening, the headline has popped up
Brazil v Argentina: World Cup qualifier abandoned as authorities try to deport four players
A quick flip onto Sky Sports News to get the latest and… they were not running the story.  Could that be because Sky didn't have the rights to the game?  Presumably yes.  If it is not on Sky, then in terms of Sky, the story doesn't exist, at least until over an hour after everyone else has the story – which is exactly how long it took them to pick up on the story.
And this on the same day as the game between Guinea and Morocco was abandoned because of a coup.  The Moroccan team had already arrived, it seems and there were some difficult negotiations before like naughty school children they were allowed to go home.  
Back with Argentina v Brazil officials rushed on the pitch, there was some arm waggling and then Argentina walked off the pitch.
The players went to the dressing room, although the two coaches, plus Lionel Messi (and it is a rule in football now that if something happens in football Messi has got involved) gathering on the touchlines to enjoy some lively debate and undoubtedly "banter".
So what happens now to Martinez?  He is currently under arrest for breaching the regulations concerning entry into Brazil from England.  He could be held in quarantine, held in prison or simply put on a plane back to England.
But Brazil is a red list country for entry into England meaning the UK rule is quite simple, and I quote from the government's website: "You should not travel to red list countries or territories."  So in going to Brazil the player was in clear breach of UK rules.  As for getting back the rules say…
"What you must do if you have been in a country or territory on the red list in the 10 days before you arrive in England. You must follow these rules even if you have been fully vaccinated.
When you arrive in England you must: quarantine in a managed hotel, including 2 COVID-19 tests"
Now I wonder if Martinez has such an arrogant view of regulations that they believe that no only does the "don't go to Brazil" rule not apply to him, but that also the "you must quarantine" doesn't apply to him either. 
And I wonder what Aston Villa make of it all.  They paid £20m for Martinez from Arsenal, and now it looks like he's not going to be available for a while because of the actions he chose to take.  Perhaps they'll just consider him, in the words of Monty Python, a very naughty boy.
But above all else, I think we can feel relieved that he's no longer with Arsenal.  Otherwise, the media would have gone beserk.  Yet again.
Covid chaos in Brazil as health authorities storm the pitch to DETAIN Premier League quartet playing for Argentina DURING the match, amid claims they lied to officials when entering the country
Health officials invaded the pitch in Brazil's World Cup qualifier versus Argentina
They sought to detain Tottenham 's Cristian Romero and Giovani Lo Celso 
Aston Villa's Emiliano Martinez and Emi Buendia were also asked to be detained
All four players were accused of breaching Brazil's Covid quarantine protocols

​
_