By Walter Broeckx
In my first article  I said that I had an end of year report from the PGMOL still with the L in those days in which they said that they only have noticed 43 wrong key decisions in the whole season 2011-2012. Of course if you think about that number for more than two seconds you immediately feel that this number is not really possible.
There are 380 matches in the PL and only 43 wrong key decisions would mean that there would be only on real mistake by the refs every matchday. 1 error per matchday. And sometimes another.
As a reader asked if this really was real I decided to take a picture of the report where they mention this.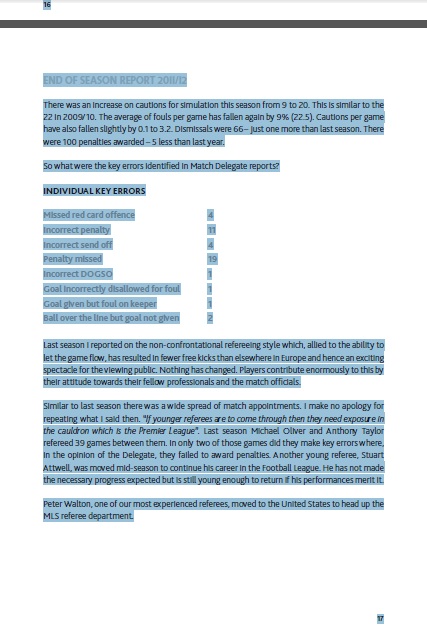 And so you can see it yourself, this is not something I just invented.  This is an extract of the official report. From the days the PGMO was still PGMOL. A lot of newspeak in it of course.
But as you can see on this copied page there are the individual key errors the PGMOL match delegates found from the referees. And if you add them all… the total number is 43. Unless my calculator is wrong.
Now Untold Arsenal has reviewed a lot of matches from that same season. In fact we did 155 matches in our reviews from that season. 38 Arsenal matches and the rest matches involving all teams. The results are still on this website of course. Even all the reviews. So you can find each and every decision we checked.
Now as the PGMO uses a slightly different system compared to the Untold system we had to add a few items to be able to compare.
For example the PGMO report makes a distinction between incorrect penalties given (11) and penalties missed (19) that should have been given. So a total of 30 penalties in total that were wrong. 30 wrong penalty decisions in 380 matches.
In our reviews we counted them all in the same column. So we had to add the two lines from the PGMO report to be able to compare them with our total wrong penalty decisions. The same for the goal decisions and the red card decisions.
So we get something like this when we look at the wrong key decisions in the PGMO report over 380 matches in the season 2011-2012

So from now on we will go further comparing the penalty, red cards and goal decisions with our numbers.
But we must again point at the fact that our numbers are based on 155 matches. And theirs on 380 matches.  So you would expect that should find a higher numbers of wrong decisions as their is based on more matches.
And this is what we get when we compare our wrong decisions (on 155) with theirs (on 380)

So Untold referee reviewers found on 155 matches that there were 91 errors on penalties and the PGMOL only has seen 30…in 380 matches.
Untold referee reviewers found in 155 matches that there were 77 wrong red card decisions. The PGMOL people only saw 9… in 380 matches.
Untold referee reviewers found in 155 matches that there were 40 errors in goal decisions and the PGMOL only saw 4… in 380 matches.
That is some difference….
Now some might argue that our reviewers were wrong. And that the PGMO reviewers were right. Now I must say that our decisions (all of them) have been made public. We have published them all and all could be disputed. Some were disputed. But the disputed decisions were around 0,10% of the decisions.  Sometimes we were right at the end and in a few occasions we did have changed our decisions when we got more evidence.
But let us for this once say that half of our decisions were wrong. That still would get us to this image then.

And again you still see that there is a big difference between the two results.
And of course as some smart guy will tell you now….it still is based on half the matches compared to the PGMO report!!!
So in fact we have to double the Untold numbers! And then we are back to the start of our numbers.
So from whatever angle you look at it there is something wrong.
When we started our reviews we didn't know where we would end. So we just counted decisions and counted and added some more till we had done all the matches we could do.  We didn't have an agenda and as most matches didn't include Arsenal (38 out of 155 only) we can state that there was no real intention to show any bias.
Another thing is that these PGMO numbers are just totals. We have given all the details on the website on every decision. The PGMO comes out and tells us: this is it. Without any explanation. Not saying which decisions they included. Nothing of that at all. Just some totals. That are there to take it as they are. Or to doubt them.
Now of course what is the reason of this PGMO end of year report? Is this a report that is meant to confirm the glorious state of refereeing in the PL? Is this a report to show what a great job Mike Riley is doing?
So I do wonder and this is of course because of the secrecy that the PGMO is showing all these years if their might be something suspicious about their numbers.
Let us imagine that the PGMO wanted to present a report showing how great a job they are doing. Then those numbers are really very impressive. Maybe they are too good to be true?
And as long as the PGMO doesn't release the details on their findings I can only dismiss them as being rubbish. There is no prove on their findings. It might be a bunch of made up numbers. I can't tell because well we all know that the PGMO never explains anything on how they get their numbers. We did.
So who seems to be more believable?