Millwall Lionesses v Arsenal Ladies FA Cup 6th round 22nd March 2015 (now with all the pictures added)
by Andrew and Pauline Crawshaw
This game was at the Den in South East London, Millwall's main ground.  The two teams had met in a pre-season friendly a few weeks earlier where Millwall did enough to keep Arsenal honest but nowhere near enough to look like troubling the Arsenal goal.  The question was could they do better in a competitive game?
None of our grandchildren wanted to go to the game but I persuaded Pauline, my wife to come along – her first live experience of football.  We live in Crystal Palace, so it was an easy journey by train to South Bermondsey then a few minutes walk to the Den.  Seats were unreserved but in the stand furthest away from the afternoon sunshine so it was very cold!
The Millwall Team – Francesca Gibbs, Leanne Cowen, Dionne Lennon, Naomi Cole, Frankie Strugnell, Megan Goss, Grace Fisk, Lily Agg, Clara Sherwood, Lillie Bilson, Rinsola Babajide.
Arsenal – Emma Byrne, Alex Scott (C), Jemma Rose, Casey Stoney, Emma Mitchell, Vicky Losada, Carla Humphrey, Jordan Nobbs, Danielle Carter, Natalia De Pablos Sanchon, Lianne Sanderson
Arsenal subs – Siobahan Chamberlain, Leah Williamson, Hasall, Clarke and Oliver
From kickoff Arsenal pressed the Millwall goal with 21 of the players in the Millwall half for the opening exchanges, Emma Byrne in the Arsenal Goal was a virtual spectator.  Good chances kept coming but somehow the final ball didn't nestle in the net until the 18th minute when Carter headed home Natalia's corner.  Six minutes later Sanderson made it two with a tap in from Humphrey's cross.  Three minutes later Arsenal hit the crossbar for a third time.  In the 41st minute the game was effectively over when Nobbs made it three nil which was the half time score.
At the start of the second half Millwall made two substitutions with Agg and Goss being replaced by Edwards and Mackie.
Unfortunately for Millwall, the changes did little to alter the sequence of wave after wave of Arsenal attacks which resulted in goal four in the 52nd minute when Carter brought down a high ball showing excellent skills, she then drove into the box and finished expertly into the bottom corner her second of the game.
Three minutes later it was five as Natalia brought down Carter's cross and smashed it home giving Gibbs no chance whatsoever.
Gibbs then made another excellent save to deny a sixth Arsenal goal this time from Mitchell.  Within a minute Byrne had to come racing out of her goal to intercept a through ball.  Her timing was impeccable and the danger passed.
In the 59th minute Millwall made their final substitution with Sherwood being replaced by Albert.  Again the change had little impact to the flow of play.  In the 63rd minute Arsenal made their first change with Losada being replaced by Williamson.
It was nearly six when Humphrey had a shot saved by Gibbs, Carter's follow up was denied on the line and the rebound was blazed over the bar by Natalia (in truth it would have been easier to score, but I hope she saves her next goal for a game when it matters).
The sixth duly came a few minutes later when Natalia sent over a perfect cross for Humphrey to strike home (this was just reward for an excellent performance by Humphrey).  This was the last involvement for both players who were replaced by Oliver and Clarke.
The icing on the cake came in the 85th minute when Carter sped through the Millwall defence one final time and scored her third and Arsenal's seventh goal of the game.
In truth the scoreline barely reflected Arsenal's superiority, they were vastly better than Millwall in every position.  Arsenal hit the woodwork on four or five occasions and Gibbs in the Millwall goal made a string of excellent saves otherwise the score could easily have been in double figures.  At the other end, I can't recollect one save that Emma Byrne had to make, she caught the ball a couple of times and was alert to rush off her line as a sweeper.
Pauline's comment after the match.  "I was pleased to be persuaded to go to my first professional football match – thoroughly enjoyed the convivial atmosphere (apart from a loud Millwall supporter behind me who I chose to ignore).  Was impressed by the skill, strategy and strength of the Arsenal Ladies – a team well worth supporting!"
Arsenal team prior to kickoff with mascot Luke.
Back row – Rose, Sanderson, Byrne, Mitchell, Losada, Natalia
Front row – Williamson, Scott (C), Humphrey, Carter, Nobbs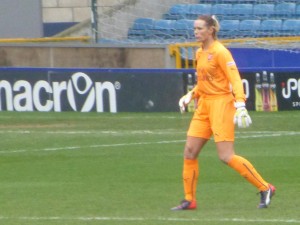 Emma Byrne in the second half, fully awake but it's all happening down the other end.
Arsenal celebrate with Danielle Carter (right) after her first goal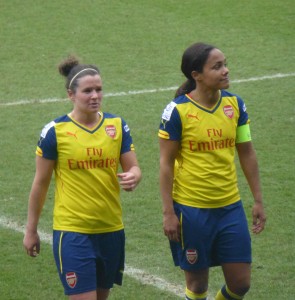 Job done Alex Scott (right) and Emma Mitchell come off the pitch
And way back in time, when both clubs had different grounds…