by Andrew Crawshaw
It is a big week in terms of games for the U23s, They faced Manchester City last night at the Emirates, followed by a game on Friday evening at their normal home of Borehamwood against Liverpool.  Both matches 19:00 kick-off.
The first game of the season saw Arsenal coming back from a two goal deficit to beat Derby County by three goals to two thanks to two goals from Reiss Nelson and a late winner from Eddie Nketiah.
Manager Gatting mirrored the First Team set up with a back three of Maitland-Niles, Bielik and Bramall in front of Huddart in goal.  Reiss Nelson and Kieran Gibbs were the wingbacks, Coquelin and Wilshere in midfield (both making their comebacks from injury).
Joe Willock, Reine Adelaide and Nketiah were the forward players.  Subs were Pleguzuelo (on for Gibbs in the second half), Marcus McGuane (on for Wilshere in Min 73), Josh DaSilva (on for Coquelin in Min 73), Keto and Malen were both unused.  There were 12 players who failed to make the bench indicating the extent of 'clearing out' via loans or sales that still need to be made to keep players at this level remotely happy.
Before the game our two 'non trophies' were on display and you could have your picture taken with them – funny thing was the trophies looked pretty real to me, Arsenal was even engraved on the cup.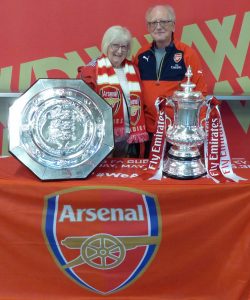 At the Emirates last night our starting 11 was :-
Matt Macey
Rob Holding, Krystian Bielik, Julio Pleguezuelo (C)
Ainsley Maitland-Niles                                                          Josh Da Silva
Jack Wilshere                       Joe Willock
Donyell Malen,                 Eddie Nketiah,                Reiss Nelson
On the beach: Marcus McGuane, Hugo Keto (GK), Jordi Osei-Tutu, Vlad Dragomir and Charlie Gilmore
For Man City – starters were:-
Grimshaw (GK), Latabeaudiere, Oliver, Francis, Wilson, Davenport, Diaz, Smith, Nmecha (C), Richards and Dilrosun
Subs: Duhaney, Haug (GK), Dele-Bashiru and Gonzalez
Referee – Samuel Allison
Assistant Referees – Gill (supporters side) and Bailey (tunnel side)
Fourth Official was Bishop.
The game started quietly both teams passing the ball about with no real penetration.  I always judge a referee by how he deals with the first couple of incidents in the game and I'm afraid to say that Mr Allison didn't pass that test, the first foul from City was ignored, the first one from Arsenal awarded a free kick.
The first Arsenal chance came in the 7th minute (approximately – the stadium clock was not in use which was a pity).  A great counter attack ending with the ball just going past the post.  We didn't have to wait long for the first Arsenal goal though.  Another quick counter attack with Josh Da Silva exchanging passes with Reiss Nelson who made absolutely no mistake.  A total of 10 passes in 23 seconds
The second nearly came a couple of minutes later and did come in the 14th minute when Nketiah finished from close in following a cut back from Maitland-Niles.  Arsenal two up and seemingly cruising.
Any hopes of an easy game were soon dashed as we were caught out by a good City attack, Matthew Smith with a free header following an excellent cross from Wilson.  Not enough pressure on Wilson and no-one at all picked up Smith.  More work needed on the defensive side of the game I'm afraid.
The two goal advantage was restored before half time though when Wilshere produced a fabulous through ball for Nketiah who made absolutely no mistake.  Nketiah nearly had a third but his effort was saved.
City had two late chances, the first a free kick on the left hand side of the D which went over the bat and the second a real goalmouth game of ping-pong which ended eith Nmecha shooting wide.
City had to make two substitutions through injuries in the first half.  Richards being replaced by Dele-Bashiru and Dilrosun by Gonzalez.
Three exquisite goals from Arsenal and impressive performances from all of our attacking players including both wing backs.  Da Silva putting a performance reminiscent of Kolasinac (and having a similar build).  The other player with a stand-out performance was Jack who was by far the most skillful midfielder on the pitch and was at the heart of everything good about Arsenal's game.
No further changes from either side at half time but it was evident that City had been told to be more assertive during their half time talk as their challenges which had been niggling in the first half (and generally unpunished) became harder and Jack was targetted particularly.  He was clattered in to a number of times unnecessarily without ant help from the referee.  In my opinion this led to the major talking point of the game later.
In Min 57 Nelson joined Nketiah with another extremely accomplished finish, reminiscent of his second against Derby last week.  Another great ball by Jack this time for the pre-assist.
The big flashpoint came in he 64th minute (approx) when Wilshere was the recipient of a very poor challenge from Diaz (I think), the player was late, had absolutely no chance of getting the ball and got a justified yellow for it (it could easily have been judged a reckless challenge with excessive force and worthy of a red card but Mr Allison saw it as a yellow).
Jack reacted badly to the challenge and pushed Diaz over.  This was stupid as it was right by the referee.  Diaz, of course went to ground holding his head (the dozy cheat), the push was in his chest and there was no head contact.  Wilson came charging in from 20 or so metres away and grabbed Jack by the throat and a general melee occurred for a few seconds with team mates on both sided separating the principal combatants.  Justified red cards for both Jack and Wilson.
Had the referee not allowed City players so much leeway in their earlier challenges on Jack this incident would probably not have occurred, poor from Mr Allison, he needs to look back at the complete match video and reflect how a number of poor decisions can lead to the game getting out of control.  Establish the benchmark early and stick to it.
This sending off affected Arsenal more than City (who no longer had to face the best midfielder on the pitch) and City soon got a second goal when more poor marking allowed Diaz the space to beat Macey.
City were further assisted with the award of a penalty with ten minutes to go.  Any challenge was less evident than on Bellerin against Stoke but hey we're Arsenal and sub-rule 8b applies (any contact by an Arsenal player in the 18 yard box counts as a penalty).  Nmecha took the penalty really well the ball hard into the right hand side of the goal with Macey diving left.
We were left with a nervy last fifteen minutes but we held on to our now slender lead.  Both Nketiah and Willock had efforts thwarted by the City goalkeeper.
Malen and Willock were both taken off late in the game with the more defensive minded midfielders Marcus McGuane and Vlad Dragomir replacing them.
In the end we hung on for a deserved victory.
The highlights video is available on Arsenal.com  It does show the sending off incident but none of the fouls leading up to it
Manchester City U-23 (h) – Highlights | Arsenal Player
Our next game is on Friday at Borehamwood 19:00 kick off and we then have an away match against Man United so two more tough games at this level.
I'll be at the game on Friday (all being well) and will have another report afterwards.   Here is the league table
| Club | P | W | D | L | F | A | GD | Pts |
| --- | --- | --- | --- | --- | --- | --- | --- | --- |
| Liverpool | 2 | 2 | 0 | 0 | 5 | 0 | 5 | 6 |
| Arsenal | 2 | 2 | 0 | 0 | 7 | 5 | 2 | 6 |
| Chelsea | 2 | 1 | 1 | 0 | 2 | 0 | 2 | 4 |
| West Ham United | 2 | 1 | 1 | 0 | 3 | 2 | 1 | 4 |
| Manchester United | 2 | 1 | 1 | 0 | 2 | 1 | 1 | 4 |
| Leicester City | 2 | 1 | 0 | 1 | 1 | 1 | 0 | 3 |
| Sunderland | 2 | 1 | 0 | 1 | 2 | 4 | -2 | 3 |
| Manchester City | 2 | 0 | 1 | 1 | 3 | 4 | -1 | 1 |
| Everton | 2 | 0 | 1 | 1 | 0 | 1 | -1 | 1 |
| Swansea City | 2 | 0 | 1 | 1 | 1 | 3 | -2 | 1 |
| Tottenham Hotspur | 2 | 0 | 0 | 2 | 3 | 5 | -2 | 0 |
| Derby County | 2 | 0 | 0 | 2 | 2 | 5 | -3 | 0 |
A footnote (from Tony) on Tottenham.  They lost 2-1 against Sunderland away and 2-3 against West Ham at home.  Surely that famed production line of youngsters isn't failing is it?
COYYG
On UntoldArsenalToday on Facebook
Our daily Facebook review of supporters is now being gathered together on its own page on Untold.  Today it is Manchester City.  Just click here